Qunar's new English sub-brand duplicates Alitrip's branding
Qunar had quietly bought the qua.com domain name and released its own English brand even before the celebration of Alitrip's (Chinese:Qua) launch wound down.
ChinaTravelNews – Alibaba Group's October 28 launch of Alitrip with the Chinese name of "qua" (meaning let's go) has spawned no shortage of copycat sites and domain names.
ChinaTravelNews has discovered that Qunar's international ticket booking webpage uses the new domain name "qua.com" and it is accessible via a link on its main page. After selecting English from the language menu in the top right corner, users are directed to qua.com. Its webpage introduction states that "Qua.com is a sub-brand of Qunar.com targeting international market".

Qua.com's introduction page
"Qua is a new overseas sub-brand set up by Qunar on December 12, 2014 with the English domain name qua.com to offer international air ticket booking service for English-speaking users," Qunar's executive vice president and ticketing division CEO Wei Yang told ChinaTravelNews in an exclusive interview.
"During the initial online stage, qua.com will only support international flight booking services. However, Qunar will also add the site's biggest earner – domestic flights – to qua.com's services in the near future," he said.
Mr. Yang also said that the setting up of qua.com is the first step in Qunar's overseas expansion. Although Qunar has been offering international ticket bookings for some time with steadily increasing sales and route coverage, it has been unable to tap into the English-speaking market with its Chinese website until now. Recently Qunar has also been laying the groundwork for its international operations expansion by introducing overseas mobile phone booking and PAYPAL functions.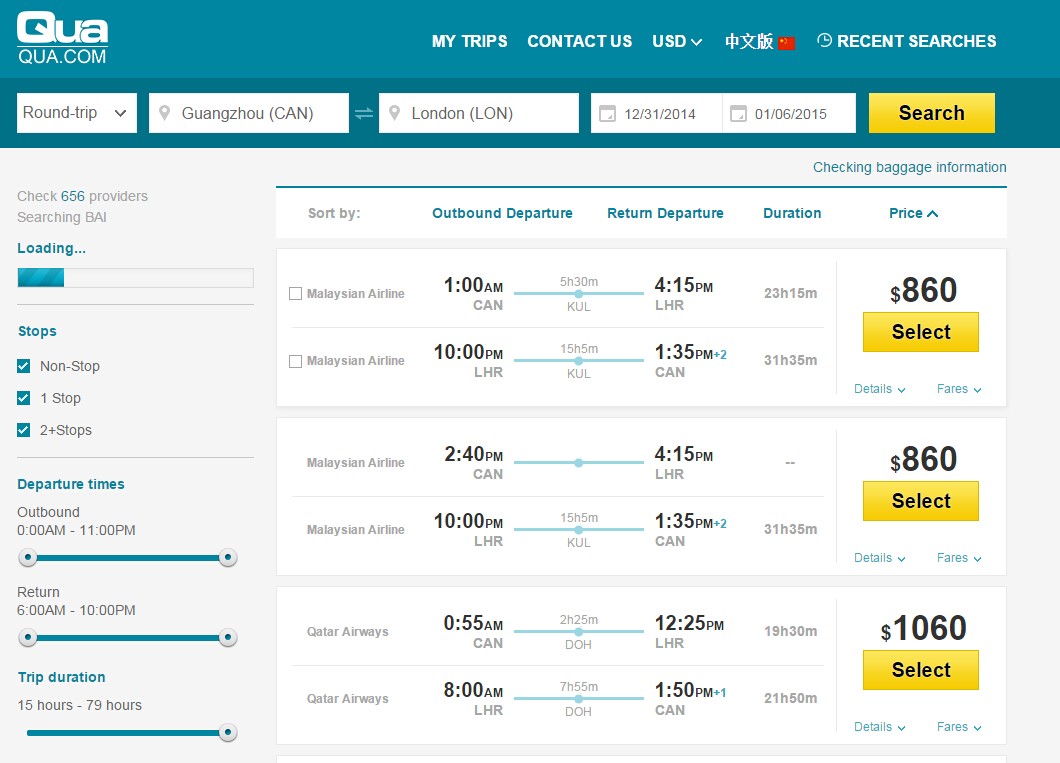 qua.com international ticket booking page
Mr. Yang explained that the qua.com website name was taken from the "qu" (which means "go") in the Qunar brand. "It is easy to read for non-Chinese speakers and convenient for them to search and remember," he explained.
ChinaTravelNews understands that Qunar's international booking website has already existed some time with a former domain name i.qunar.com before the launch of Alitrip (Chinese: Qua).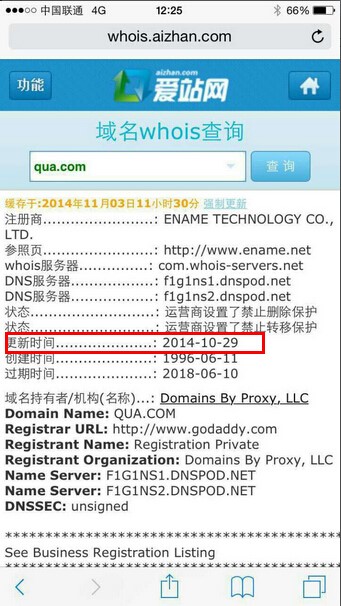 Aizhan.com's records of qua.com's domain name update
The registration information of qua.com's domain name also shows that the timing of Qunar's new domain name is by no means a coincidence. Our search on data tracker site aizhan.com shows that qua.com's domain name was updated on the October 29, 2014, one day after the launch of Alibaba's Alitrip (Chinese: Qua). Qunar had quietly bought this domain name derived from its own name and released its own English brand even before the celebration of Alitrip's launch wound down.(Translation by David)