Travel industry posts huge gains in top 100 Chinese brands valuation
Study shows Air China ranks 19 in brand value, a YoY increase of 26%; Home Inn 74,a YoY increase of 3% and Ctrip 44, a YoY increase of 40%.
ChinaTravelNews,Nicole Sy—Last year, ChinaTravelNews took an in depth look at the Chinese travel industry's most valuable brands based on a yearly study and analysis by one of the world's top marketing agency, WPP and its Milward Brown arm. We studied the three categories in the travel industry that made it on the list: Airlines, Hotels and Travel Agencies. We now revisit the long-standing brands as well as a newly minted member who made it to the Brandz Top 100 Most Valuable Chinese Brands 2016 list.

China's travel market continues to grow, with the United Nations World Tourism Organization (UNWTO) reporting China as the world's top source market for tourism. Outbound tourism further expected to increase 11% to 133 million visits in 2016, according to the China National Tourism Administration (CNTA). The UNWTO ranked China as the second most visited tourism destination as of May 2016, though the rate has slowed since last year. The report also uncovered that travel is a spending priority for Chinese consumers despite the slowing economy.

"Airlines and Travel Agencies tied for fifth place in the rate for category value growth, with a 39% increase," according to the report. "Rising disposable income, growth of tourism, improved domestic transportation infrastructure and budget airlines were among the factors driving value increases."

Overall, the value of the entire list of 2016's brands grew 13%, meaning Chinese brands have grown in value, though not necessarily rank. The greatest example is in the airline industry, which posted great gains in value, with the lowest being top-ranked Air China with a still impressive 26%. Its brand is now worth more than $4.9 billion, though its rank remains the same at 19. China Southern and Hainan Airlines also retained the same rank, while China Eastern's fell by one spot.

Airlines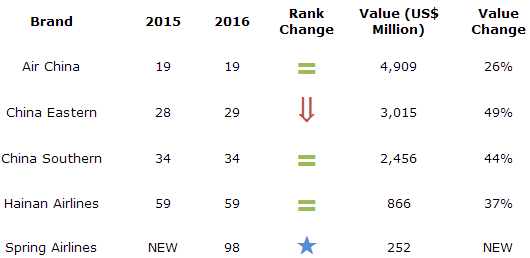 Airlines capitalized on the tourism trends by "improved service and marketing, expanded routes and increased affordability," writes Brandz. Meanwhile, the low price of oil also enhanced profitability, surely contributing to China Eastern and China Southern's spot on the Top 20 Risers in value on the 2016 list, ranking 11 and 17, respectively. The opening of Shanghai Disneyland boosted Shanghai-based China Eastern's sales, while expanded flights between Mainland China and Taiwan aided China Southern's increased value.

The big news is the entry of budget airline, Spring Airlines, onto the list. Chairman of Spring Airlines Wang Zhenghua started with one charter plane in 1994, though Spring Airlines officially started operations a decade later in 2005. Today it is China's largest, and only budget airline to make the Top 100 2016 list. With a brand valuation of $252 million, Spring Airlines has more than 2 million Weibo followers (the Chinese equivalent of Facebook and Twitter) and 4.5 million WeChat followers (the Chinese equivalent of WhatsApp) and is looking to China's youth to propel their brand to greater heights.

Cost is second only to safety in terms of priorities for the airline. "Our target customer is young. In fact, about 80% of our ticket sales happen online," says Wang in the Brandz report. "I look forward to our strong growth. Since our founding in 2004, we have achieved our 10-year plan and we continue to grow at a steady rate, usually 20 to 30 percent annual increase in sales."

Hotels

The hotel category grew 11% from last year's brand valuation report, a huge improvement from a completely flat result from 2015's zero percent year-on-year growth. However, as a result of tough competition in the hotel sector, all three brands posted lower brand ranks though valuation increased for all.

"The Chinese economic slowdown and excessive hotel supply in recent years, presented another challenging year especially for second and third tier cities," says Angel Chen, Associate Director at global property manager, Savills Hotels in Shanghai. "In recent months we have heard of a number of luxury hotel projects in lower tier cities having been put on hold due to the developer's lack of funds. It is incredibly important to carry out an adequate feasibility study and ensure proper contract negotiation at the early stage in order to minimize investment and future operational risks."

The Hotel industry also cannot ignore the rise of sharing economy services like Airbnb taking a bite out of profits. "To ensure that you are known and trusted you have to have a big presence in China and deliver quality product," says James Macdonald, Savills Head of Research for Mainland China. "Many operators are also customizing new hotel brands that specifically cater to the needs of the Chinese traveler."

Of the three brands, which also made it on the list last year, Jinjiang Inn posted the most remarkable growth at a whopping 47%, garnering it a spot in the Top 20 Risers in growth, putting the competitive SOE at number 13.

"Both local Chinese brands and international brands, well established in the larger cities, competed for tourism business," according to the report. Inbound tourism to China declined, though Jinjiang aims to capitalize on outbound flows with their hotels outside China. Meanwhile, state-owned BTG Hotels announced they would acquire and merge with Home Inn, further consolidating the already competitive hotel landscape.

Travel Agencies

With data from the UNWTO and CNTA, the report notes, "despite the economic slowdown, China continued to lead the world in outbound travel. Chinese outbound travel grew 12% in 2015." The Travel Agencies category shows the potential of the industry, with a combined growth of 39%, likely attracting competition such as ecommerce giant, Alibaba's launch of travel business, Alitrip.

However, the growth rate of Chinese outbound travelers should slightly slow due to factors like the yuan devaluation, and safety issues in popular destinations in Europe, according to Brandz 2016. Though a rebound is in sight, as organized outbound trips in the second quarter of 2016 numbered 13.72 million, up by 17.32% YoY, as reported by ChinaTravelNews.

Research into the report further discovered that travel is a spending priority for Chinese consumers. "In Brandz research conducted following the steep decline in the Chinese stock market, about half of the respondents planned to complete travels plans, regardless of the market's poor performance," it writes. "38% indicated they might postpone their plans and only 13% said they would cancel them."

As for the year that was, Ctrip continued to expand its global reach into emerging market, India, by purchasing a stake in travel site, MakeMyTrip. Meanwhile, it struggled with maintaining trust with its consumers; first, when hackers penetrated the site in May 2015, resulting in a dip in stock prices, and then when fraudulent ticket sales were revealed in early 2016.

Overall, the travel industry posted better increases than expected, and pulled its weight on the Top 100 Most Valuable Chinese Brands, as other categories like Apparel fell greatly. The study credits the change in the distribution of value on the Top 100 as a change in spending priorities. "These include a desire for services and experiences, and a shift in focus from price alone to quality and value for money, with a related willingness to pay a premium, when merited," according to the 2016 report.

This bodes well for the travel industry, as it has consistently outperformed the list index to date. The report notes that most Chinese forecast a bright future with the current economic turbulence to pass. With that, analysts shouldn't be too surprised if next year's valuation will also land positively.