Home
>
Destinations
>
HNA to tap Asia's short-haul travel, partnering French vacation operator
HNA to tap Asia's short-haul travel, partnering French vacation operator
HNA PV Tourism plans to roll out five projects in three years to build holiday resorts near first-tier and second-tier Asian cities, to tap the booming short-haul market.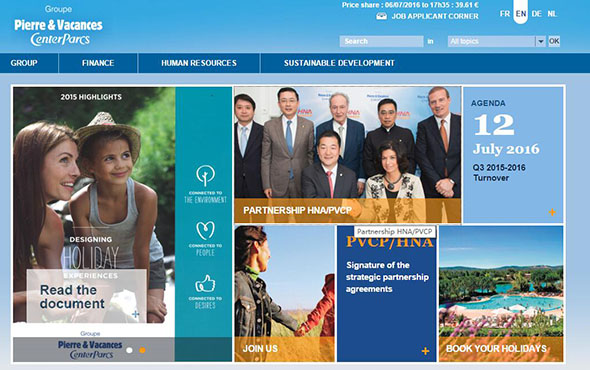 HNA Tourism, a subsidiary of China's aviation and tourism conglomerate HNA Group, tied up with France's largest vacation company Pierre & Vacances-Center Parcs Group (PVCP) and inaugurated a joint venture named HNA PV Tourism on July 4. Registered with RMB 50 million capital, the JV company is held 60% by HNA Tourism and 40% by the French resort operator.
HNA PV Tourism will provide consultancy in tourism property development and involve in resort operation and management, as well as real estate brokerage. The company plans to embark on five programs in the next three years and develop new resort destinations in the vicinity of first-tier and second-tier cities in Asia.
HNA PV Tourism will build French-style holiday resorts based on the Center Parcs model, targeting middle- and upper-class in top-tier cities including Beijing and Shanghai, to differentiate from traditional short-haul local travel model.
Another French resort operator Club Med, now a subsidiary of China's Fosun Group, is also planning select short-haul travel routes in China. The company inaugurated its holiday sub-brand Joyview in February 2015 to offer customers a wide range of boutique short-distance vacation plans that are within two or three hours' drive.
Short-haul tour has become an important alternative for Chinese travelers to spend their weekends or short-term holidays in recent years. Chinese tourists make more than 3 billion trips each year and over 70% of the trips are short-haul local visits of 1-3 days. The short-haul travel market in the world's most populous nation is worth at least hundreds of billion yuan.
China's State Council issued a document last August on promoting tourism investment and consumption, and flexible work hours is encouraged. Local governments in at least 11 provinces in China have since released guidelines to recommend 2.5-day weekly leave.
Ctrip's marketing department projected that China's tourism spend will reach RMB 1 trillion and short-haul weekend trips will jump at least 30% if the 2.5-day weekend plan is implemented. (Translated by Jerry)