Where airline execs think ancillaries are heading
06/23/2016
|
4:42:57 PM
|
中文
SAS is gradually introducing a new digital platform aiming at increasing ancillary sales.
SAS is gradually introducing a new digital platform which the Scandinavian airline says it has been working on for the past 18 months.

The launch of the platform, which will be country by country in the coming months, is the first part of a Euro 50m digital transformation project for the carrier.

The aim of the '360' platform is to increase ancillary sales but it is also part of a new three-pronged strategy for SAS which aims to – focus on the basics, find new revenue and differentiate itself.

According to Pernilla Edelsvard, head of digital for the airline, by September/October, SAS will have a new digital platform with open APIs.

The technology has been built on four pillars:

1. Omni-channel – because the airlines believes a seamless experience is vital to keep customers coming back.
2. Mobile moments or a mobile first approach – in terms of making flight and travel-related products available as well as "baby-steps" towards life-related products. SAS has also introduced a labs initiative enabling customers to try new products and services. The idea is that what works well will end up on the digital platform.
3. Personalisation – relevant offers to customers. A project working simultaneously beside the digital platform has been to collect and measure customer data so they can be targed with the right promotions and offers.
4. Open API – because the airline sees them as "a great enabler for everything that's coming."

The life-related products element is interesting is worthy of a bit more detail.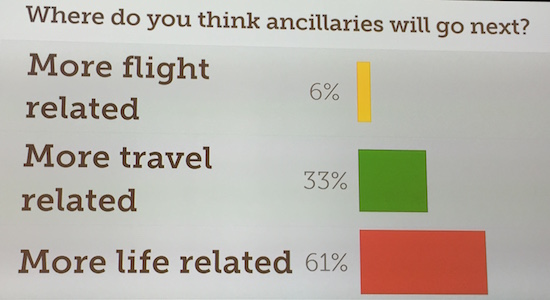 The airline audience at the recent Amadeus Merchandising, Digital and Travel Intelligence conference was polled on where it thought ancillaries will go. More than 60% voted for 'more life-related' as per the slide above.

Edelsvard says the airline now "wants to go crazy" with ancillaries and that internally it talks about "ancillary on steroids or very strong vitamins."

SAS is on the hunt for products and services that provide value to the customer and that the airline can monetise – could be hotel offers, could be groceries delivered at home on return from a trip or, even a babysitter in New York.

The airline has been gradually growing its ancillary offering and more than doubling revenue in the past two to three years. Head of ancillary Catharina Tornemo Fecko says 2016 is it's most successful year to date and that May was it's most successful month.

She shared some detail on the airline's strategy which has been to "not go low-cost" or unbundle but to preserve the business model, start small and test and learn.

Read original article