Home
>
Corporate News
>
Maritim Hotels prepares to open its 2 new hotels in Hangzhou and Hefei
Maritim Hotels prepares to open its 2 new hotels in Hangzhou and Hefei
In addition to 3 established hotels in China , Maritim, the largest owner managed German Hotel brand is preparing to open its 2 new hotels in Hangzhou and Hefei.
May 20th,In addition to 3 established hotels in China (Maritim Shenyang, Maritim Changzhou, and Maritim Wuhu), Maritim, the largest owner managed German Hotel brand is preparing to open its 2 new hotels in Hangzhou and Hefei. To celebrate its brand development in China, Maritim Hotels hosted a press conference in Hangzhou Yuexiu Starry City, where one of the upcoming Maritim Hotel's located. The purpose of this event is to enhance the brand awareness in China, emphasize its motto of "German quality and meetings & accommodations under one roof", and encourage Chinese consumers to stay with Maritim wherever they travel with a Maritim hotel in town.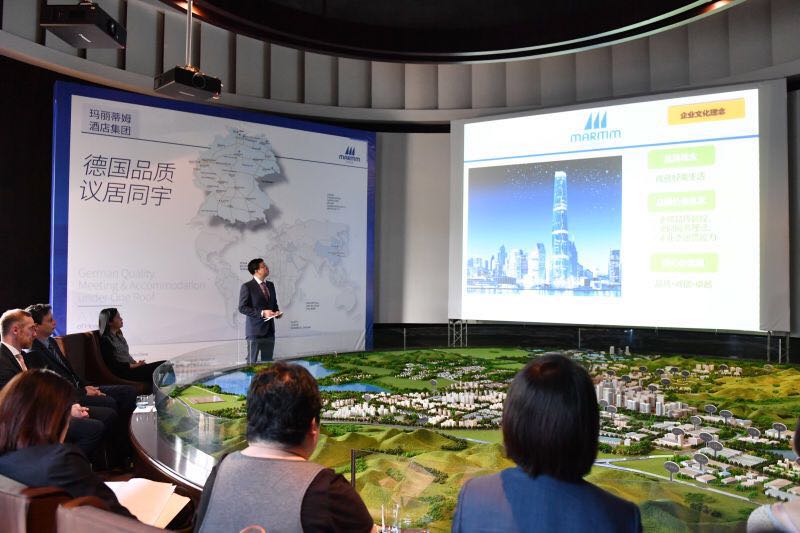 Since its founding in 1969 and the country's best known hotel chain now enjoys an international reputation. The comprehensive portfolio includes centrally located city hotels, conveniently located airport hotels, coastal beach resorts, course-adjoining golf hotels and parkland spa hotels. While every property is uniquely individual with its own advantages, they are united under Maritim's motto of "German quality & Meetings and accommodation under one roof". When it comes to event facilities, no other private company in Germany can match Maritim's collection of congress halls and meeting rooms. The elegant accommodation, state of the art event rooms, award winning restaurants, sought-after pubs and comprehensively equipped wellness facilities have made the name "Maritim" synonymous with German hospitality excellence.

As a family owned and run company, the company's portfolio has also experienced rapid expansion in the last decade, including its full service travel agency--Maritim Hotel Travel Services, and HMS - Hotel Management Services International GmbH, a company that focuses on acquiring management contracts for hotels overseas. The initiative yielded quick and impressive results - and the list of destinations abroad now flying the Maritim flags includes Netherlands, Spain, Mauritius, Egypt, Turkey and China. The partnership with Guangzhou Yuexiu Group and Anhui Highway Properties has further approved its brand development overseas.

"German quality & Meetings and accommodation under one roof is what Maritim differentiates from other brands. Our staff undergo intensive vocational schooling and advanced training, strict operational procedures, sales and marketing avenues explored. No hotel will accept a guest under the name Maritim before the company is absolutely certain the accommodation experience will meet the company's high standards" Said Roland Elter, CCO of Maritim hotels. He also mentioned that all 50 Maritim hotels are welcoming more Chinese outbound travelers by effectively applying Chinese Welcome program, and approaching & establishing major Chinese business partnerships.

Xiaojun He, the GM of Hangzhou Yuexiu property said:" Yuexiu property has rich experience in real estate, together with Maritim's high quality hotel product and service, we will create Yuexiu Starry City a great full-service society." Li Zhu, the deputy GM of Anhui Highway Property also indicates to provide consumers an international hospitality experience by carrying on Maritim's motto.

Christian Thomasberger, the COO of Maritim HMS introduced Reinhardt & Sander, Maritim's architectural and engineering firm, that earned the industrial reputation of "speed and cost". While certain design elements are often in keeping with local and historical architecture, the fine aesthetics that put guests in a relaxed, holiday mood are universal. Natural lighting, landscaping, furnishing, colors, placement, proportion, acoustics - all have to be just right so that no matter where in the world Maritim guests are staying, they immediately enjoy a sense of wellbeing.

The event announced that Maritim Hefei Hotel is expected to open in July 2017, and Maritim Hangzhou hotel is expected to open in December, 2017.