How elite travellers search and book differently to others
04/01/2016
|
3:20:06 PM
|
中文
After examining the behaviour of elite travellers, travel data specialist Adara found that elite travellers begin hotel and flight searches earlier than non-elite travellers and they do more searches than non-elite travellers.
Elite travellers – those that take nine flights and have six hotel stays a year – make up 10% of the travel sector and behave online in an entirely different way to their travelling counterparts.

Whether it is because this subset of travellers are more used to the vagaries of web search and booking, or have their own habits and processes when browsing for products, marketers obviously need to think about when to target them with offers or modify any personalisation tools that they might use.

Travel data specialist Adara has been examining the behaviour of this group of travellers to try and understand more about specific elements of the search and booking process.

The company says there have always been assumptions around this subset in that there is a "shorter timeline for the booking period and making them harder to reach".

But the data it has tracked shows that many of those ideas should be challenged, with marketing tactics altered accordingly.

For example, elite travellers begin planning some eight days before buying a flight and 32 days before the actual trip, compared to non-elite travellers that start their air ticket search six days out from purchase and 30 days ahead of departure.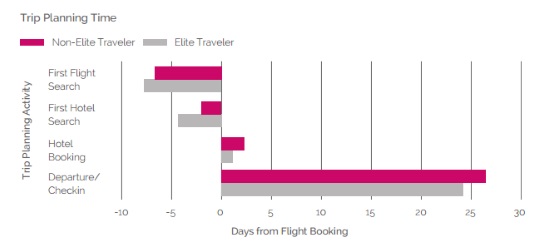 What else?

Elite travellers conduct a higher number of flight searches (6.2) compared to non-elites (5.5), with a similar trend for hotels, with 5.6 for elites and 5.1 for non-elites.

In terms of accommodation and flight types, elite travellers are typically looking for luxury and business class, but will accept cheaper air tickets and mid-tier level hotels, not least if the marketing message appeals to the traveller during the search process.

Read original article