LY.com is actively preparing for an A share listing, having completed consultations with its securities brokers and accountants since 2013 and communicated with the Shenzhen Stock Exchange, according to LY.com's CEO Zhixiang Wu.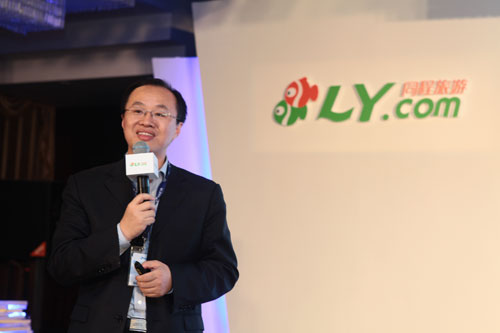 LY.com's CEO Zhixiang Wu
"It's a big world and everybody wants to see it. This means excellent business opportunities in travel, especially outbound travel, and a chance for the tourism and finance industries to work together," Mr. Wu said. "Six months ago, we formed a financial team specifically to research and develop tourism finance products such as payment by installments. Tourism finance products allow consumers to enjoy trips with just a small down payment using the credit services that LY.com offers in conjunction with its suppliers."
He said that LY.com keeps a close eye on the A share market as the company is built on domestic RMB capital. He is very happy to see the launch of the strategic new boards and impending implementation of a registration system. He also thinks that an A share IPO is something to look forward to and he believes that China's investment markets will attract and retain more outstanding local online companies and new economy businesses, and reward investors in China's "internet plus" boom.
Besides finance services, LY.com has also been concentrating on expanding its destinations resources through forming joint ventures with local tourism businesses in Japan and Korea to gain more control over local resources.
"Word-of-mouth reputation is extremely important in the online travel industry. As outbound travel is not a frequent consumption field, consumers tend to make choices based on service. However, once our travelers are passed over to ground operators in respective overseas destinations, it is difficult for us to control the service standard and word of mouth reputation of our company. So we find that direct purchasing allows us to have better quality control and that's why we have chosen to form joint ventures with local businesses while implementing the internet plus destinations tourism strategy," Mr Wu said.
Since LY.com launched its internet plus destinations strategic partnerships in December 2015, the company has signed on almost 20 partner destinations in China. Under the partnership framework, LY.com will leverage its platform and technology to provide its partner destinations support on online marketing, smart tourism setup, tourism big data, tourism ecommerce personnel training and destinations brand building.
LY.com is also leveraging its national network of regional and urban operational centers to bolster marketing and product promotion support for its destination strategic partners.
LY.com's largest shareholder is Wanda Group, and its founding team and Ctrip are two other major shareholders. Tencent also holds LY.com equity.(Translation by David)