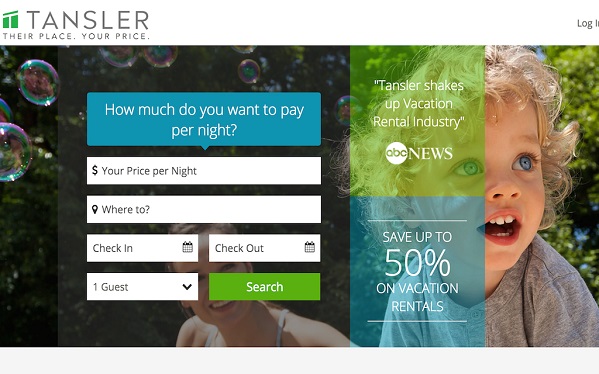 Since then, Tansler has been in stealth mode.
This past November, Tansler won two awards at the Phocuswright Conference: the General Catalyst Award for travel innovation (which came with a $100,000 convertible note prize) and the "most innovative emerging company award."
Today the startup said it has received $1.3 million in convertible debt as additional funding. Participating investors include Karlani Capital, Ken Hamlet, and Tony Isaac. Its total funding, to date, is $2.1 million.
Today the company also announces new hires to its executive team: Walter Buschta, the former CMO of Interhome, becomes Tansler's COO. Daniel Ortiz, the former CTO of Makr, becomes the startup's CTO.
Tansler (an anagram of "rentals") said it has inventory for 500,000 properties, which it accesses via property managers, property management software companies, and partnerships with leading vacation rental websites.
The company lets consumers choose multiple homes and submit one binding offer, meaning that a credit card number guarantees the booking. Owners/managers compete to be the first to accept the booking. If there are no takers, the auction ends after 24 hours.
It's free for hosts to list their properties and for renters to bid on properties. Renters pay a 6% service fee on completed bookings, while owners pay a 3% service fee.
For an update on the company's journey to this point, Tnooz asked Jeremy Bernard, CEO and founder, for his story:
"As a husband and father of two, I felt vacation rentals were the best option for 'quality-time vacations.'
Unfortunately, with every vacation, I increasingly became more annoyed and frustrated by the weeks of back and forth needed to book a place. I decided to create a solution that simplified and accelerated the process of negotiating and booking a vacation rental, and Tansler was born.
After technical challenges with the beta launch, we hired a new CTO who was PayPal's #2 engineer, Troy Saxton.
A month before the planned launch out of beta last fall, Troy tragically passed away in a plane crash.
Typical for a start up company, a large part of the knowledge was concentrated on a few team members. It was a huge challenge to move on after this tragic loss, pick up the pieces and start all over again.
After appointing a temporary tech consultant and persisting through several ups and downs, Tansler eventually hired a new CTO this past spring, Daniel Ortiz, and now we are ready to launch.
Tansler has gone through our fair share of setbacks, but we have never surrendered. Our commitment, belief and passion in our company continues to persevere, even after the passing of our CTO.
Through a lot of hard work we've successfully regrouped, rebuilt and reorganized with a great product that received industry validation when we won the main award at this year's Phocuswright Innovation Summit.
The company has five employees at the moment. It's looking to hire in tech, marketing, and business Development (with open positions in the US and Southeast Asia)."
Read original article