ChinaTravelNews, Ritesh Gupta- Are Chinese hotel chains managing to hold on to the scheduled opening of their hotel development pipeline, or are such plans going off-track in the short term?
With macroeconomic challenges continuously exerting pressure over the performance of hotel companies, questions are being raised.
Among major players, Homeinns Hotel Group, which now has 369 hotel projects in the pipeline (235 are under contracted or under construction status, and 134 were under due diligence), has remained committed to its target of opening no fewer than 400 new hotels in the course of 2015, with approximately 25% as mid-scale hotels. "A lot of hotels will be opening (this year)," mentioned the group's CEO David Sun during Homeinns Hotel Group's Q3 earnings call earlier this week.
Also, as HUAZHU Hotels Group announced its quarterly results this week, Qi Ji, founder and executive chairman referred to the "strong pipeline amid a fast pace of openings this year".
"In Q3 we opened a total of 204 net new hotels," HUAZHU's CEO Jenny Zhang said during Q3 earnings call.
Interestingly, HUAZHU used offshore bank loan to purchase Home Inns ADS from open market, equivalent to RMB435 million, in Q2 and Q3. Zhang didn't elaborate much on this, but did say: "all the investments we made in the past 12 months I think all have a strategic implication", rather than just being a financial investment.
At the end of September, the group had 2,588 hotels in operation among which 24% were leased hotels and 76% manachised (franchised-and-managed) and franchised hotels. At this juncture, HUAZHU has a pipeline of 696 hotels, with 16 leased hotels and 680 manachised and franchised hotels.
It was highlighted that the group's four younger brands have now hit 100-hotel milestone, including JI Hotel, Starway Hotel, Elan Hotel and Hi Inn.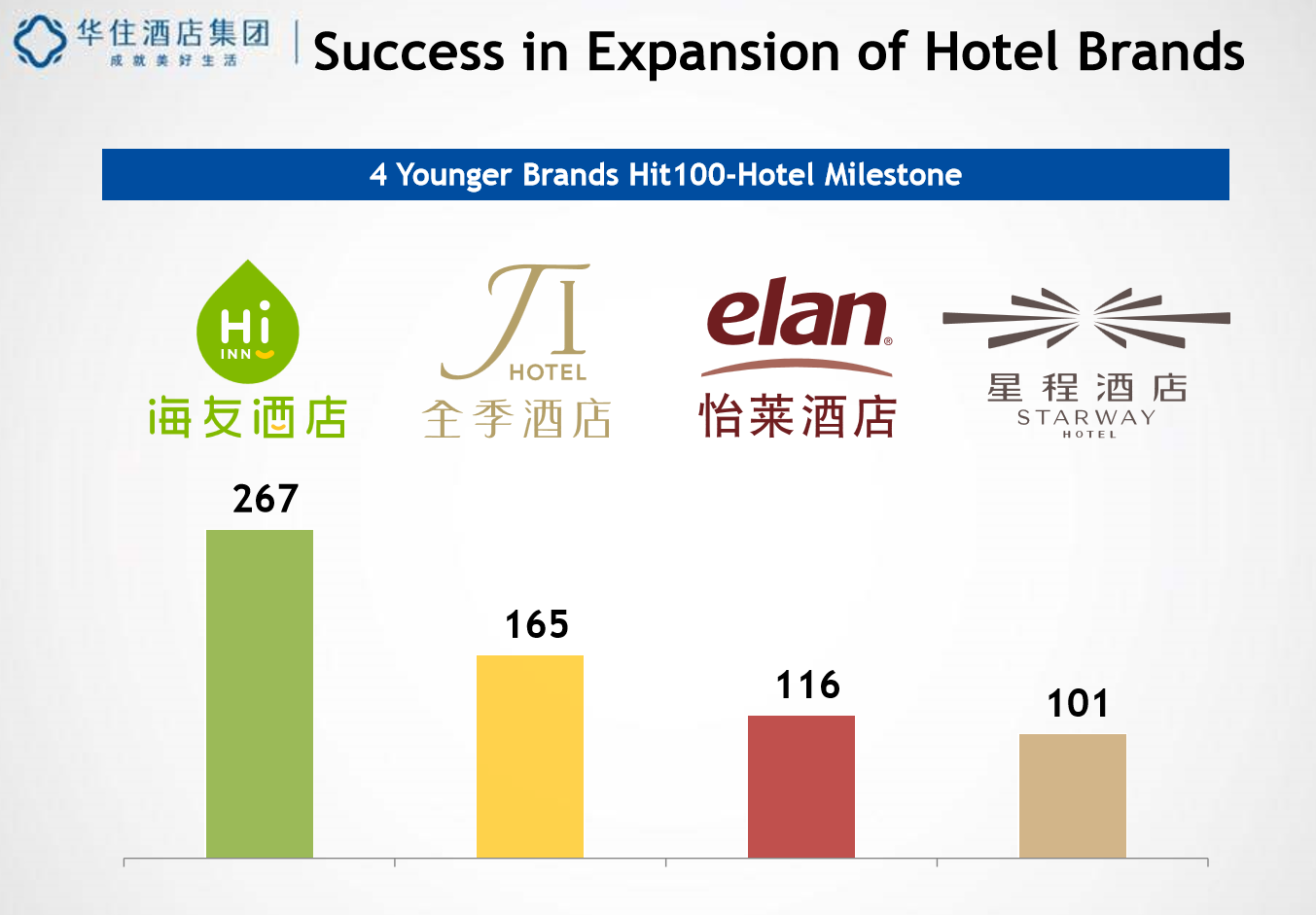 Source: HUAZHU Hotels Group
Building on expertise
Ji mentioned that the team launched the Elan hotel brand just 12 months ago, and now it has exceeded the 100 hotels in operation.
So what's driving this expansion?
The group is counting on its expertise in this segment, and as Ji says, there is "a lot of franchisee interest". At the end of Q3, HUAZHU had 116 Elan Hotels in operation and 83 in pipeline. Considering that many of the group's franchisees are small to medium-sized business owners and the investment into an economy hotel could range from RMB 2 - 7 million, the group believes such level of investment is affordable.
When this is combined with progress that is being made in the mid-scale category, Ji says this current portfolio exemplifies the leadership in expansion.
Referring to the mid-scale brand, Starway Hotel, Ji said it had resumed its growth with the improved business model in the past three years. "At the end of Q3 we had 101 Starway Hotels in operation and 67 in the pipeline. With the wider range of established hotel brands, HUAZHU were leaders in hotel expansion going forward," he said.
Trends spotting – Shanghai stands out
Zhang shared that going by the performance for the January – September period this year, the same hotel RevPAR decline had been shrinking.
"The midscale and upscale hotels registered a 6% same hotel RevPAR improvement, mainly driven by a 5% increase in the same hotel ADR. In the first nine months of 2015, our same hotel RevPAR decline had been shrinking. The trend also continued in October," said Zhang.
Although the overall market has not shown a sign of recovery, hotels in higher tier cities outperform those in lower tier cities.
In terms of the potential growth opportunity, the group sees a favorable trend in Shanghai area.
"Shanghai in particular provides more favorable pricing opportunities as driven by more exhibitions this year. At the end of Q3 we had 305 hotels in Shanghai, accounting for 12% of our total network," said Zhang. "Despite the general macro economy has not changed much, but we do in certain cities see improved demand situation. Shanghai in particular has performed very strong in the past two quarters. So that has led our RevPAR improvement."
She further added, "Not only Shanghai (has been) receiving a significant number of new exhibitions, we also are expecting the opening of Disney next year. We also expect Disney may lead to some spill-over of tourism destinations nearby. So in general, if you see the trend in the Shanghai and nearby cities are going to be quite positive in next year."
The group is open to investing in office sharing as well as short-term apartment sharing business.
For the office sharing category, Ji said, "…we do see that we have a lot of excess space in the hotel wings as well as the dormitories for the hotels. So what we plan to do is that we would like to convert those excess spaces in the hotel wings as well as dormitories into office sharing."
Stepping up marketing expenditure
Even as the group is expanding, HUAZHU's selling and marketing expenses for Q3 were RMB42.4 million (US$6.7 million), compared to RMB53.6 million last year.
"This year we were a lot more conservative compared with last year in terms of marketing programs. But we don't plan to remain that way going forward," shared Zhang.
Zhang acknowledged that in order to support rapid expansion of the network as well as strengthen brand image in the market, the expenditure would go up.
"(This would) enable us to achieve a higher occupancy and being able to claim a higher price, we still need various kinds of the marketing programs. So we would expect a reasonable increase of spending in the marketing expenses going forward from this year's low level," said Zhang.
As for consolidation in the OTA space, led by Ctrip.com, Zhang said, "OTA consolidation will bring the market competition to a more orderly status. We haven't seen any immediate changes yet. For us, our strategy remains unchanged. We will still focus on our direct sales and provide more favorable experience and terms in our direct sales channels." She added, " The OTA (channel) accounts for 9% of our room night sales. And so we still maintained a direct channel as our main sales channel."
Future
HUAZHU believes its growth plans and operational performance should continue to fuel improving margin. At the same time, as Zhang pointed out, one needs to be pragmatic. "Going into 2016, we will not see continue to see dramatic same hotel RevPAR decline as we have seen at the beginning of this year".