Cruise holidays are clearly taking off in China, as OTA LY.com reported 430% increase in online bookings for cruise holiday products during this year's Golden Week in October. About 70% of the cruises sailed from Shanghai. The China Cruise and Yacht Industry Association estimates that a total of 613 cruises will sail from China this year, up 31.5%. The number of Chinese cruise passengers taking outbound cruises will exceed two million, equivalent to over 40% of the volume of the Asian cruise market.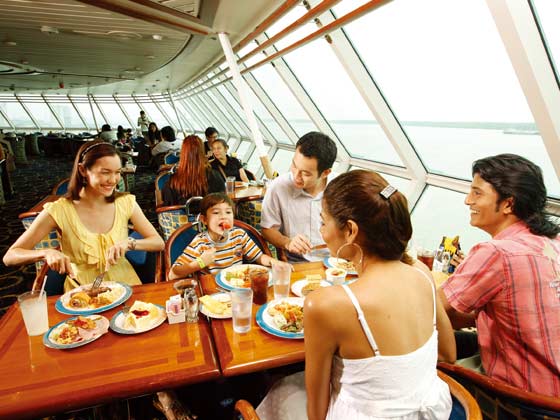 Cruise travel is becoming one of the highest growth segments in China's travel industry
Cruises become red-hot segment of searing outbound tourism market
The top-seller among LY.com's cruise products was the four-night five-day "Shanghai-Jeju Island-Fukuoka-Shanghai"tour, which accounted for 63.04% of all cruise bookings during the National Day holiday. The majority of passengers came from Shanghai, Beijing, Hangzhou, Suzhou, Nanjing, Guangzhou, Tianjin, Wuhan, Shenzhen and Wuxi.
China's outbound tourism industry has been growing at a breakneck pace of 20%-30% per year in recent years. The number of outbound travelers may increase to 120 million -130 million this year, and a good portion of them travel on cruises. Demand for cruises especially in first and second-tier cities has skyrocketed as more and more travelers are attracted to cruise vacations.
Global giants battle over China market
The explosive growth of China's cruise industry has attracted global giants Royal Caribbean and Carnival Corp who are eager to get a piece of the market.
A far cry from 10 years ago when there was only one international passenger liners with 900 berths operating out of China home port, there are now 12 liners with a total capacity for 30,000 passengers operating out of China. Famous global brands like Royal Caribbean, Carnival Corp, Genting Group and MSC Cruises have all entered the Chinese market. It is generally agreed in the international cruise industry that China is the world's fastest-growing emerging cruise market.
This year saw the successful launch of Costa Cruise's Costa Serena, SkySea Holding's Golden Era and Royal Caribbean's Quantum of the Seas liners in China.
On October 11, Carnival Corp announced that its Princess Cruises will add the Golden Princess Liner to its fleet in China. The company announced two days ago that it will bring its two major brands Carnival Cruise Lines and Aida Cruises to China in 2017, to add to its Costa Cruise Line and Princess Cruises brands already operating in China.
On October 14, Norwegian Cruise Line announced it was entering the Chinese market and would unveil a new-build in 2017 specifically tailored for the local market.
Having made a successful introduction of its widely acclaimed Quantum of the Seas liner to the Chinese market this year, Royal Caribbean International announced that it will bring sister ship the Ovation of the Seas liner to China next year as well.(Translation by David)