Hong Kong–April 29, 2015: Air China Limited ("Air China" or "the Company," together with its subsidiaries, collectively "the Group") today announced its financial results for the first quarter of 2015.
Results highlights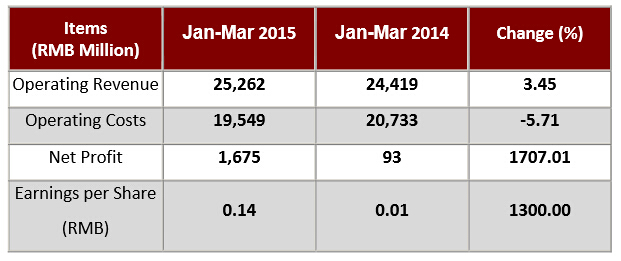 Operating and business highlights
In the first quarter of 2015, China's economic growth remained stable while Europe and the US
maintained moderate momentum in their economic recovery. Air passenger travel demand continued to grow steadily and the air cargo market experienced a solid y-o-y rebound.
During the Q1, the Group recorded an operating revenue of RMB25,262 million, representing a y-o-y increase of 3.45%. In comparison to the same period last year, operating costs were RMB19,549 million, down 5.71%, andnet profit reachedRMB1,675 million,up significantly by 1707.01%. The substantial increase in profitability was primarily attributed to a considerably better than expected growth in market demand, a sharp fall in jet fuel prices, and an effective
costs management by the Company.
Outlook
The aviation industry will continue to face many challenges in 2015. Despite this, there have been a number of growth impetuses driving the aviation industry in China.
These catalysts include the stable development of China's economy, the steady progress in executing China's "One Belt, One Road" strategy, the robust growth of domestic consumption and the solid upward momentum in outbound tourism. On consideration of these positive factors, the Group
remains optimistic about the growth prospects this year.
We will continue to embrace the "New Normal", seek new growth avenues, increase operational efficiency, focus on creating innovative business models,
meet the growing demand for personalized services and optimize business synergies with associated corporations and strategic partners to further enhance our integrated capabilities
and competitiveness, thus achieving a sustainable and momentous business development.
Read full press release