ChinaTravelNews - Vacation rental business isn't really new in the travel and tourism sector, as one can read plenty of stories about how travellers used to send paper checks and finalize rental paper contracts for their trips even more than five decades ago.
Today one has reached a stage where the industry has practically seen seamless transition of every aspect of vacation rental planning and booking moving onto the digital medium. Today, if you are in the U. S., as a traveller you can enhance your overall vacation rental journey by booking transportation, planning grocery shopping, local activities and select restaurants based on recommendations well in advance. And the power of mobile expectedly is paving way for this.
But if we focus on a market like China, the online marketplace for vacation rentals is still in the burgeoning phase.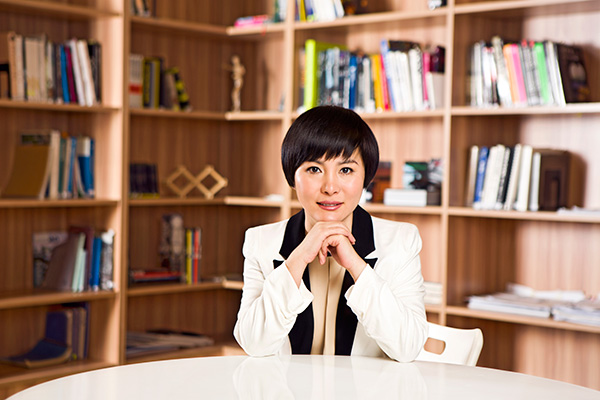 Melissa Yang, co-founder and CTO, Tujia, a venture known for grabbing first mover advantage in the vacation rental space in China, says the market is in "early stages" when compared with Europe and the U. S.
"It's a proven business model, even though there is no data at this juncture to offer the accurate estimate for the market size in China," she says. To its credit, the team at Tujia was in news for raising $100m in mid-2014. What Tujia.com's operations look like – Online vacation rental marketplace + property manager + OTA – is unique, and it has been tailored to address needs of the Chinese market.
Tujia.com has about 120,000 properties in more than 150 destinations in China, and also features properties in over 70 overseas destinations, through its partnership with HomeAway.com. The U. S.-based company has been associated with Tujia since A round financing in 2012 as a strategic investor.
If we compare this three-year old venture with HomeAway.com, the U. S.-based entity celebrated its one millionth live vacation rental listing in June, 2014. According to HomeAway, owners and property managers cumulatively garnered more than $11 billion in rental revenue in 2013.
Building trust
Tujia is focusing on a couple of key aspects, i. e. to accentuate its expertise in understanding the local culture, be it for authentic local experiences or relishing unique architecture of the properties listed on its site.
Clearly this category thrives in garnering attention of those set of travellers who are keen on an affordable alternative to hotels or ones who would like to live like locals. But this takes time, and a marketplace needs to be nurtured. "There is this trust issue that needs to be taken care of, as each vacation home is different." The Tujia team has found its way of being transparent, by relying on human touch and encouraging feedback from the travellers who have actually stayed at one of the properties booked through its platform.
"We have regional teams, and this aspect of our O2O model (online-to-offline business model) is our key differentiator. We can't afford to miss out on key elements – room has to be clean, service has to be apt, so all our properties are professionally managed. We also work with third-party property management companies and have staff at a local level to ensure the experience of the guest is optimized," explains Yang.
The company is also flexible in terms of payment options offered to bookers. "We have several arrangements – payment for first night stay, full down payment or not any payment upfront during the low season," says Yang. Tujia is open to taking traditional (cards, bank transfer) as well as alternative payment methods (ewallets). The fact that the company is facilitating payment via mobile app WeChat also means that it is in a position to drive further bookings via mobile.
Work in progress
For a business, which is only three years old, Tujia acknowledges a couple of key facets that it is focusing on. The first aspect is to expand the number of listings featuring home owners with which Tujia has revenue-sharing deals lined up. The share of these properties isn't prominent yet in the overall 120,000 listings, but the company says it is expanding at an aggressive pace. The number of self managed properties has more than tripled this year and Tujia will project a faster speed next year since more and more newly built properties will be delivered to the market.
"We have listings in tourist places as well as key business cities. Tujia.com, as a platform, sells properties both managed by ourselves as and third party. (For the) Online part, we already built a platform two years ago to sell listings and apartments from third party property management companies. As the offline part of business, we manage the best properties by ourselves and majority of them are in tourist destinations," says Yang.
Since there are many different types of properties in China, the quality of services is mixed. Not all third party property managers can provide the same level of service as Tujia's own managed properties. Tujia has made diligent efforts in this arena. First, Tujia has strict and detailed criteria on property selection. Only properties which meet the quality bar are able to get listed online. Second, Tujia monitors ratings and reviews from travellers. For any review lower than or equal to 3 (5 as full score), Tujia follows up with the property manager individually. In many cases, it involves an on-site visit and discussion with property manager on improvement plan. Third, Tujia, as a platform, guarantees on certain level of services. If a traveller is not satisfied with a property, Tujia will help him find another property nearby, work with the property manager to find a better property, or gets the money back. As a result, the average rating of overall satisfaction from travellers on Tujia.com in October stood 4.62, shared Yang.
Yang acknowledged that Tujia needed to do a better job to distinguish different types of properties and level of services better on its website and they have been actively working on it.

Some properties are listed on both Tujia and OTA sites because OTA sites also sell service apartments. For those overlapping properties, Tujia provides more content to travellers - details of every room types of the property manager, including pictures, facilities and etc. Tujia has some unique properties and is optimistic about expanding them. For instance, here is a famous property.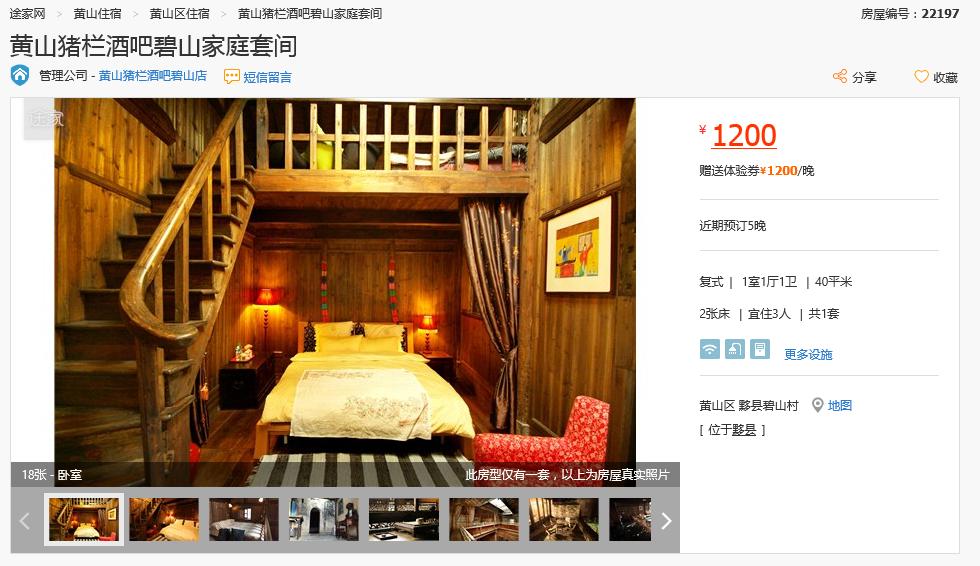 Distribution
Yang isn't willing to share performance metrics, but she does indicate that room nights booked during the August-October 2014 period witnessed four times growth when compared for the same period in 2013. As for mobile bookings, the company is relying on mobile web and apps, and over 40% of bookings come via this channel. The company is also relying on call centre operations to sort out any booing or customer service issue, as well as gain post-stay feedback by following up after the traveller has checked out from the rental property.
One key aspect of driving traffic to the owned platforms is strategic alliances with the likes of Ctrip.com, and HomeAway.com.
Tujia is leveraging Ctrip.com's prowess, its ability to attract traffic. The OTA has a lodging tab featuring a vacation rental channel on its site powered by Tujia. Also, the vacation rental specialist can count on Ctrip's content to complement the overall travel experience, be it for car rental or any component of the journey. Tujia has done similar alliance with other partners. For instance, 360 is a big portal in China and its travel site has a vacation rental channel hosted by Tujia. Tujia is relying on the blend of its offering and the core strength of brands like Ctrip.com and Alibaba (for instance, on Alibaba, Tujia garnered sales of RMB 2 million on November 11 via so-called Single Day's Sales). However, not all OTAs are open to working, for instance, eLong and Tujia aren't partnering at this juncture.
Though details aren't available here in China, intermediaries like vacation rental specialists and the OTAs in mature markets are monetizing their traffic by letting rental property owners to advertise their properties on the OTA site. A major benefit for property owners is increased exposure, all this being done in an efficient manner. Property owners are being offered the same tool for managing their operations on the OTA site similar to the way they do on the vacation rental site. As for intermediaries, they have an option of sharing revenues on the pay-per-booking transaction basis.
Competition
If there are two properties from different categories in the vicinity – a hotel and a vacation rental – then obviously it would draw attention on various counts, including the pricing strategy.
Interestingly, this battle can extend to every type of location, including oceanfront, main city areas etc.
Citing an example, Yang mentioned that in Haikou, there is a property listed on Tujia and nearby there is a branded chain hotel. If one compares the view offered by the two properties, then the vacation rental property with ocean view and 1.5 time bigger is available for 238 RMB, whereas the hotel is offering a room with garden view for 598 RMB. Obviously, perception value is a key factor in decision-making, but as Yang says there is a section of audience that would tilt in favour of vacation rental since there is choice for staying in a non-hotel environment plus availability at a relatively cheaper rate.
Tujia is also working on several other aspects to strengthen its offering, relying on the blend of technology and content. For instance, its mobile app supports a navigation feature that can combine content pertaining to local restaurants, authentic local experiences etc. So be it for logistics related to rental, such as directions to the property, check-in/check-out times or popular things to do in the local area, owners and the company end up delighting the traveller.
Tujia is looking at expanding its coverage domestically and overseas, and it definitely needs to look at sharpening its online vacation marketplace model by tying up with more home owners in major cities. It is also looking at adding unique properties in the future. There are plans to come up with an offering pertaining to weekend getaway.
(Report by Ritesh Gupta)