This article is written by Ritesh Gupta, reporter at TravelDaily China.
According to the Ministry of Commerce People's Republic of China, the trade volume of China's e-commerce in the first half year reached 5.66 trillion yuan, up 30.1% year on year. Online retail market reached 1.1 trillion yuan, up 33.4% year on year, accounting for 8.4% of the total retail sales of consumer goods of the first half year.
As for the online travel sector, the category is around 15 years old but still online penetration is being termed as the biggest opportunity.
As stated by Min Fan, Vice Chairman and President of Ctrip during the company's second quarter earnings call, China has entered a golden era of the travel industry.
From 2013 to 2017, the compound growth rate of online travel revenue would be 21%, which is almost the same as the growth of the whole e-commerce market, according to iResearch.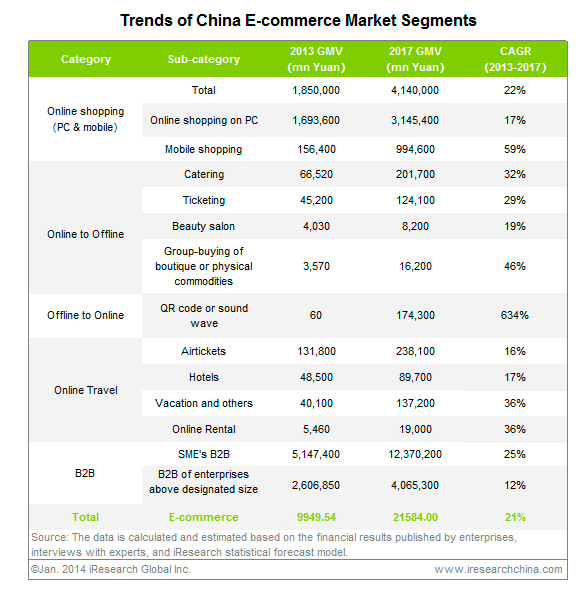 Source: iResearch Consulting Group
So in this context, it doesn't come as a surprise to witness the kind of sustained investment the travel e-commerce category is witnessing.
This approach is validated by the number of digital users who are counting on web and mobile channels for their travel shopping needs. For example, meta-search brand Qunar.com's web user base grew from 110.2 million in 2011 to 234.2 million last year. Also, the base of mobile users increased from 4.3 million in 2011 to 53.8 million last year.
Improvisation
Intermediaries are currently focused on refining their offerings, and expanding their reach. And the bigwigs are also making big adjustments to their sources of revenue generation, defying the way typically the online travel industry has functioned.
"The structural change is that OTAs such as Ctrip are embracing open-platform strategies, and platforms like Qunar are becoming more like OTAs," said Ming Zhao, founder and chief analyst, 86Research. "We are also seeing big OTAs trying to become one-stop travel service provider. They are investing in segments beyond hotel and air-ticketing. Also, a few small OTAs are focusing on vertical areas, e.g. Tongcheng.
Ctrip, which has a proven track record when it comes to scaling up with success, states its direct product in conjunction with its open platform product will result in varied choice for its users. For instance, Ctrip is focused on strengthening its transportation related offerings – optimizing the combination on air, train and bus components for travelling from one city to another. The objective is to serve proficiently travellers from the start to the last mile of their trips. As for the expansion of its distribution reach, the company's open platform monthly transaction value reached more than RMB100 million in June. As for strategic alliances, Ctrip signed an investment pact worth US$200 million with Tongcheng Network that operates LY.com, and also became a strategic investor in Beijing Mind Education (the entity has served more than 700,000 travellers). Ctrip also acquired $15 million of online leisure travel company Tuniu Class A ordinary shares through a private placement concurrent with Tuniu's IPO. Plus Ctrip led a $60m round of financing announced by car booking service platform Yongche.com late last year.
Referring to Ctrip's investment in LY.com, Zhao said such moves reduce price war. "It helps in margin improvement."
Next big frontier
"We think that the next big frontier for travel e-commerce in China will be the "weekend DIY tour" and O2O (online to offline, encouraging the online customers to visit the physical store)," said Leo Wang, chief strategy officer, LY,com.
Wang pointed out that currently the traditional travel agents are trying their best to get close to online and the OTAs are developing their offline market channel, for instance, the offline sales departments and experience store. "OTA are paying more attention to the tourist attractions ticket, train tickets, coach tickets and weekend DIY tours, and have stepped up their expenditure and strengthened their staff to exploit the weekend DIY tour market," he said.
As for LY.com, Wang said the company is a one stop travel service provider that caters to travellers' recreational travel demands through extensive products and convenient mobile app. "Our investments support operations encompassing hotels, airlines, tourists attractions, abroad travel agents, cruise company, weekend tour providers, and mobile app development and maintenance," he said.
Zhao indicated that the next big frontier is outbound leisure travel. "We have seen a surge in this vertical, driven by companies like Tuniu (on organized tour), Shijiebang (self-assisted tour), etc.," he said.
Start-ups such as Shijiebang are being supported by investors. Shijiebang, an outbound travel service platform, provides customized tourism services to Chinese outbound travelers. The company attracted nearly $10 million U.S. dollars during Series A in November last year.
Product development
As Ctrip.com and LY.com pointed out, intermediaries are currently looking at fulfilling travellers' overall trip needs. And this calls for sustained investment in product development. Most of the intermediaries are currently incurring expenditure on personnel cost (salaries, share-based etc.) and also technology-related expenses. Also, the growing travel e-commerce pie is resulting in higher sales and marketing expenditure.
Ctrip's product development expenses for the second quarter of 2014 increased by 55% to RMB479 million (US$77 million) from the same period last year and 9% from the previous quarter, primarily due to an increase in product development personnel related expenses.
Even brands that aren't currently profitable aren't averse to prolonging their gestation period, and going ahead with aggressive expansion and product refinement.
Zhao said OTAs are investing aggressively on mobile (hiring engineers) and planning promotions on a regular basis. "Qunar increased 260 headcounts in product development during 1Q14, a majority of them for mobile."
Referring to what it takes to invest in IT and setting up a data-driven infrastructure, Zhao said, "This kind of investment usually means adding more engineers, for example, engineers for mobile development. Ctrip's expense on product development in 1Q14 increased RMB100 milloin compared to 4Q13, mainly due to increase of IT headcounts. According to Qunar, they also have engineers working on IT to enhance the level of automation in the booking process."
ROI
Zhao said other than Ctrip.com, which is profitable at this juncture, most OTAs are in investment mode at this stage. "And we don't expect them (other OTAs) to break even soon. The top priorities for OTAs are to adapt to changing user behaviour, gaining market share and growing new initiatives, instead of generating profits." He added, "One change in the industry is that Ctrip has tried to invest in and collaborate with some rivals, which will result in less competition and hence good for profitability of the industry."
So what would it take to succeed in the multi-channel, multi-device environment?
Zhao believes that the key lies in creating value for consumers, through price and service. "OTAs need to find niche areas to become leaders there, instead of fighting with big OTAs. For the multi-device environment, all OTAs should develop strong, meaningful apps, as well as leverage platforms like Baidu, Weixin, Qihu 360 and Taobao to their advantage."
Ming Zhao, founder and chief analyst, 86Research and Any Wu, CEO of LY.com are scheduled to speak at the upcoming China Edge 2014 TravelDaily Conference, scheduled to take place in Shanghai (September 3-4, 2014).