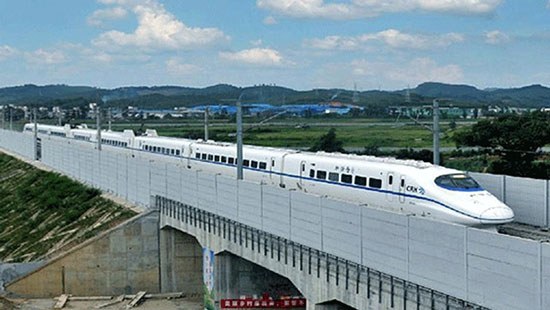 When it comes to rail, we usually associate the term "high speed" with miles per hour achieved by trains, but in China, it's a term that can also be applied to the laying of track. In the last six years, China has laid 6,000 miles of high speed track and speaks of nearly doubling that this year. China's high speed network is now twice the size of Japan's and Europe's combined. Good news for everyone who trembles at the thought of 1.3 billion people driving cars. In 2013, the Chinese government said it would invest $400 billion to complete a 10,000-mile rail network by 2020, with four main lines running east to west and four from north to south.
American tourists, perhaps nervous about a few well-publicized rail accidents in China, have yet to embrace rail as a travel option in China. In November, four rail workers were killed and in 2011, an estimated 40 people were killed in a train crash in Zhejiang Province.
Naturally, the most popular tourist routes connect the most popular tourist destinations: Beijing-Shanghai and Beijing-Xian. Shanghai is also well established as a great city for rail daytrips with short high speed connections to Hangzhou, Nanjing and Suzhou.
The Hengyang-Liuzhou high-speed railway, which was completed last May, makes it possible to go from Beijing to Guilin in 10 hours. The $23 billion that China is investing in the Lanxin Railway in northwestern China's Xinjiang Uygur autonomous region will make a Silk Rail of the Silk Road when it completely opens in 2015. At more than 1,000 miles in length, the line will cross the legendary vastness of the Gobi Desert. The trains will operate at about 120 miles per hour per hour, shortening the journey between Lanzhou and Urumqi from 21 hours to eight.
In December, a new high-speed railway connecting the port cities of Tianjin and Qinhuangdao was put into operation in northern China, cutting travel time between the two destinations significantly. The new railway line runs 178 miles and reaches speeds of up to 135 miles per hour.
The China Guide, an American managed Beijing-based travel Company, offers an online Train Ticket Booking Service for China.
With its high speed rail network already the largest in the world, the Chinese government sees high speed rail as a tool to brand Chinese technology as a precision high quality export. Chinese leaders believe they can sell their expertize abroad and Chinese Premier Li Keqiang has been traveling the world proposing to a variety of nations from Romania to Thailand that China can build their next step into the future via Chinese engineered high speed rail. Li has even proposed building a network in the U.S. Of course, Japan, South Korea and France are also making bids as railway builders abroad.
Read the original article