Looking at India's largest online travel agent, MakeMyTrip.com, from the perspective of the Chinese market, it is most easily described as "India's Ctrip." From a U.S. perspective, it can be seen as "India's Expedia." While its business model shares the same DNA as its Chinese and global counterparts, MakeMyTrip has followed its own path to its present position as India's leading OTA, accounting for more than 10 percent of total (online and offline) air ticket-buying market share. It faces some similar challenges, but its executive team has chosen different solutions that work for their market.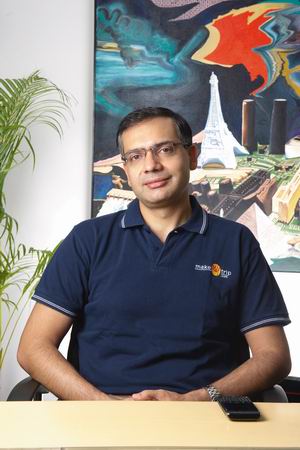 MakeMyTrip founder and CEO Deep Kalra, in Beijing for the recent Pacific Asia Travel Association (PATA) 60th Anniversary Conference, sat down with TravelDaily China to share the story of his company's journey from a niche site for the overseas Indian community to a successful IPO on NASDAQ last August, the first Indian company to list in the United States in six years.
Early Days: Importance of the US market
MakeMyTrip initially launched with two sites-- one for the Indian market, and one for the U.S. market. By the start of the following year, the founders pulled the plug on the underperforming Indian site, a decision Kalra calls one of the smartest his team has made.
"It was very clear that the Indian market was not ready to buy online," he says, Traffic was growing, but travelers were using the site for research and then booking elsewhere. "People weren't comfortable using their credit card online, Internet penetration was low, and there was no broadband." For the next four years, through the dot-com bust, 9/11, and SARS, MakeMyTrip catered to "non-resident Indians," living abroad mainly in the United States, traveling home for family events and flying their parents out to visit. The market was smaller, but less susceptible to fluctuations that affect tourist travel, and completely comfortable booking travel online.
Return to India

In 2005, after more than four years focused exclusively on the U.S. market, MakeMyTrip began to establish itself domestically.
"Two big things happened which convinced us that it was time to relaunch in India," Kalra says. The first was that local and international low-cost carriers began operating in India, and in order to save costs, they kept their inventory off of global distribution system. MakeMyTrip took the opportunity to establish direct connects with the low-cost carriers, giving traditional travel agents access they couldn't get on a GDS. "We were probably the first OTA in the world which built direct connects with low-cost carriers," Kalra says. It certainly wasn't a practice in the U.S. market, where budget airlines shunned OTAs. Kalra says that India's OTA and low-cost carriers are close partners, estimating that at least a quarter of LCCs' inventory is sold through OTAs.
The other factor which encouraged MakeMyTrip to look toward India again was that Indian Railways had begun to offer online booking, a welcome alternative to an arcane and inconvenient ticket-buying system that required travelers to wait in line for hours and then book without a good way to view their options. It would be a few more years before Indian Railways would open its inventory to private travel companies, but the system introduced more travelers to the convenience of online booking, while easing some of their fear about using a credit card online.
"Those factors combined to convince it was time to relaunch in India," Kalra says.
Similarities with China
Much like in China, the Indian OTA business has operated in the context of low broadband penetration, low credit card proliferation and a strong consumer preference for arranging travel with the face-to-face help of a trusted travel agent.
Kalra frequently cites an estimate that about half of India's population can afford some kind of travel—whether it's something as simple as a long-distance bus ticket, or as complex as weekend scuba diving trip to Mauritius. Only 4 percent of the population, though, or about half of the 8 percent of Indians with Internet access, currently book travel online.
Kalra identifies this gap, the 46 percent of travelers not booking online, as a crucial opportunity: "Our number one challenge is how to reach out to those people who can afford to buy travel but are not online or have mind blocks in terms of buying online—they have security issues around giving their card number out, or they need a little more help."
MakeMyTrip has created a business-to-business platform that allows traditional travel agents to buy travel from MakeMyTrip, white label it and resell it to consumers. Another solution, one which initially prompted skepticism from board members, was the opening of retail centers. The company has 20, in India's 20 largest cities. Their purpose is to sell holidays to customers who prefer face-to-face interaction, or who can't book online. It also helps with branding, Kalra says, build a connection with local markets and reassuring people about the brand. "Our online bookings from those markets have actually gone up after setting up a store in those markets," he says. "People are more comfortable with the brand. We've had them three or four years, and they are now profitable on their own."
Will the retail stores and the B2B travel agent module be short-lived strategies, as India gets more accustomed to booking online? Kalra doesn't think so. "There is always going to be a group who is going to be more comfortable going to the travel agent, having tea, talking about cricket, and then finally buying a ticket paying by cash, paying the next day or getting credit terms for a vacation," he says. "And we just can't service that market, so we have to be a hybrid."
Differences between India and China
"I think the fundamental difference here is that in China you have an oversupply of hotel rooms, which is fantastic because big hotels-- five-star hotels, a lot of the government set-up hotels which are now privatized-- are available now at very reasonable prices. Also you have a lot of budget hotels already. More supply than demand means hotels are willing to discount, means that great deals are available" In India, he says, the opposite is true. "India is building out, but we have a shortage of rooms." This, he says, is a major factor in the growing interest in regional travel.
When it comes to air travel booking, he believes that India's environment has been more favorable to OTAs. "On the air side however, [in China] there are very few airlines, and they were government-controlled until recently," he says. "They were all the same price, so there was no great price advantage and there was no great price discovery. There, India actually had many more choices."
Important demographic shifts
As MakeMyTrip works to tackle its market's challenges, Kalra also sees demographic trends working in its favor, beginning with the 8 to 9% GDP growth expected to continue for the next decade. "The money is going into the hands of a lot of young people," he says. "And these are people who unlike our parents are not in a saving mode."
In a country with 1.2 billion people, only 20 million have credit cards. But banks are making other means of online payment available to more consumers. The country has almost 300 million debit card users and Kalra says that use of stored value cards is growing as well. "When we look at rail and bus, we find a lot of people are using cash cards as payment," he says. "The innovation in modes of payment is helping people across the spectrum and down the pyramid buy online."
Broadband penetration is increasing as well. "Now it is around 1 percent," Kalra says. "But it is one of the fastest-growing segments and 1 percent of 1.2 billion is 12 million people with broadband, which is pretty good in terms of a start."
"Greater India:"The importance of a regional market
Kalra believes that a lot of the coming growth in Indian travel will involve trips to an area he calls "Greater India." "We call it that because people are looking at neighboring countries almost as an extension of domestic travel," he explains.
He notes that Singapore, Thailand, Bangkok, Malaysia, Hong Kong and Sri Lanka require only short flights from India. Dubai and the United Arab Emirates are also accessible. And geographically close, if less affordable, is Maldives, which Kalra says is an important niche destination.
"Visas for these countries are easy. People are traveling to these places now just as easily as they do within the country," he says. "They are getting more bang for the buck. For example, hotels in Thailand are much cheaper, and the overall package, the overall experience, is fantastic."
To strengthen its position in Southeast Asia, MakeMyTrip made its first acquisition in February, of a Singaporean travel agency called Luxury Travel and Tours, with the stated purpose of leveraging relationships with hotels and vendors in the region. The company is busily establishing other relationships with hotels, DMCs and international carriers in those countries, and building more regional site content, offering a growing variety of packages to nearby countries.
Mr. Amit Saberwal, Senior Vice President, Hotels & International Markets of MakeMyTrip.com, will participate in the upcoming China Travel Distribution Summit hosted by TravelDaily China.