ChinaTravelNews, Ritesh Gupta – Recovery of outbound tourism from China is going to depend on a number of external factors, even as hotels and other travel businesses plan initiatives to welcome travelers after a gap of three years or so.
Taking care of concerns of Chinese travelers as they step out of their country, passport and visa-related handling, their airport experience on their arrival, air travel capacity and pricing etc. are all going to collectively decide on how the outbound pie grows from here on.
One of the regions that is expected to see visitors from China is Southeast Asia, as also indicated by search patterns from the recent past.
Bangkok-based Chetan Patel, Vice President, Marketing, Dusit International told ChinaTravelNews.com: "Yes, travelers from China are back, but it is more of a trickle than a torrent. First of all, the air inventory remains low. The ticket prices are high, allowing only higher-end travelers the first stab at going abroad. Many of the travelers also need to apply for new passports. We think that it will be the end of Q2 before we get to 40% of the pre-pandemic numbers from China, and it will take until the end of the year for the numbers to match 2019."
A lot would also depend upon the requirement for a negative COVID-19 test (or documentation of recovery for air passengers boarding flights) from China.
On the positive side, Trip.com's recent Lunar New Year 2023 travel report "saw domestic and outbound travel bookings hit a three-year peak, with overall travel bookings increasing over six-fold compared to 2022". The online travel company is also looking at medical, cancellation and baggage cover while selling a flight on its platform. Meanwhile, China's travel agencies have resumed promotion of overseas package tours. The government recently allowed travel agencies to open outbound group travel for Chinese citizens to 20 nations.
In its report, McKinsey mentioned that if mainland China's air travel were to follow Hong Kong's recovery curve, mainland China would see four million air passengers a month by April 2023, pushing air travel back up to 40 percent of pre-COVID-19 levels.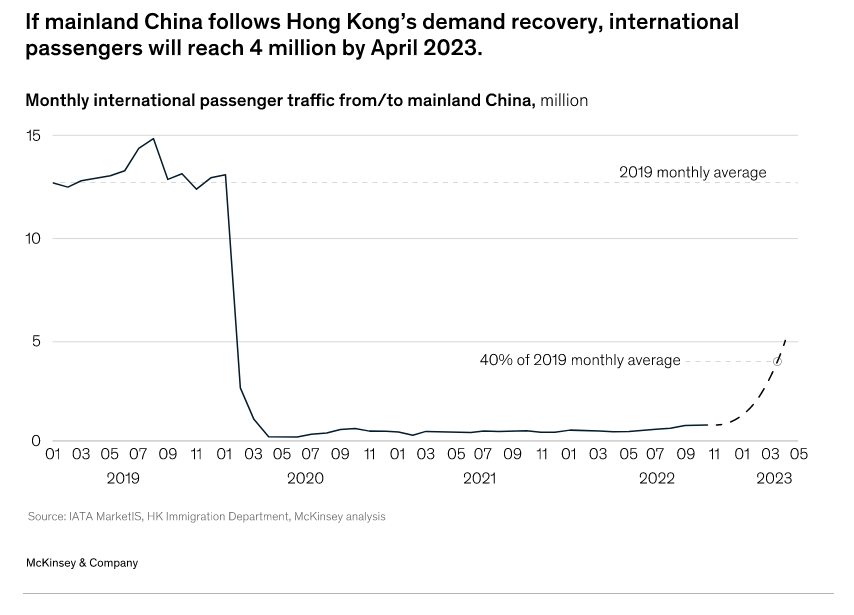 Marketing activity – a challenge as of now
Planning for marketing activity in China from scratch is an arduous task. A spate of marketing and distribution channels including Trip.com, Fliggy, WeChat, Meituan, Weibo, Douyin and others are to be considered for the mix.
Patel, a senior hotel industry executive, who has had detailed experience of planning on initiatives in China, acknowledged the challenge.
Some of the aspects that need to be evaluated today are:
* How to go about distribution – direct or working with OTAs, other agents etc.?
* Pricing/ rate – discounted rate or not, how to ensure it doesn't leak?
* Keeping pace with new digital marketing tactics post-pandemic.
* Is a brand's WeChat mini-program operational? How to go about a brand store on Fliggy, Trip.com etc.?
* Is a brand's website and booking engine fully accessible in China, complete with translations, content delivery network, and ICP licenses?
"China is a massive market. The sheer numbers make for a great opportunity but an even bigger challenge. Marketing these days is almost exclusively online. It is the best way for us to scale our campaigns and effectively measure performance. Some offline activities that will take place later on will include roadshows, pop-up booths, and local events," he said.
"As we figure out the changes in guest behavior, performance marketing, and influence marketing, our priority will be to tackle the lower end of the funnel. It will be a while before we get to the branding or higher end of the funnel. In the meantime, the focus will be on organic activities on social media using KOLs, live streaming, communication, and digital PR. We will slowly move towards the top end of the funnel, starting with programmatic advertising."
Working with travel agents
Dusit is reactivating closer relationships with top Chinese travel agents, both in China and abroad, to reach a bigger audience of potential tourists.
"Feedback has been favorable, with travel agents appreciating the company's commitment to creating outstanding customer experiences and its focus on high-quality service. We are heavily focused on balancing online vs. offline distribution, as price transparency and onward distribution are quite rampant in the China market," shared Patel. "Dusit is focused on delivering exceptional guest experiences at all of its properties, including tailored services and amenities specifically for Chinese travelers. We are ready to offer more authentic local experiences, such as staff who speak Mandarin, equipment for making tea, and traditional Chinese breakfast choices."
Pricing strategy
A lot has changed when it comes to how travel shoppers pay and also what all they consider before finalizing a transaction. A prime concern is related to paying upfront and then in case, a trip gets canceled or postponed, what happens if a traveler is looking for a refund?
So how Dusit is going about refunds, flexibility in payment options (for instance, buy now pay later option)?
"Although prepaid options have made a comeback, flexible rate options have always been part of the offering. Our guests are able to take advantage of the flexibility. In general, we are more understanding of guests who have trouble with their travel plans that are not their fault. We will do our best to honor requests for refunds by first giving credits for travel in the future. As travel demand strengthens, this will be more on a case-by-case basis," assured Patel.