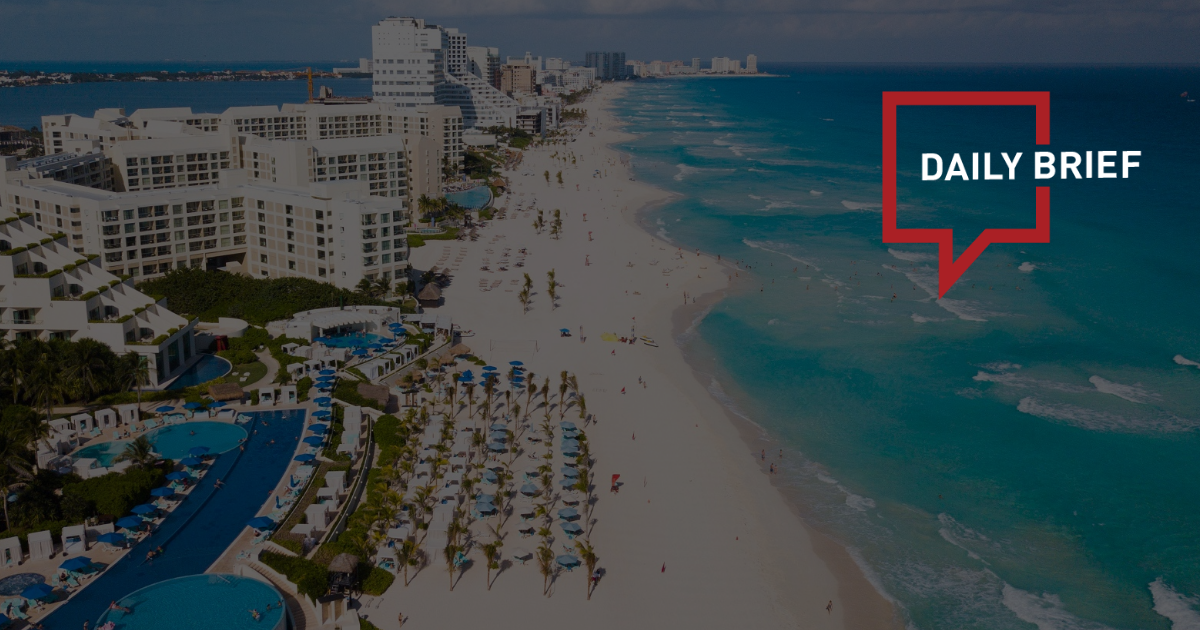 One more passenger ferry service between mainland and Taiwan Kinmen resumes
>> Quanzhou-Kinmen ferry, one of the direct transport links between Chinese mainland's Quanzhou in Fujian Province and Kinmen region administered by Taiwan authorities, resumed service on Friday, after a lapse of nearly three years.
Travel and consumption bounces back in China
>> China witnessed strong rebounds in travel and consumption in the first month of 2023, following the lifting of COVID-19 restrictions. China's average daily passenger flight volumes in January increased to 10,882, of which 10,618 were domestic ones, about 90.7 percent of 2019 levels, according to data from VariFlight.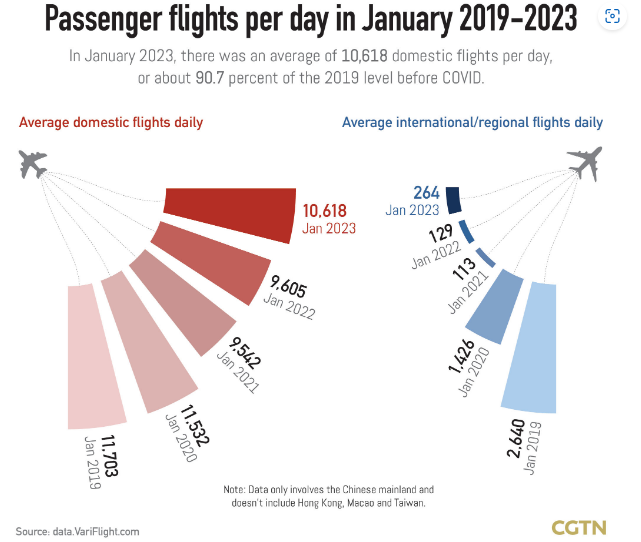 China's resumption of group tours to 20 countries clouded by Covid fears and high prices
>> China's travel agencies have resumed promotion of overseas package tours in an effort to jump-start the tourism sector, but they could face a hard time finding customers ready to travel abroad. Although the resumption of group tours is a positive sign, Zou Feng, general manager of Guangdong CTS (Shenzhen) Travel Agency and the deputy director of the Guangdong Tourism Association, said "revenge" spending is unlikely this month as many potential travelers "may need more time to consider".
Hong Kong and Macau lead Asia-Pacific travel recovery, thanks to China's reopening
>> China's border reopening has brought green shoots of recovery in travel demand across the Asia-Pacific as international air capacity rebounded year-on-year in January. But it is still a long haul to full-blown pre-pandemic recovery, travel data provider OAG's information showed.
Aviation seat capacity, which is a proxy for demand, showed that Hong Kong had gained significantly from China's relaxation of travel curbs and topped the seat capacity with an increase of 69% year-on-year to 184,936 in January. That is still down 77% for the same month in 2019.
China's Greater Bay Area to pilot new travel endorsement policy for talents
>> The integration of the Guangdong-Hong Kong-Macao Greater Bay Area is expected to make great progress after mainland cities in the region were given the nod to pilot a new exit endorsement for talent traveling to and from the Hong Kong and Macao special administrative regions.
The National Immigration Administration announced on Thursday that residents in the nine cities can apply for an exit endorsement starting Feb 20 and visitors through the novel channel will be granted a stay of as long as 30 days in either of the two SARs.
Macau eyeing to put aside $22.3M for package tours, promotions to drive visitation levels
>> Cheng Wai Tong, Deputy Director of the Macau Government Tourism Office (MGTO), revealed on Wednesday that the office has proposed to allocate MOP180 million ($22.3 million) for promotional campaigns over package tours. The plan includes a subsidy scheme for tourists from the Chinese mainland, overseas countries, Hong Kong and Taiwan.
SriLankan Airlines back in Chinese skies again
>> SriLankan Airlines is set to renew its commercial operations to China in the first week of April 2023, with a thrice-weekly service each to Shanghai, Beijing and Guangzhou as China reopens its borders. China was a leading source market for inbound tourism to Sri Lanka and one of SriLankan's premier leisure traveler segments before the pandemic, and SriLankan is positioning for a strong comeback in China upon its return.
First Chongqing outbound tourist group to depart this weekend
>> As China's travel agencies opened outbound group travel and offered flight and hotel packages to tourists for Chinese citizens to 20 nations since February 6, the first outbound group of tourists in Chongqing will depart this weekend. Many local travel agencies also confirmed that tour groups flying directly from Chongqing to Bangkok, Thailand, will resume from February 15.
Chinese city revokes travel restriction for cracking down on cross-border telecom fraud
>> The city of Enshi in Central China's Hubei Province on Wednesday withdrew a travel restriction on its residents to eight countries, after the expressions in the restriction notice, which was intended to prevent and crack down on telecom fraud and cross-border gambling, caused misunderstanding.