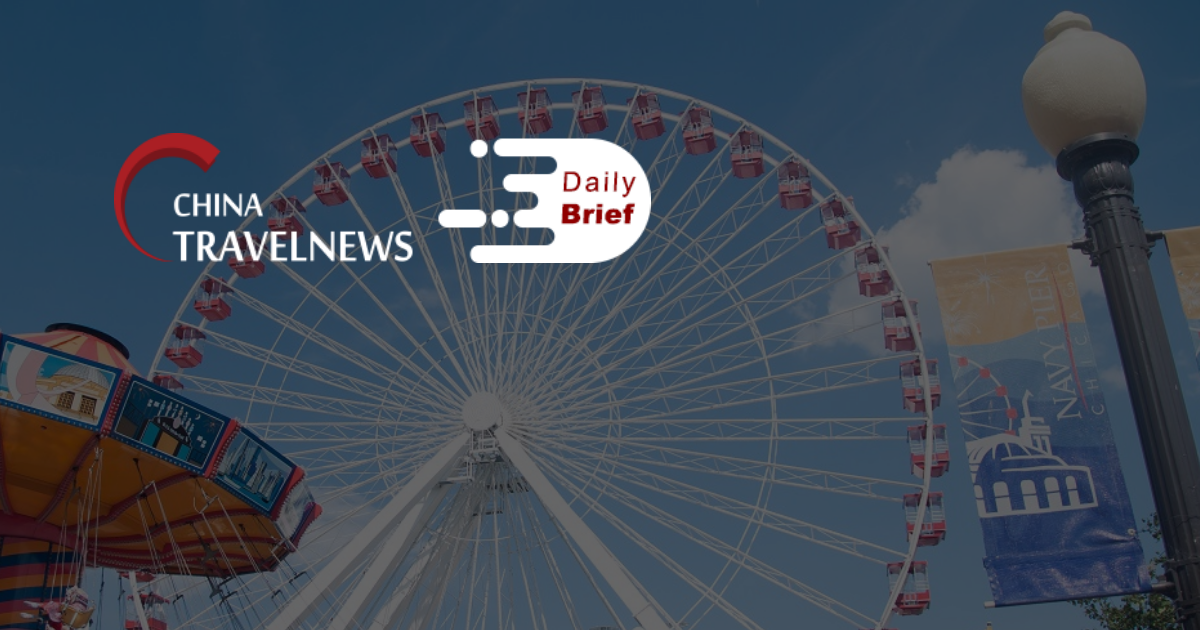 Tencent-invested travel firm Tongcheng revenue down by 38% in Q2
>> Tongcheng Travel said the company's revenue dropped 38.3% year-to-year in the second quarter this year. Average MAUs decreased by 28.9% year-to-year from 277.9 million in the second quarter of 2021 to 197.6 million in the second quarter of 2022. Loss for the first half of 2022 was nearly RMB 38 million, compared with a loss of RMB 460 million for the first half of 2021.
Club Med owner reports 130% rise in half-year revenue, narrowed loss
>> Hong Kong-listed travel company Fosun Tourism Group announced that the company's revenue for the first half of 2022 was RMB nearly 6,417 million (USD 937 million), up by 130% from the same period in 2021. In the first half of 2022, the business volume of Club Med amounted to RMB 5,743.1 million, representing an increase of 336.0% compared with the same period of 2021, and recovered to 90.2% of the same period of 2019.
Boeing said it's ready to resume deliveries of 737 MAX in China
>> Boeing China President Sherry Carbary said the Zhoushan plant is "ready for the resumption of the 737 MAX delivery in China", according to a report published on Boeing China's WeChat page earlier this week. The report is part of a series of promotional features planned by Boeing China to mark the 50th anniversary of its entry into the Chinese market.
Flights to Hong Kong increased, but frequency still third of number to rival Singapore
>> Major airlines such as Cathay Pacific Airways have scheduled 12% more flights to Hong Kong next month than July, but the frequency is still less than a third of rival Singapore. Cirium, an aviation analytics firm, said figures for about 40 carriers including Cathay Pacific and Lufthansa, showed 926 flights to Hong Kong in June and 1,190 in July. But flights scheduled for Singapore were more than three times the number of those destined for Hong Kong. Cirium said there were 4,215 flights in June rising to 4, 635 in July.
Cathay Pacific to pay pilots extra to fly to China
>> With continued COVID-19 limits making it less desirable to work China-bound routes, Cathay Pacific Airways is dangling allowances of up to HKD 5,000 (USD 640) per flight as a carrot for pilots rostered to fly into and out of mainland China.
Direct flights to Beijing resume from Manchester Airport in huge economic boost
>> Direct air links between Manchester and Beijing, China, will resume on Monday for the first time since the start of the coronavirus pandemic, it's been confirmed. Hainan Airlines has announced it will restart its Beijing-Manchester service, with weekly arrivals and departures every Monday.
Cambodia attracts over 740,000 international tourists in first 7 months
>> Cambodia has attracted more than 740,000 international visitors in the first seven months of 2022, an increase of 560 percent compared to the same period last year, the Ministry of Tourism said in a news release on Saturday. During the January-July period this year, neighboring Vietnam topped the chart of international tourist arrivals to the kingdom, followed by Thailand and China.
Data shows different pandemic impacts on China's domestic and international travel
>> Seat capacity data from flight data provider OAG indicates that China's domestic and international travel performance has diverged sharply since the pandemic. Starting from January 2020, China's domestic and international airline capacity dived to the lowest. But the domestic capacity soon rebounded albeit there were ups and downs in the number, while the international capacity has since stayed at the bottom levels.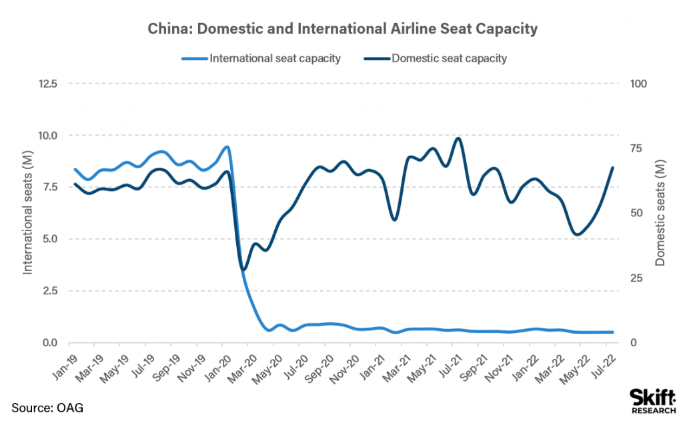 Parent-child tours boost recovery of domestic tourism
>> Parent and child travel during this year's summer vacation has played an important role in dragging the domestic tourism market out of the doldrums in the first half of the year, an industry report showed. According to the report on parent-child travel released by online travel agency Ctrip on Thursday, bookings for parent-child tourism products for this summer vacation accounted for 30% of bookings for all types of tourism products. This was 10% higher than that in May and June.
China's 'Little Kyoto' still struggles after toning down Japan theme
>> One year after opening, the sprawling commercial complex in Dalian initially dubbed "Little Kyoto" is struggling to find its niche even after significantly playing down its Japanese theme. Dalian is currently experiencing a boom in tourism as the coronavirus recedes in the city, and multiple hotels report a surge in traffic. But the complex has not benefited from it.