ChinaTravelNews, Joseph Wang - The digital transformation of travel has proved unrelenting despite the ups and downs in the containment of COVID-19 for the past year.
Before the pandemic, China's travel market was projected to grow 10% annually through 2022 and OTAs have led China's online travel growth for the past decade dominating the air and hotel booking sectors, according to data from Phocuswright.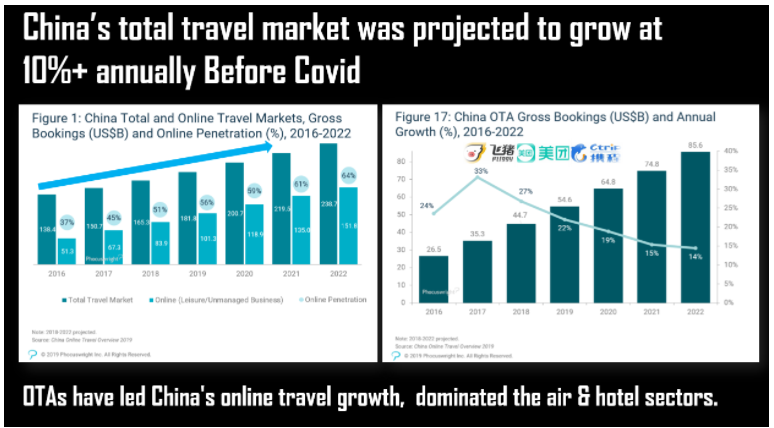 When COVID-19 took place early last year, hotels were closed, airplanes were grounded and travel companies had to lay off staff and cut costs. But with strict travel rules and quarantine efforts, the Chinese authorities soon gain the upper hand in controlling the spread of the virus, and the travel market started to rebound.
During the year's Labor Day holiday, the first major "Golden Week" for travel and consumption in China after COVID-19, the Chinese consumers took 230 million domestic trips, up by 3.2% from 2019.
China's travel market has demonstrated great resilience against the unprecedented crisis, yet the Consumers-Channels-Products pattern, a common analysis model in the retail business, has significantly changed after the pandemic, according to Mr. Joseph Wang, Chief Commercial Officer of ChinaTravelNews.com and its parent TravelDaily China.
Mr. Wang shared his insights at the recent Smart Tourism In The Greater Bay Area Forum organized by The School of Hotel and Tourism Management (SHTM) of The Hong Kong Polytechnic University.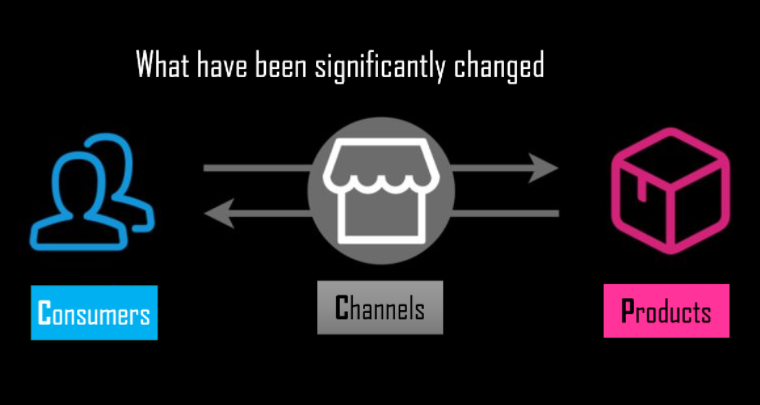 Changes in consumers
* Needs: Consumers need to get more relevant information.
During the pandemic, people need to get relevant information about travel restrictions and destination requirements. Through AI-driven digital marketing or so-called cognitive marketing, travel companies can more accurately rely on the knowledge map of the target group to achieve accurate matching.
Today users are able to not only search for the information they want more intelligently but also receive the information that AI technology actively recommends according to their needs. From "people looking for information" to "information looking for people", any information without intelligent recommendation is a noise.
* Hierarchy: Users are classified into different tiers to optimize the allocation of limited resources.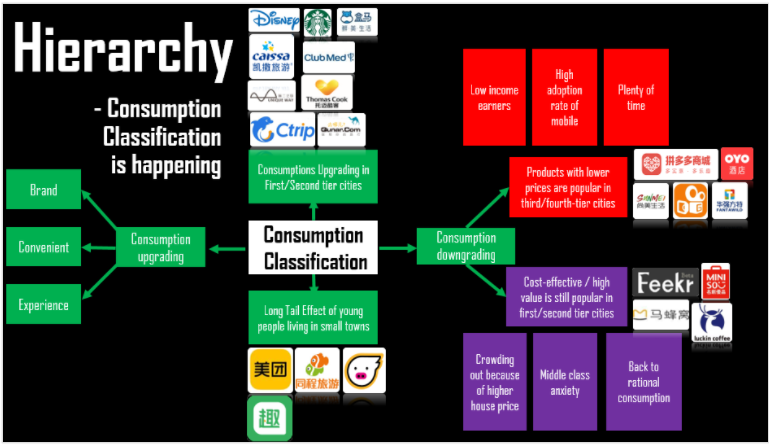 Despite the impacts of COVID-19, China's middle-class group continued to grow and expand, creating new market opportunities for both domestic and international companies.
But in the meantime, consumption activities have slowed sharply in the country's first- and second-tier cities. A detailed understanding of what consumers in lower-tier markets are doing, how their preferences are evolving, and the underlying reasons for their behaviors will be needed. Because we believe the second wave of outbound travel will mainly be led by travelers in lower-tier cities.
* Attributes: Consumers can be attributed to different groups based on age, gender, region, occupation, behavior preference and more.
The younger generations of travelers are expanding rapidly. According to major OTA platforms, the Post-90s consumers (people who were born in the 1990s) accounted for more than 50% of this year's May Day travel and still the absolute major force. But the growth rate of the Post-2000s was 250%, meaning they have become the fastest growing and most energetic travel group in the country.
Still, the senior travelers have more wealth and leisure time, makes them the main force of personal travel. As the Post-60s are discovering the delights of retirement, they will actually be the real first wave of free independent travelers ever in China who really know what they want to get from travel, understand the essence of exploring, and enjoy the freedom of Travel instead of simply sightseeing and shopping.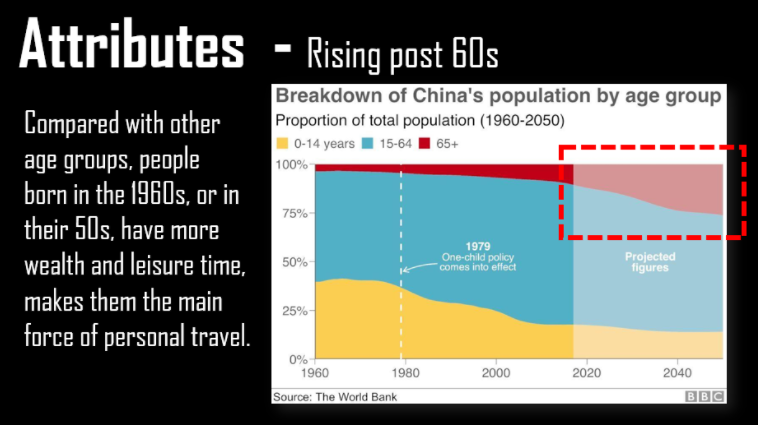 * Roles: Travelers are becoming more and more culture-focused and responsible.
A more culture-focused and responsible traveler will maximize the benefits to local communities and minimize the negative social or environmental impacts. In recent years, especially after COVID-19, the younger generations of the Post-90s and the Post-2000s are increasingly recognizing the value of traditional culture.
The historical and cultural tourist attractions have become more popular since 2020, with the proportion of ticket sales of cultural scenic spots in overall domestic attraction ticket bookings increasing by 11.3% year-on-year. Ancient towns are also refining the combination of traditional and modern digital technologies, introducing more popular travel experiences by means of digital exhibitions and theme performances.
The evolving channels
* Traffic: Customer acquisition is transitioning from public channels to private channels.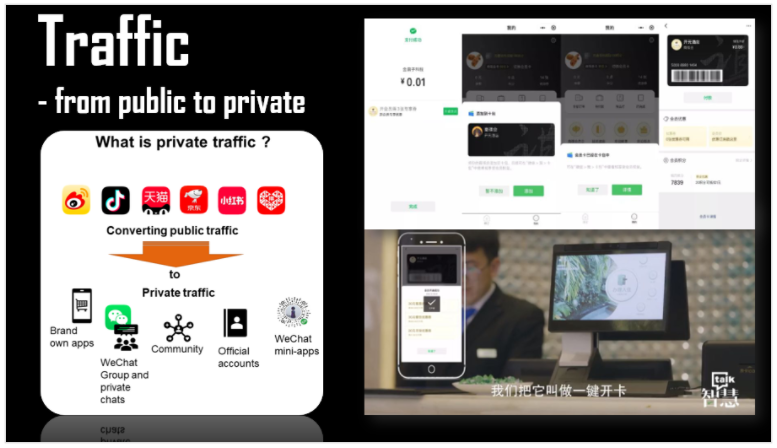 The marketing strategy of social customer relationship management (or SCRM) is now more important than ever as the acquisition costs of public traffic channels have become very expensive in recent years. With private social channels like WeChat and WeChat Mini Programs, travel brands can better engage their target audience.
* Content: From letters and pictures to live-streaming.
Trip.com Group unveiled plans to boost its content ecosystem and partner marketing capabilities with the launch of its new travel marketing hub, Star Store. The company will not only be a platform for transactions but also try to be a hub for travel inspirations with dynamic and rich content marketing.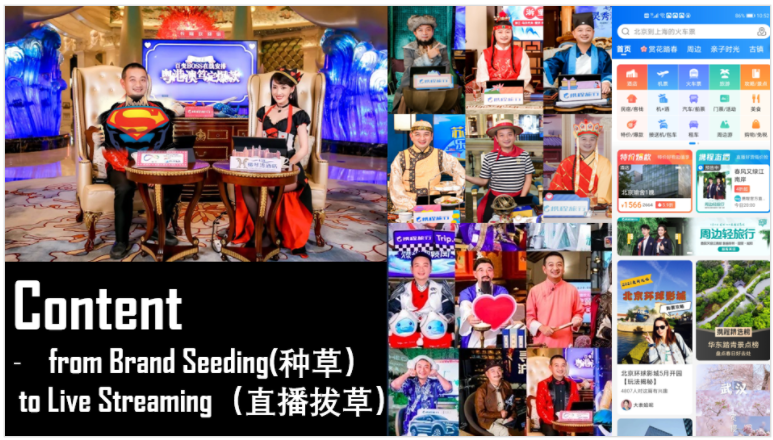 Value in products
* Airlines: Chinese airlines have become more user-centric.
With better control of the pandemic than many of its international peers, China is keen to ease the restrictions on international travel, but the central government is also acting very conservatively.
The Chinese airlines successfully migrated a lot of international capacity to domestic capacity at short notice but it's just a model that will break at some point.
China's big airlines - Air China, China Southern, China Eastern - made the bulk of their revenues from international flying. In most markets, international operations are probably three times more profitable than domestic services. The pressure must be building from Chinese airlines to start international flying again.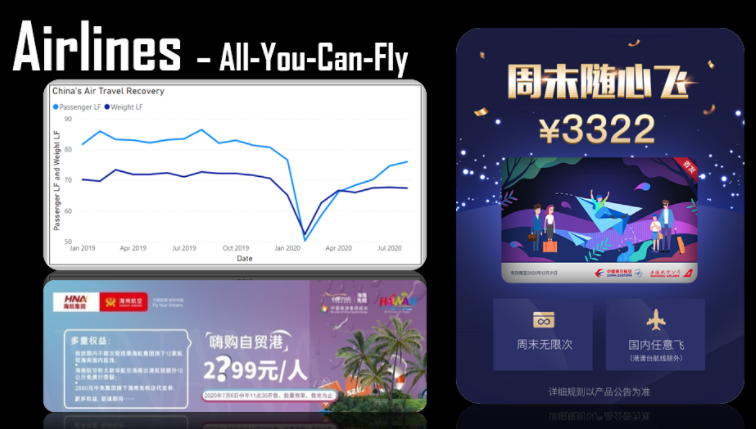 To stimulate consumer confidence and boost cash flow, the Chinese carriers rolled out promotional deals featuring "Fly-At-Will" packages to fuel a recovery in passenger numbers, though based on lower fares than the prior year.
Major OTAs Trip.com, Fliggy and Tongcheng have offered some RMB 99 airline "blind box" deals with more than 100 domestic destinations to stimulate the demand from lower-tier cities. People can choose a departure city, while the destination and departure time are both unknown. If they do not like the "content" after opening the box, they can get a full refund.
* Hotels: Huge market size but low efficiency.
China's hotel performance was recovering much better than the rest of the world, but it showed a relatively slow recovery trend in recent months with the recovery process lengthened.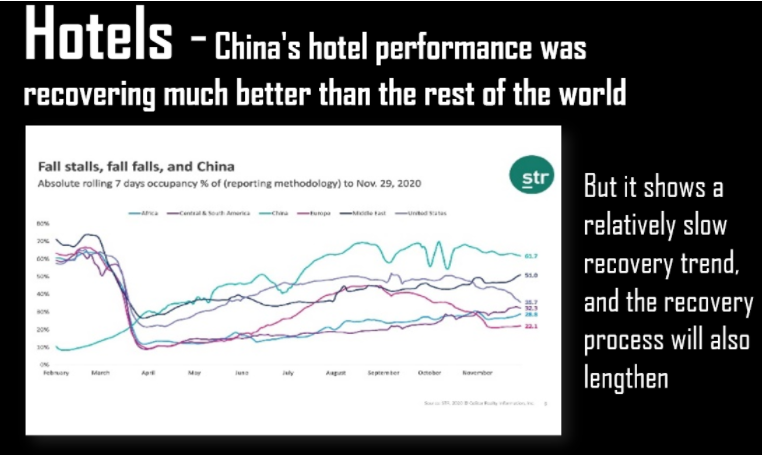 China's hotel market has a huge size but is still with low efficiency compare with the US.
Mr. Qi Ji, Chairman of Huazhu Group, once shared that China has around 17 million hotel rooms which are more than three times the amount America has. But 65% of the US hotels are branded hotels, while only 12%-15% of the Chinese hotels are branded.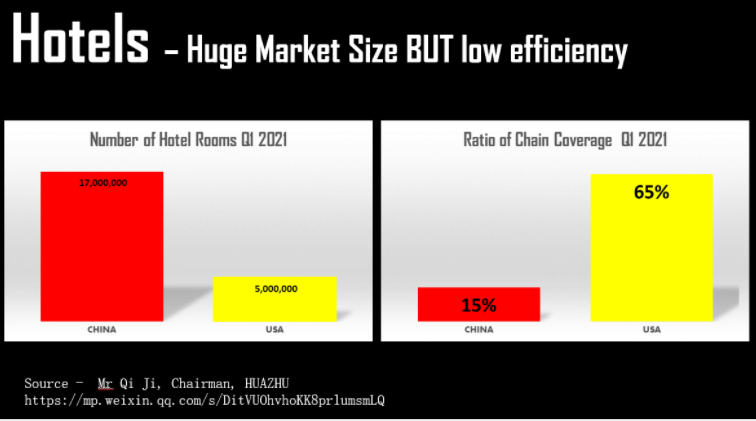 Mr. Joseph Wang mentioned that the core competence of Huazhu is always focusing on efficiency in user acquisition, hotel operation and management. With the development of digital transformation, Huazhu is now more of a platform than a traditional hotel chain.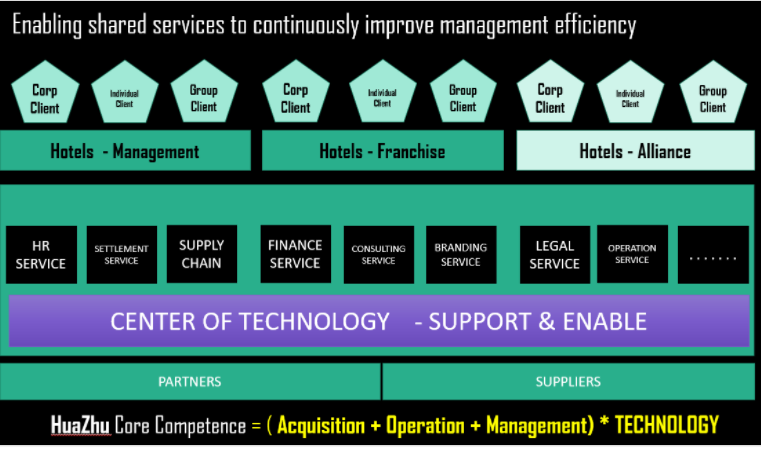 The digital competence
Digital transformation is a crucial component in the long-term growth strategy for leading hotel chains regardless of COVID-19. But the pandemic just accelerated these trends for corporate transformation.
The future is full of uncertainties for the global industry, but one thing is for sure - Digital will be a core competency.