McKinsey's latest China traveler survey shows a strong desire among Chinese families to resume their travel plans.
While the global travel sector continues to withstand the negative impact of the COVID-19 pandemic, some markets have started to show signs of recovery. In China, domestic airline passenger levels have grown steadily, and now sit at 50 percent of precrisis levels. Hotel occupancy rates have also improved since the depths of the crisis, and are now back to 60 percent of last year's levels. Domestic travel is now positioned to accelerate as summer approaches, with segments that drive demand during this period, such as families, reporting an increased desire to travel in the near term.
What trends have remained stable?
Four trends highlighted in April are consistent with the responses to our survey in May, which gives us confidence that these trends will persist through the summer and early fall. First, domestic destinations remain a top choice due to outbound travel restrictions, with 52 percent of respondents preferring this choice versus 55 percent in April. Second, trips to scenic outdoor spots, "foodie" tours, and trips to family attractions constitute the most popular types of trips, as people continue to avoid crowded tourist spots. Thirdly, we anticipate fewer leisure travel groups as people plan to travel mainly with immediate family members. Finally, guided group tours remain less attractive to travelers than self-guided and self-driven trips, compared with pre-COVID-19 traveler patterns.
What positive trends do we see between April and May?
Family summer vacation is back on the agenda. In April, being "single and never married" was statistically the strongest predictor of travelers reporting they were going to be taking a trip in the near term. That signal has faded in the mid-May data. Families and older travelers are increasingly reporting plans to travel over the summer, which indicates a return to historic patterns. The proportion of families reporting that they plan to travel between now and the next National Holiday has increased 11 percentage points since April.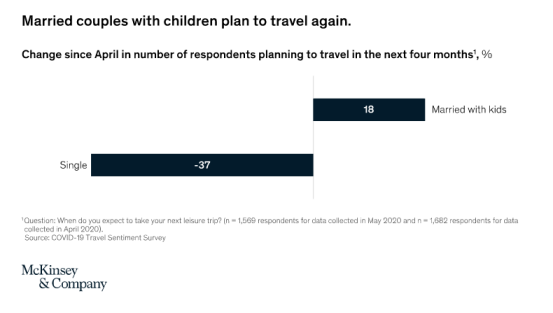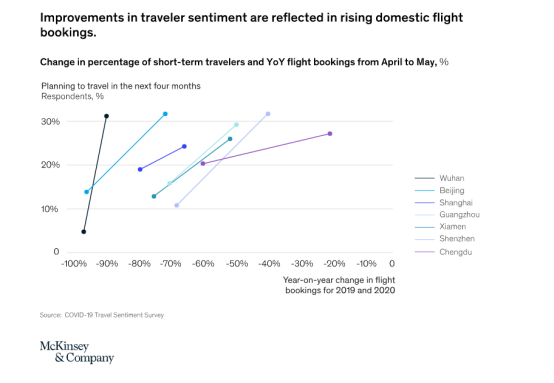 Trends to watch
While the travel outlook is stable through the National Holiday period, travel plans for later in the year are uncertain. The percentage of respondents who indicated they were planning their next leisure trip in each of the periods below has remained relatively consistent from May until the National Holiday. However, there is a softening toward the end of 2020. Further, we see a large increase (11 percentage points) in the number of "not sure" responses to this question, compared with April.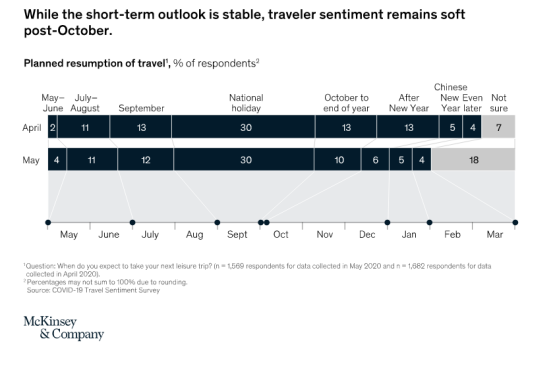 Read original article