Trip.com Group enters into facility agreement
>> Trip.com Group announced that it has entered into a facility agreement as a borrower with certain financial institutions for up to USD 1 billion transferrable term and revolving loan facility with an incremental facility of up to USD 500 million. The COVID-19 virus outbreak has had a significant impact on the Chinese online travel giant's business.
Trip.com-associated investor offers to privatize 58.com
>> Ocean Link, an investment firm indirectly associated with the Trip.com Group, wants to privatize New York-listed online classifieds marketplace 58.com. The Board of 58.com said it plans to evaluate the proposed deal.
Ocean Link said it is the first private equity firm focused on the travel and tourism sector in China. James Liang, co-founder and executive chairman of the Trip.com Group, is also a board member at Ocean Link.
OYO CEO to forgo salary, leadership takes pay cuts
>> With COVID-19 hitting the hotel industry hard, OYO's CEO Ritesh Agarwal plans to forego 100% of his salary for the rest of the year and the rest of the company's executives take pay cuts. OYO claims a portfolio encompassing more than 43,000 hotels with more than 1 million rooms and more than 130,000 homes worldwide. But the company reportedly cut 60% of its workforce in China.
Airbnb lowers its valuation by 16% to $26B
>> Airbnb lowered its internal valuation by 16% to USD 26 billion, as the home rental firm deals with a sharp drop in bookings due to the global spread of the coronavirus pandemic, the Financial Times reported. Airbnb was valued at USD 31 billion in its most recent private fund-raising round, according to data provider PitchBook.
Disney furloughs theme-park employees, waives annual pass fees
>> Disney announced plans to furlough non-union workers and stop collecting payments for its annual park passes. The furlough will start on April 19 during which employees will receive full health-care benefits. Changes have been made to annual pass holder tickets because of COVID-19. For guests who purchased their annual pass in full, their passes will be extended for the number of days that the parks remain closed.
iClick, Tencent launch travel recommendation management platform
>> Online marketing and enterprise data solutions provider iClick Interactive and Tencent Culture and Tourism jointly launched a new recommendation management platform for culture and tourism content. The information and features provided by the platform will help iClick's travel industry clients improve operating efficiency, manage content resources, enhance the popularity of their business and increase consumer conversion rate.
Mainland China's hotel industry data show signs of recovery
>> Mainland China's daily hotel occupancy reached 31.8% on March 28, up from a low of 7.4% during the first week of February, according to preliminary data from STR.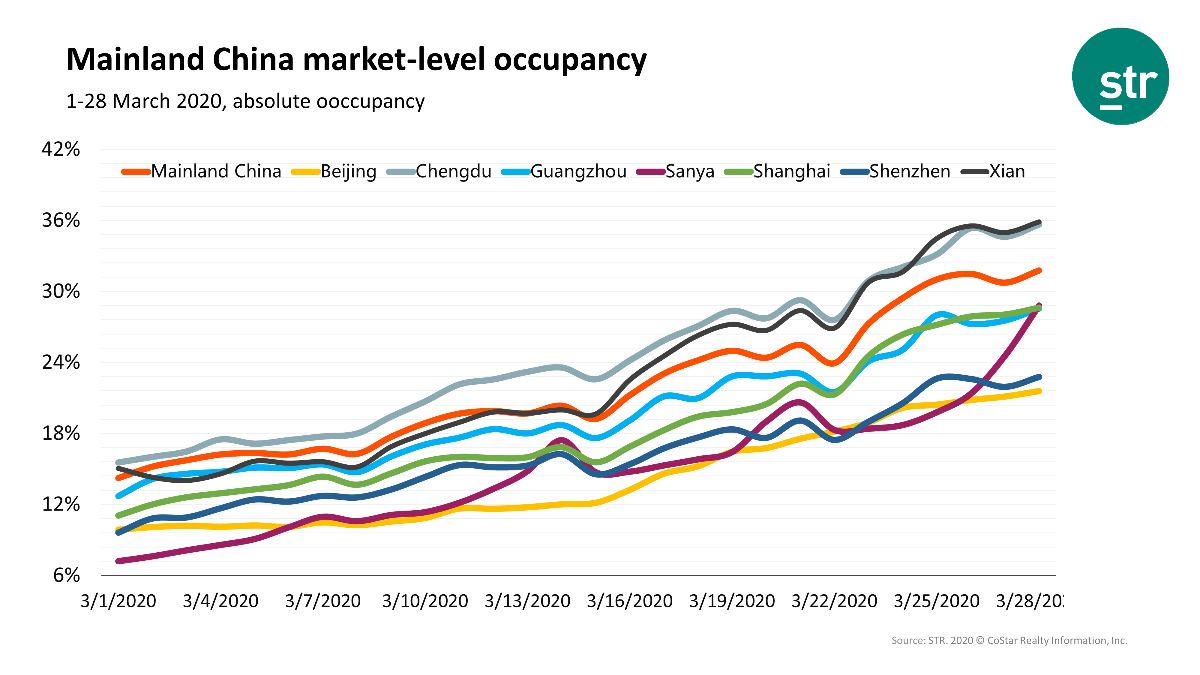 Daily occupancy in Beijing sat around 10% for most of the first week of March 1, but climbed to 21.6% on March 28. Shanghai was low at 11.0% on March 1 but reached 28.6% on March 28.
COVID-19 causes 77% collapse in global aviation
>> The COVID-19 crisis has brought the aviation industry to its knees. This week (March 30 – April 5), international airline seat capacity fell to just 23% of what it was in the first week of April last year, according to data from ForwardKeys. Just 10 million seats were still in service, to facilitate essential travel, compared with 44.2 million a year ago.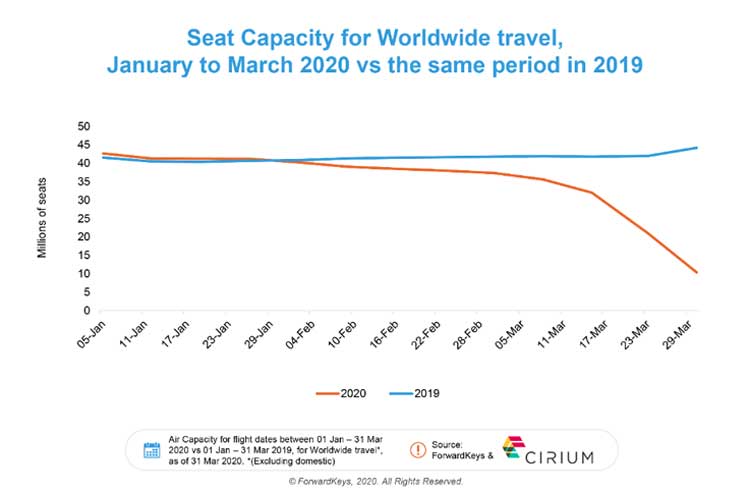 ForwardKeys reveals that 80% of flight capacity between China and the rest of the world has been cut back as a consequence of the coronavirus outbreak.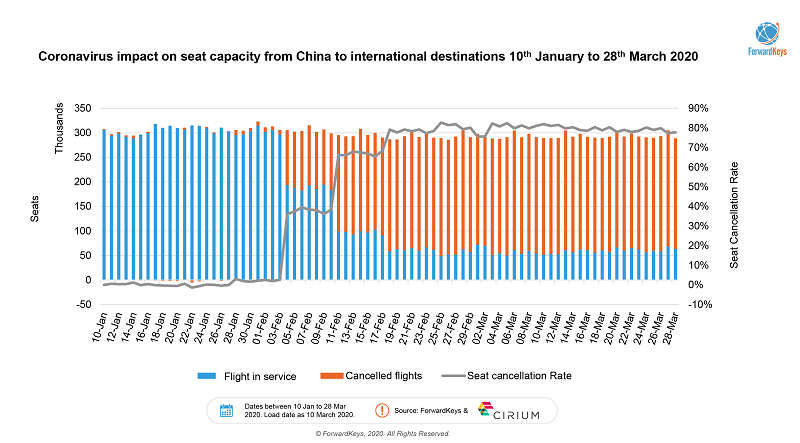 Hong Kong's IHG hotel to lay off 500 employees
>> The InterContinental hotel on the Tsim Sha Tsui waterfront in Hong Kong will lay off about 500 employees as it embarks on a two-year renovation project, a labor union has said. The hotel, operated by InterContinental Hotels Group, said it would kick off the renovation on April 20. Upon completion, the hotel will restore its name to Regent Hong Kong.
Serbia may be next top destination for Chinese tourists
>> Serbia has attracted a large following among Chinese netizens as mutual assistance in the COVID-19 outbreak strengthened ties between the two countries, and many have started to look into traveling to Serbia after the pandemic ends. According to data from Chinese travel services and social networking platform Mafengwo, searches with the keyword "Serbia" have seen a 480% percent month-on-month increase.
HNA's Swissport hires advisers to restructure $1.7B debt
>> Swissport International, the airport ground services firm owned by beleaguered Chinese conglomerate HNA Group, hired advisers to review its debt as passenger air traffic grinds to a halt because of coronavirus restrictions. Swissport hired Houlihan as it considers a restructuring of its 1.6 billion euros (USD 1.7 billion) of debt. HNA's attempts to sell Swissport, which it bought for 2.7 billion Swiss francs (USD 2.8 billion) in 2015, have failed in the past.