Thailand suspends visa on arrival for several nationalities
>> Thailand will temporarily suspend the granting of visas on arrival for nationals of 18 countries including China, India and Russia. The country would also suspend visa exemptions for nationals from South Korea, Italy and Hong Kong.
Airline trade group said travel ban ineffective
>> Governments should roll back or refrain from using travel restrictions as the coronavirus is mainly being spread through local transmission rather than imported cases, the Association of Asia Pacific Airlines said.
"Given that the Covid-19 outbreak is now progressing across the globe, it is time for a fundamental rethink on travel restrictions"
China air passenger numbers fall 84.5%
>> Chinese airline passenger numbers slumped by 84.5% in February, highlighting the huge economic impact of the coronavirus outbreak. China's aviation regulator said the drop has caused a 21 billion yuan (USD 3 billion) fall in revenue.
Business travel sector to take $820B hit
>> The global business travel sector is expected to take a revenue hit of about USD 820 billion, with China accounting for nearly half of the losses, as corporates curb travel plans in the face of the coronavirus epidemic, industry body GBTA said on Tuesday.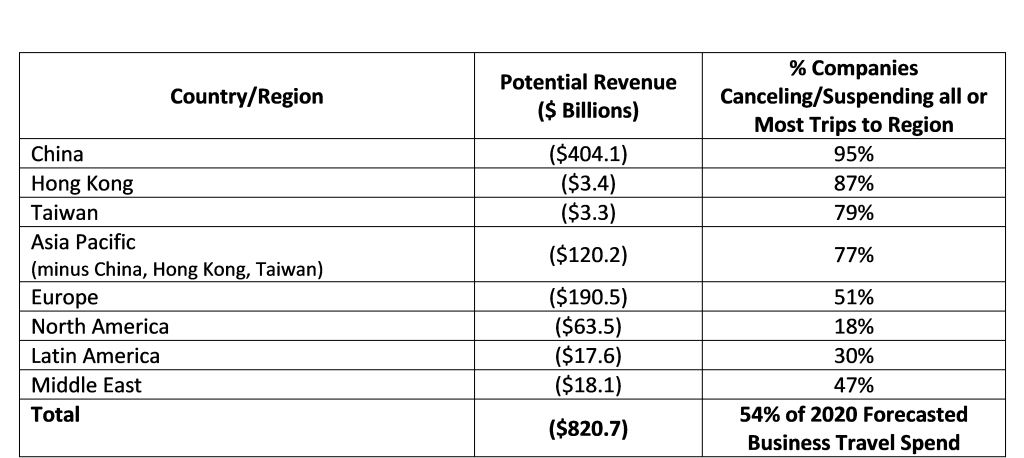 The industry group's latest estimate is sharply above its February forecast of a $560 billion hit.
US suspends travel from Europe for 30 days
>> Starting on Friday, the United States will be suspending travel from Europe for 30 days. However, these restrictions do not apply to the United Kingdom. The US Homeland security also clarified that this only pertains to foreign nationals, it does not apply to U.S. citizens.
Analysts said the travel ban by the US will heap more pressure on airlines already reeling from the coronavirus pandemic, hitting European carriers the hardest.
US tourism could lose $24B
>> The US travel and tourism industry could lose at least USD 24 billion in foreign spending this year because of the rapidly spreading coronavirus, according to data produced by Tourism Economics and first seen by CNBC.
That would be equivalent to about seven times more than the industry lost during the SARS outbreak in 2003, according to the data.
Lufthansa cancels 23,000 flights for April
>> Lufthansa Group has canceled a total of 23,000 flights during April, as coronavirus continues to have a major effect on demand. The cancellations cover short, medium and long-haul services, between the period from March 29 to April 24. Last week the group said it could reduce capacity in the coming weeks by up to 50%.
Traffic at EU airports could fall by 187M passengers
>> The organization representing over 500 of Europe's airports has warned that the ongoing coronavirus epidemic "is resulting in airports across the continent now facing a full-blown crisis". ACI Europe said the current estimate for the whole of 2020 is a fall in passenger numbers of 187 million, down by 7.5% year on year.
Airbnb ordered to pay back booking fees
>> Airbnb is facing a bill of up to €200 million after a court ruled it was not entitled to claim booking fees from its Dutch customers. The district court in Amsterdam said the platform was in breach of a Dutch law which forbids middlemen from taking fees from both parties in a transaction.
Corporate expense management startup secures $36M
>> Chinese corporate expense management startup Fenbeitong has secured USD 36 million in a Series B+ round of financing led by Silicon Valley-based fintech venture firm Ribbit Capital, and Paul Hudson's growth equity firm Glade Brook Capital. Established in 2016, Fenbeitong claims to have served over 1,000 medium and large-sized domestic enterprises.