ChinaTravelNews learned that Booking.com's head of China unit has been ousted.
The world's largest online travel booking website announced that Marsha Ma, Vice President of Booking.com and Managing Director of Booking.com China, has stepped down. Booking.com said it "fully recognizes and appreciates the contributions Marsha has made".
According to the information on LinkedIn, Ms. Ma was appointed as head of Booking.com's China business in March 2018 and she had been on the position for two years. Prior to that, she had worked for Microsoft, Alibaba, Tencent, and Oracle.
The company said in the statement that "China continues to be an important market for Booking.com", and it pledged to "continuously invest in this market to deliver greater value".
A source told ChinaTravelNews that the independent business unit of Booking.com's China operation will be restructured as different operations in the country will later need to report to different heads at the company Asia-Pacific and global offices.
"Our leadership team in China will continue to lead the business, and focus on executing our strategic roadmap and local business priorities," according to Booking.com's announcement.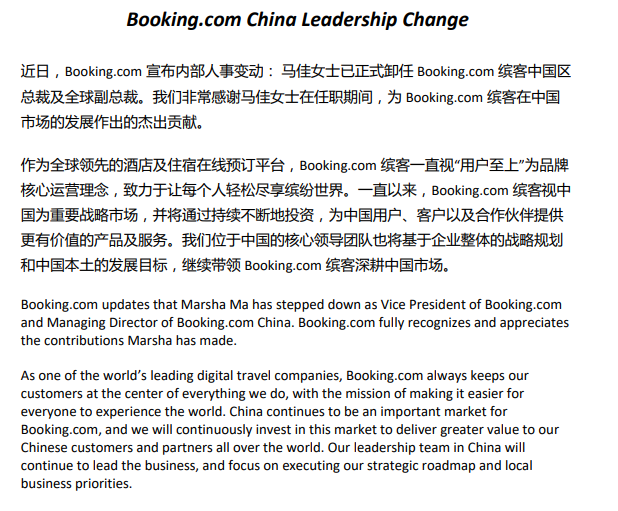 Booking.com's global head office also had major management change last year: Gillian Tans was transitioned from the role of Booking.com CEO to the company's Chairwoman in June 2019, while Booking Holdings CEO Glenn Fogel expanded its role that includes CEO of Booking.com.