ChinaTravelNews, Ritesh Gupta - Huazhu Group's CEO Ji Qi has exuded confidence over Chinese indigenous hotel company's future plans, as the team gears up for its target of 10,000 hotels in 3-5 years span. After the first nine months of 2019, Huazhu had a total of 5,151 hotels in operation.
Reflecting upon the journey of the group over the last 14 years or so, especially how the team has managed to successfully establish itself in the economy and mid-scale segments, Qi stated that the company's business strategy was doubted at times, with some even worrying over short-term profitability, for instance when it came to going ahead with the mid-scale hotel brand, JI. Starting out in 2010 or so, it took Huazhu a number of years to establish JI brand awareness. "But by 2015 we had a profitable JI brand business and also reasonable scale," said Qi. "Today our JI brand is the leading (brand) and a popular midscale hotel brand with 2,059 hotels. We plan to open up at least 400 JI brand hotels in 2020."
Qi emphasized that now the team is ready for another major leap, with the recently announced accelerated growth goal being a work in progress for Huazhu to eventually become a "world-class hotel company".
Qi acknowledged that generally an organization crafts a growth curve, which tends to mature, and then results in a decline. But Qi asserted that plans to sustain the growth trajectory of Huazhu are in place.
He said just when the curve indicates a downward movement; one has to "find a new function, new power and new direction till the curve takes off again".
"Our company, Huazhu Group, will be a world-class global company only after it has reached sufficient scale and strength in geographic areas also outside China," stated Qi, during the group's Q3 Earnings Call.
Qi said that since the group is already well-established in the midscale and economical segments, he is now dwelling on the idea of how to capture the next opportunity, as the next wave for the luxury and upscale segment.
Strategy
While founder and Executive Chairman, Qi, recently took the additional responsibility of being the CEO, previous CEO Jenny Zhang was appointed Huazhu's Executive Vice-Chairlady to focus on international expansion.
The team spoke about plans for China and international expansion. The group has 1,736 hotels in the pipeline. The group, which operates 18 brands and has properties in more than 400 cities in China, has already forayed into markets such as Singapore and Japan.
The senior management is clear that Huazhu needs to establish itself in new segments such as upscale, luxury and resort hotels. And as these segments require different expertise, the group chose to go for the inorganic route via the recent acquisition of Deutsche Hospitality (DH). "This will help to shorten our own learning period and we will benefit from new perspective of our employees in a newly acquired business," said Qi. Huazhu expects this deal to close in January next year.
Jenny highlighted that Deutsche Hospitality's flagship brand, Steigenberger, is a reputable luxury hotel brand across Europe, North Africa and the Middle East. As for synergies post-acquisition, Huazhu will benefit from an enriched product and geographic offering to guests and franchisees. "…geographic coverage of the two companies have no overlap," said Jenny. DH can look forward to leveraging Huazhu's expertise and resources in the loyalty program and direct sales to enhance the former's competitive position. Plus, DH can count on technology to support future expansion. "We expect improvement in the back office operational efficiency and customer interfaces going forward," she said.
Jenny, who joined the group in 2008 before assuming the role of CEO in 2015, shared that DH has five brands, 118 hotels in operation and a 36 in the pipeline across 19 countries. "We think DH is the deal of the right size," she said.
If DH were to be a part of the Chinese group today, DH would account for 4% of Huazhu's rooms, 27% of Huazhu's revenues and a 9% of Huazhu's EBITDA.
"The transaction value is approximately 7% of Huazhu's market count. This is a deal size that is meaningful, but not too big for us as a first step of going international," mentioned Jenny, who added that the expansion of Huazhu's segment portfolio was an important factor behind this deal.
As for China, Qi mentioned that the domestic market has a huge scope for further consolidation.
Referring to the percentage of branded-chain rooms, he said China is way behind at 20% or so when compared with Europe (around 40%) and the U. S. (70%). He said Huazhu is in a position to benefit, by emerging as the leading consolidator.
"(Our aim is to be) a global hotel group with a major presence in the home country," said Qi.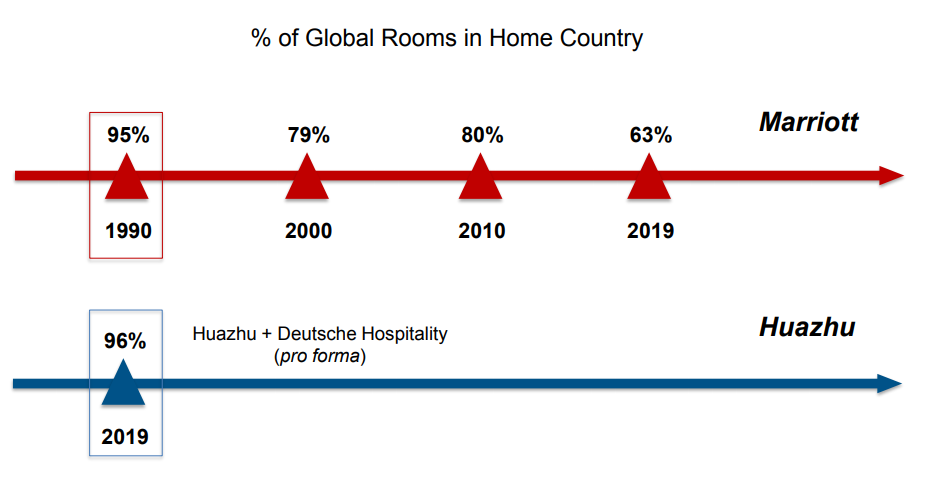 Qi and Jenny explained that in order to meet the target of 10000 properties, expansion into lower-cities is vital. It was shared that senior executives and the key members of the development team have already visited these areas several times, encompassing trips in the Northwestern part, Central part and East part of China.
"…the feedback is very positive. We are confident that our flagship brands like HanTing and JI Hotel and also all of the soft brand hotels…(will) have a very positive return in these low-tier cities because, first of all, lack of the good quality products in those cities," said Jenny. "…the second (reason) is that the rental cost is very low in these cities. So, we (can) provide a really good product with a more spacious area in the cities. And we believe the upper mid-scale and upscale brands like Crystal Orange, like Joya and others will follow (our) JI and HanTing (brands) after these two (get) fully established in those areas."
Jenny also acknowledged that even though such expansion would require huge manpower, Huazhu intends to count on technology to not only ensure it doesn't go overboard with the number of employees, but also to improve the efficiency of the staff, and also via apt focus on "coaching and career development".
"Technology is essential for Huazhu's sustained growth," said Jenny. Even from the guests' experience perspective, Huazhu has made progress. "More than 45 million people downloaded our Huazhu's smartphone app, 45 million and more than 25 million people are following Huazhu or WeChat," she said. The digital assets are enabling more members to choose Huazhu's online reservation channels. "The strong central reservation capability significantly accelerates the ramp-up of our new hotels and also help mature hotels to maintain high occupancy," shared Jenny.