Many people spend their days looking forward to their next getaway. But do you know exactly how much these vacation plans contribute economically to your chosen destination?
Today's visualization from HowMuch.net highlights the countries in which tourists spend the most money. Locations have been resized based on spending amounts, which come from the latest data from the World Tourism Organization (UNWTO).
Across the different regions, Europe's combined tourist spending dominates at $570 billion. Easy access to closely-located countries, both via rail networks and a shared currency, may be a reason why almost 710 million visitors toured the region in 2018.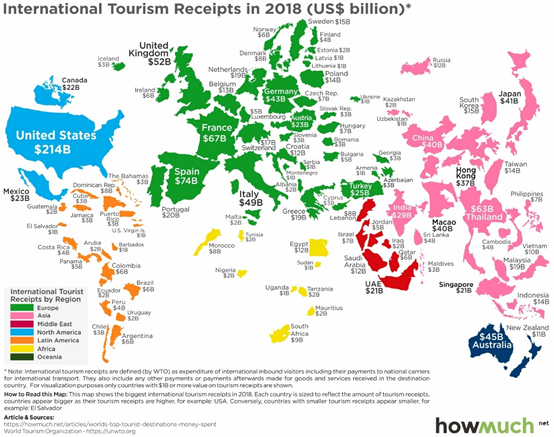 Asia-Pacific, which includes Australia and numerous smaller islands, saw the greatest growth in tourism expenditures. Total spending reached $435 billion in 2018—a 7% year-over-year increase, from 348 million visitors. Not surprisingly, some areas such as Macao (SAR) tend to rely heavily on tourists as a primary economic driver.
Read Original Article