A freshly updated report from ForwardKeys, which analyses over 17 million flight bookings a day, has revealed that the recent wave of demonstrations in Hong Kong, culminating in the closure of the airport on Monday, has had the effect of deterring people from making plans to visit the city.
In the almost eight-week period from June 16 – August 9, flight bookings to Hong Kong from Asian markets have fallen by 20.2% on the equivalent period last year.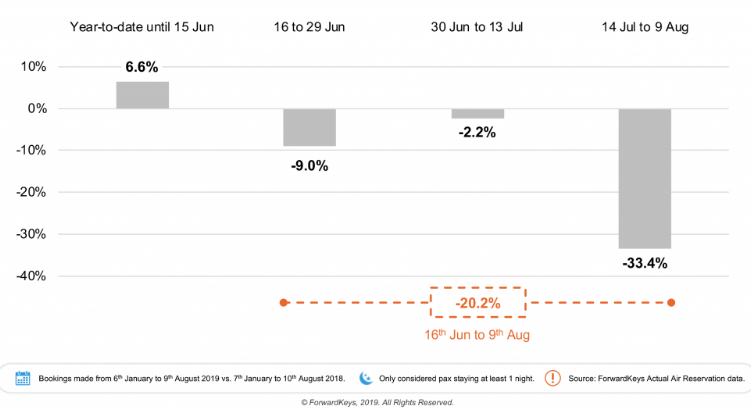 In the first fortnight (June 16–29), bookings fell 9.0% and in the second (June 30– July 13), 2.2%. At that point, it appeared that the demonstrations were having a short-term impact on short-haul travel. However, in the following 27 days (July 14 – August 9), there has been a dramatic drop in bookings – 33.4%.
There is now clear evidence that the protests have reversed a positive travel trend in which bookings for the first six and a half months of the year were up 6.6% on 2018.
Read original article