Nine travel brands appeared in the 2019 BrandZ Top 100 Most Valuable Chinese Brands ranking, including five airline brands, two hotel brands, and two travel agency brands.
The annual ranking was published by WPP and Kantar on May 6 in Beijing, with Alibaba crowned the most valuable brand in China for the first time boasting brand value growth by 59% year-on-year to USD 141 billion. The total value of the listed brands grew a record 30% to USD 889.7 billion.
Airlines
The total value of airline brands in the ranking reached USD 12.49 billion, up by 7%, following a 5% increase a year ago. With the addition of Shenzhen Airlines, the BrandZ China Top 100 now includes five airline brands.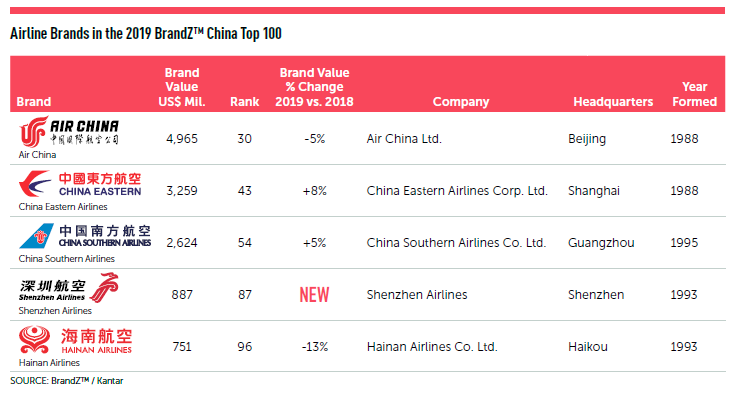 Shenzhen Airlines, as a newcomer ranking 87th with a brand value of USD 887 million, joins Hainan Airlines, a market-driven firm, and three State-owned enterprises: Air China, China Eastern Airlines, and China Southern Airlines.
Air China, China Eastern Airlines, China Southern Airlines, and Hainan Airlines are at 30th, 43rd, 54th, and 96th in the ranking.
Air China and China Eastern Airlines are the remaining brands that have a significant presence outside of China in the ranking of Top 10 by overseas presence. They ranked seventh and eighth, respectively.
Hotels
Hotel brands face new competition, but the hotel category increased 32% in value, a strong performance that followed a 13% rise a year ago. Of the two hotel brands represented in the BrandZ China Top 100, Hanting (from Huazhu Group) rose 58% and Home Inn rose 6% in brand value.

The growth occurred despite pressure in the budget segment of the market, and more competition from Chinese and foreign brands.
Travel Agency
The travel agency category declined 5% to USD 4,367 million, primarily because of stock market volatility and the value decline of one travel brand that dropped out of the BrandZ China Top 100. Of the two travel brands remaining, the value of Ctrip, China's largest online travel agency, was unchanged, and the value of Qunar.com, a budget-travel brand owned by Ctrip, rose 11%.

Travel remained robust, with outbound travel increasing 15% during the first half of 2018, when over 71 million Chinese traveled abroad, according to China's Ministry of Culture and Tourism. Inbound travel rose 11.4% during the same period, when 23.8 million overseas visitors came to China.
However, growth potential has attracted many competitors, such as Meituan Dianping, which completed an IPO, and Tongcheng-Elong a travel website that completed an IPO with backing from both Tencent and Ctrip.
Alibaba operates a travel platform called Fliggy. Didi Chuxing, the ride-hailing brand, entered the hotel-booking business through an arrangement with Booking.com. Ctrip, which has focused primarily on serving Chinese travelers, is positioning to meet the needs of overseas visitors to China, with its acquisitions of Trip.com and Skyscanner, a recommendation site.
Read original report