In Revinate's Hotel Reputation Benchmark Report 2019 which analysed reviews for more than 140,000 hotels in over 200 countries, key findings like the continued growth of reviews on review sites and OTAs, albeit at a slower rate, were not surprising.
Perhaps what was more surprising and would probably lead to more chatter in the room is that for the first time, Google has moved into the number one spot for review distributions by site. In last year's report, Google reportedly saw a staggering 207% increase in reviews in 2017. A 75% increase in 2018 means it has taken over from Booking.com as the site that generates the highest number of reviews – 30.1 million to be exact. Booking.com only saw a 10% increase in review volume, generating 28.3 million reviews. In third place is Tripadvisor with 11.3 million. These three contributed the lion's share of reviews.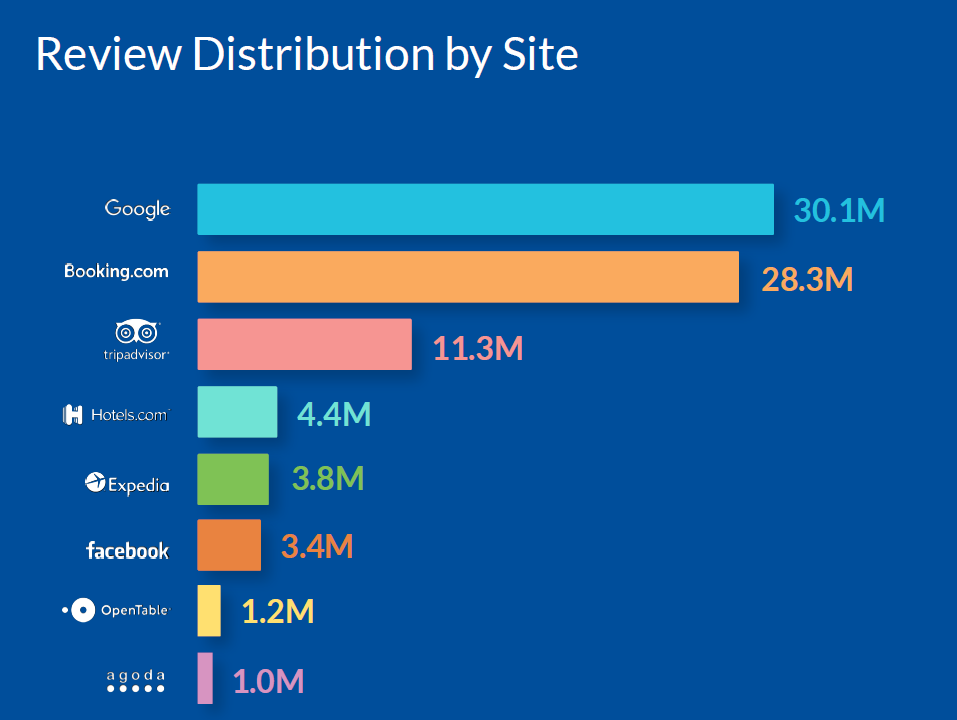 This data point is another signal of Google's growing domination in the online travel sphere. It continues to infiltrate the travel booking process at every point.
"Recent changes show that the company is getting more serious about giving OTAs a run for their money with a meta-search and booking tool, which promises to grow to be a one-stop shop for travel," wrote Zach Dempy, Revinate's marketing content manager in a recent blog.
"Google will even tell you if you're getting a deal based on their historical rate data. You can also filter by rating, amenity or deal to ensure you find the best hotel for your needs," he added.
Hoteliers seem to be more proactive now in responding to not just the good reviews, but the less than positive ones, according to this same report's findings. In 2017, hoteliers responded to more five-star reviews than lower-ranked reviews. In 2018, the highest response rate was for one (35%) and two-star (34%) reviews, against 30% for five-star reviews.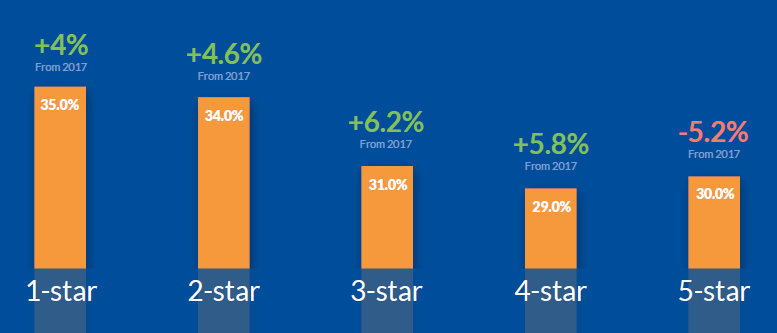 "This flip indicates that hoteliers are becoming more comfortable responding to guests who have had poor experiences. It's easy to thank a guest for a great review but publicly responding to a negative review takes patience and tact. We're thrilled to see hoteliers addressing their negative reviews with public responses," said the report.
Budget hotels were best at responding to reviews at 39.8%, while economy hotels performed poorest at 26.1%. Midscale hotels were just behind the budget hotels at 39.7%, while luxury hotels responded to 38.8% of reviews.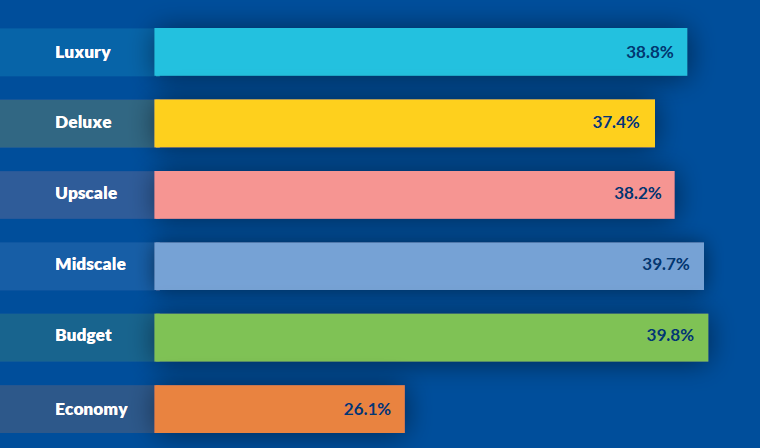 By region, APAC was the only region that saw a decline in review response rate by -19%, although it was still higher than the global average. APAC is also still responding to more five-star reviews than one to four-star reviews.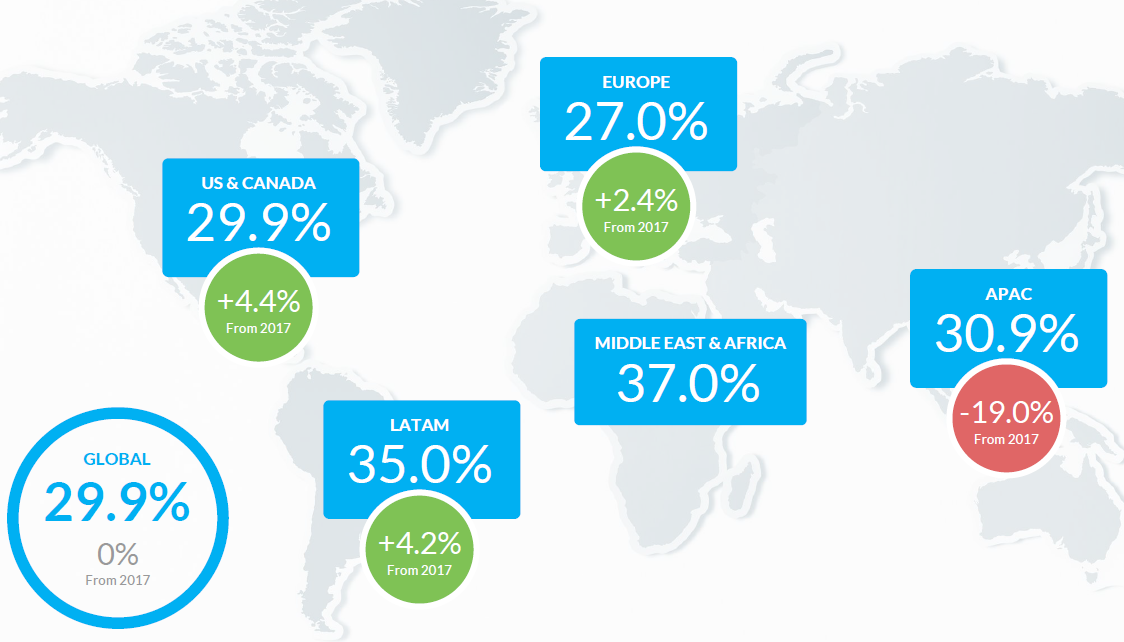 Another interesting data point from the report revealed which regions of the world got the highest average review rating – and that went to Latin America and Asia Pacific at 4.3. The lowest average review rating was shared by the US and Canada at 4.1, followed by Europe at 4.2 which is also the global average.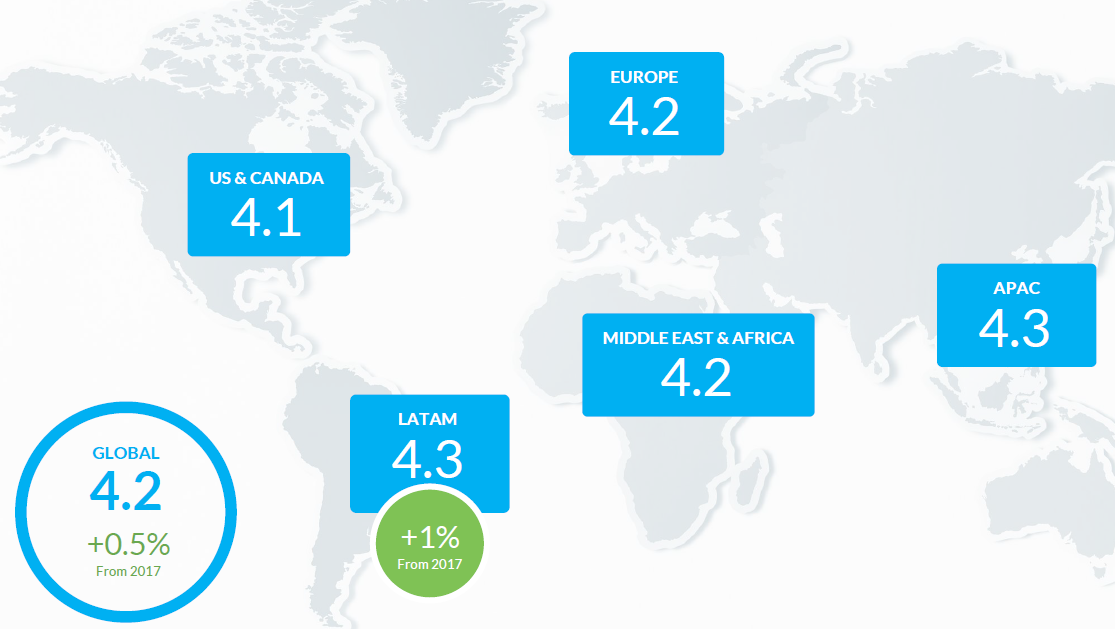 Read Original Article