ChinaTravelNews, Ritesh Gupta – Short-stay rental/ homestay booking specialists in China are in the midst of major expansion of their respective listings at this juncture.
Tujia, as of late February, had crossed the 1.3 million-figure for its listings, jumping from the 1.2 million-mark, as reported by ChinaTravelNews.com in November last year.
"We are on track to touch the 2 million-mark (for total number of listings on Tujia's platform) by the end of this year," shared Tujia's CFO Warren Wang, who previously also indicated that 1.2 million properties was less than 10% representation of the entire size of the market on its platform.
Another major player in the category, Xiaozhu, is targeting 1 million properties in the next 12-18 months. "We currently have over 500,000 listings in more than 500 cities," shared Xiaozhu's Co-founder and COO, Tarry Wang Liantao.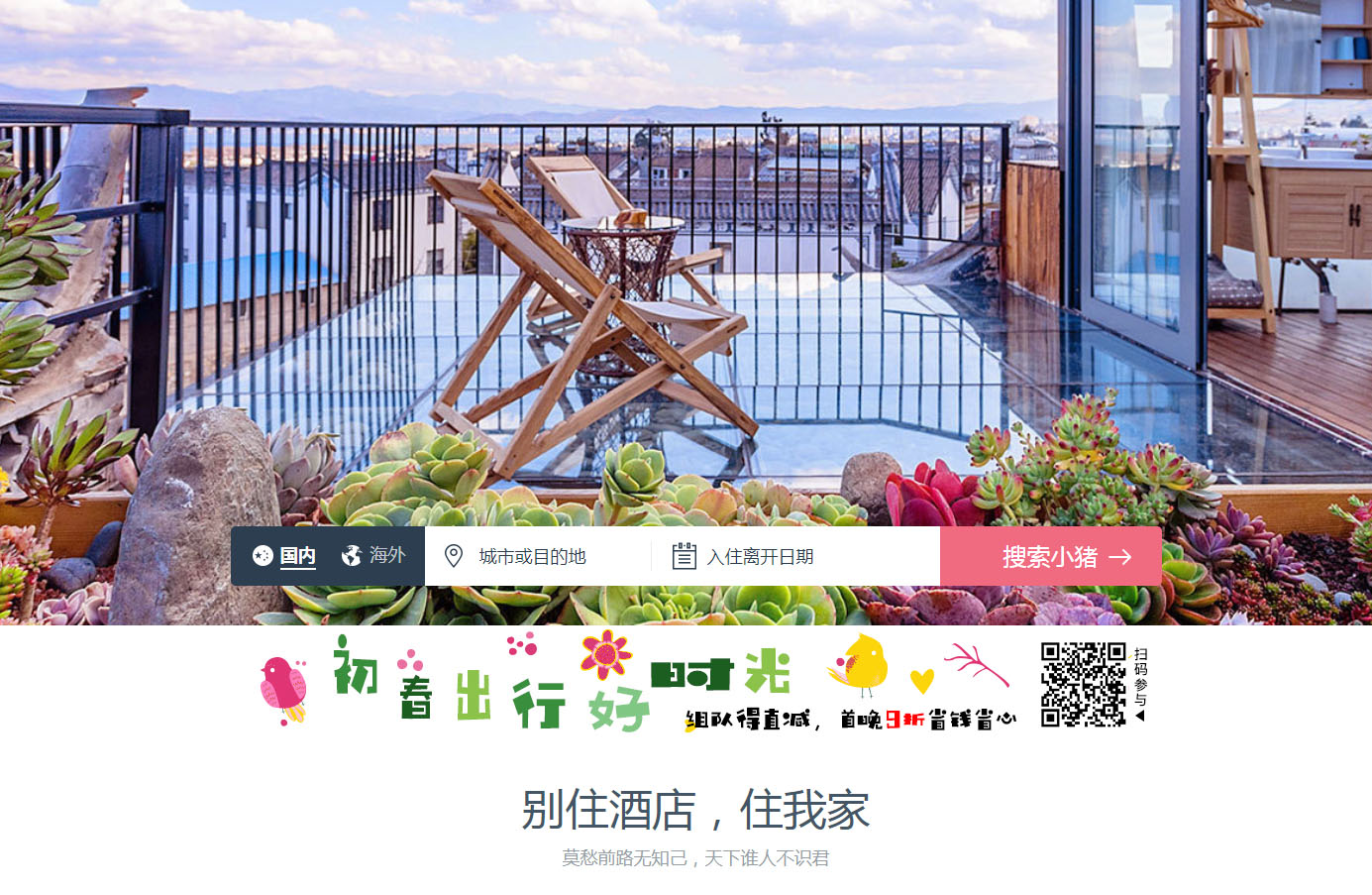 Chinese homestay players are looking at various options to expand their business. In fact, this comes at a stage when hotel companies, too, are experimenting in a big way and are not averse to trying out new designs, stay concepts etc. "There is incredible diversity and experimentation in the accommodation space going on here (in China)," observed Nathan Blecharczyk, Co-founder, Chief Strategy Officer, and Chairman of Airbnb China. He spoke to ChinaTravelNews.com during his visit to Shanghai for the TravelDaily Conference in September last year.
Various ways to expand listings
Be it for domestic travellers or inbound tourists, it is vital to have listings beyond top cities. For instance, it is being indicated that foreign travellers are increasingly going to inner-land cities like Chengdu, Chongqing and Wuhan. This means that the pace with which the category is expanding is only expected to continue in the next couple of years.
"Be it for working with online brokers/ property management specialists (who have aggregated properties and offer this inventory), API connectivity to direct contracting, all options are being explored by homestay booking major companies," shared a source.
Acknowledging the same, Tarry stated the category is capitalizing on the current phase, which has shown signs of maturity as recruiting hosts/ adding inventory becomes more streamlined and cost-efficient.
"As we grow, the market has also grown into a matured network. Properties are being uploaded online by owners themselves, too. So the network is capable of churning out its own growth today," he said. For a company like Xiaozhu, this way of listing is becoming increasingly common in cities, where its inventory largely consists of apartments. "As we are penetrating further, we are also increasingly listing houses. Also, we have a team (at a local level) which has thorough and comprehensive knowledge of the inner-places. Along with this, we also offer offline services including in 3rd-tier, 4th- tier cities and countryside. Location-wise our approach varies (for adding properties). Out of our 500,000 listings, half our currently in 1st and 2nd tier cities," shared Tarry.
Tujia has in-house teams as well as 3rd party specialists for on-site inspection – to take photographs, assess safety parameters etc. There are local teams that work with house owners, looking at aspects like managing the customer and how to operate houses on the platform. Tujia was founded by combining the offline operation and online booking platform with the purpose to ensure a sizable number of listings and quality at the same time. But it decided to spin off the offline operation Sweetome in 2017, when it began to work with more offline players.
The sector is also working with companies that act like offline and online aggregators since they are homestay companies with listings. "They lease houses from the owners and manage these properties on their behalf. They have a sizable number of properties, we cooperate with them and they are our suppliers. We are also looking at online brokers, but again if they only have the information and don't control the house on the behalf of the owner, then things get complicated and we prefer not to tie-up in such cases," said a source.
What about a property being listed on both Xiaozhu and Tujia? "It is possible (to find houses or properties on all the sites)," added the source.
Top companies ensure that they manually review every listing and work with the host to showcase their home in the best possible way. Plus there is inspection against a set of criteria to verify quality that is being promised by the brand.
On partnering with other short-term rental specialists with various models, Blecharczyk had shared, "We made an investment in CityHome, a company that offers short-term rentals in homes and apartments across China (Tao Peng, who was appointed as President of Airbnb China last year, had co-founded and helped grow CityHome). Such partnership is based around the fact how we can work better with these kind of players, too. Overall, an increment in the number of players is good for the ecosystem. Our intent is to build trust in a player (like CityHome) by prototyping a model. So if we work on a platform, then assessing how the same can collaborate with an operator (could be a short-term rental aggregator or any company that even leases properties itself to offer rental properties). The intent is to open source - collaborating and making it available to all relevant players in the marketplace. First prototype a platform for sharing properties with other operators and then using the same to open source to other players."
"You can see a wide range of properties on the Airbnb platform in China, too. What matters to us is the nature of the experience offered – for instance, our Experiences that are designed and led by inspiring locals, too, aren't like offerings from big companies where travellers hop on and off during their bus tours. We want people to feel like an insider, rather than outsider," he said.
Differentiation
With expansion the category is showing signs of becoming commoditized, too, with one property being available on many platforms.
Tujia is clear that it is trying to carve a distinctive identity. "From our brand image to versatility of our listings (Tujia says it has apartments, independent houses, including properties in the rural areas, too. There are houses on the trees, valley, on the boat etc.) to the choice we have to offer (from the number of listings) to the number of cities (over 1000 cities), our competitors can't match us," said a confident Warren.
An area where this category needs to improve upon is - the overall presentation of travel content via a superlative product interface, one that is indicative of the fact traditional ways of selling travel aren't going to be applicable anymore. The prowess of Chinese technology companies in shaping up new consumption patterns – for instance, video app Douyin's 15-second videos - across media content, e-commerce etc. can't be ignored. Not only companies like Qunar or Mafengwo, but even Airbnb in China is looking at selling travel by inspiring travellers.
As for the approach of Airbnb towards product development, the team has focused on what the aspirations of travellers are, their content consumption pattern, the sort of apps they use etc. and accordingly looking at crafting relevant features for digital assets. At a global level, Airbnb thrives in recommending useful travel context. A major emphasis here is – how does the company categorize its inventory and ensures contextual travel insights are presented to users in the booking flow.
Even Chinese travel intermediaries like Mafengwo are counting on natural language processing, machine learning and deep learning to prototype different users. "We keep a vigil on every search, click etc. and accordingly come up with content for users," Mafengwo's CEO Gang Chen told ChinaTravelNews.com in an interview last year. A lot of continuous effort goes in to work on personalized content on the fly for every user. As for the homestay category, companies like Tujia, too, are making rapid progress to refine their interface, functionalities etc.
"We are confident about (converting) transactions on our platform," mentioned Xiaozhu's Tarry.
Xiaozhu and Tujia also referred to stepping up other possible sources of revenue. An example is garnering revenue via a set of comprehensive services associated with the maintenance of the property. Chinese companies have also been offering facial recognition solutions to hosts, who invest in these to streamline the overall experience of travellers. "Hosts are willing to make such investment (smart locks for identification) as it improves CX (customer experience)," mentioned Tarry.
Tujia also acknowledged the need for offering an integrated service to the owners of the property. "As per the safety and security requirements as a results of the Chinese government's tighter control over home-sharing, the facial recognition door lock/smart locks offerings is being focused upon," said Tujia's Warren. He shared that the owner system of database is linked with the National Police Department for verification of the guests. He indicated that it isn't always feasible for the owner to be present physically at the time of check-in. The automated way of check-in, be it via facial recognition or via a smartphone, is on the rise.
Another area that needs to be followed with category expansion is the reach of these players. While Tujia is banking on ties with Ctrip and group companies, in addition to its own channels, Airbnb isn't keen on listing its properties on OTAs.