ChinaTravelNews, Ritesh Gupta – It is imperative for travel e-commerce players to find ways that target customers' span in a bigger way, rather than just relying on traditional touchpoints as done over the years. With the likes of Alibaba, Tencent and Meituan successfully crafting lifestyle and e-commerce offerings that are an integral part of Chinese customers, how can the likes of Ctrip respond to this growing challenge for remaining closer to customers?
"It is vital for us to find ways to sustain the stickiness of our offerings," Ctrip's CEO Jane Sun told ChinaTravelNews.com in an interview during the TravelDaily Conference in Shanghai.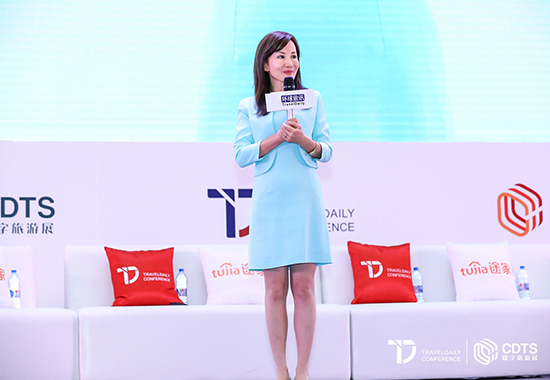 Jane Sun, CEO, Ctrip
Sun, who acknowledged that there is plenty of room to grow for the company when it comes to the addressable travel market in China, mentioned that Ctrip isn't really becoming a two-sided marketplace where buyers and sellers meet, and the group isn't certainly looking at adding non-travel products. Rather the focus is on meeting all trip essentials. The group has already added local activities and airport transfer services in certain markets and this initiative would be expanded soon. This in addition to the group's multi-mode transportation offering.
"When we think of our capabilities (Ctrip's team, data prowess, service delivery etc.), our ability to remain relevant to our customers, our one-stop travel platform, the way we have scaled up over the years (with improving operating margin and considerable cost control initiatives)...we think we can sustain our edge," said Sun.
As for competition from the likes of Meituan and others, she said, "Strong competition is beneficial for all the players and the entire travel ecosystem. It would push us to come up with solid products. We always have and would continue to look at leading the technology curve."
As OTAs have been asserting over the years, Sun also mentioned that the travel industry is very fragmented and complicated by nature, and it isn't going to be straightforward for any player to "streamline operations and deliver a superlative experience" the way established OTAs have done over the years. Where the new players come into the picture is their role in the booking funnel (different content consumption methods so can target user acquisition as well as working on ways to close the conversion). But, as players like Ctrip assert, there are lots of intricacies involved in the industry and it is not about one business model that all can be replicated and make it viable. Also, a lots of products are non-standardized in this market.
Growth
Sun is optimistic that the group would be able to sustain its growth trajectory, considering the GDP growth as well as its ability to outperform others in terms of the comparable growth rate. "If the GDP growth rate is 6% or so and the industry growth rate tends to be double of the GDP growth, we are targeting almost quadrupling the GDP growth rate."
In the domestic market, Ctrip is looking at couple of ways to build business - stepping up the average order value via cross-selling (targeting the existing user base) and also spread offerings to the lower-tier cities.
In the international market, as indicated during one of our recent articles, Ctrip is working on plans to step up the share of international revenue at this juncture. It currently stands at 20% or so. As for working with Skyscanner, Sun highlighted that the focus is on optimizing the user experience on the meta-search site's platform and converting the traffic by offering Ctrip's product offering to the traffic.