ChinaTravelNews, Yumi Zou- In 2017, Airbnb's Chinese rival Tujia served a total of 90 million users, increased its inventory by 300% and grew booking transactions by 500%.
Making up for its weakness through acquisitions
After Airbnb announced its expansion in China in 2015, Chinese startup Tujia, which started with a B2C model, began to pay more attention to the C2C business.
At the end of June 2016, Tujia had fully acquired short-term rental website Mayi.com, taking the lead in short-term rental mergers and acquisitions in China.
Four months later, Tujia announced its acquisition of Ctrip and Qunar's apartment and housing rental operations. After the deal, the online inventories, traffic volume, brands, operations and other resources of Ctrip and Qunar all came under Tujia.
So far, Tujia has more than one million listings registered online, and the 150 million daily active users on Ctrip's APP are potential customers for Tujia.
Fishtrip is the subject of Tujia's most recent acquisition. Tujia is to integrate Fishtrip with its accommodation services, to fully acquire and combine Fishtrip's team into its overseas business division, and to make overseas expansion one of its priorities in 2018.
Mr.Changle Yang, COO of Tujia, concluded the point of this acquisition lies in whether it can bring a substantial contribution to business growth, and reach a supply-demand balance.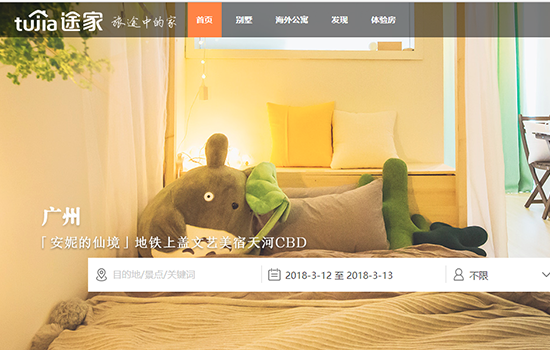 Focus on technology and experience innovation
'Tujia Host', an App that resembles the working principle of hospitality PMS, enables hosts to post listings, check and manage room status on platforms, and even to work out revenue management solutions.
Smart B & B increases the added value of homestay products and user experience by introducing smart house appliances.
Likely to be in collaboration with Airbnb
In February, Airbnb's 10-year plan highlighted the development of housing management, host community, and further coverage of hotels and destination services.
"We have been testing out Airbnb's strategies in China, except for its destination business model, which was only tested on a limited scale,"said Mr. Yang. In its expansion overseas, Tujia will reference Airbnb's experience, including how to enter a new destination and then how to expand listings there.
"I've always seen the possibility for Tujia and Airbnb to work together," Yang said: "It is quite worthwhile to explore possibilities of a cooperation in shared inventories and room status and even the promotion of the legalization of global B & B business."
Interestingly, Glade Brook, who invested in both Uber and Airbnb, also participated in Tujia's latest round of financing. Its founder and chief investment officer Paul Hudson said that Glade Brook found it amazing to be involved in the investment and was optimistic about China's short rental market as well as Tujia's leading role in it.