Marriott CEO apologized Thursday for listing Tibet, Taiwan among other parts of China, as independent countries in a mail questionnaire, and promised to take measures to prevent such incidents.
"Marriott International respects and supports the sovereignty and territorial integrity of China. Unfortunately, twice this week, we had incidents that suggested the opposite," the company's president and CEO Arne Sorenson said in the statement.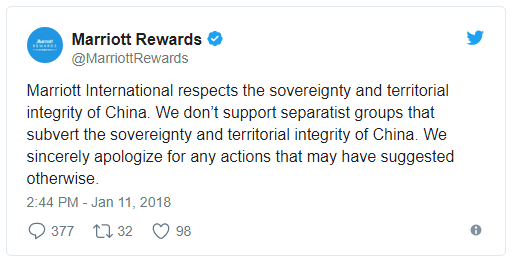 "We don't support anyone who subverts the sovereignty and territorial integrity of China and we do not intend in any way to encourage or incite any such people or groups. We recognize the severity of the situation and sincerely apologize," the message said, in a more solemn tone than previous ones offered on Chinese media that were slammed as insincere.
The statement said the company has corrected the improper actions and checked its websites and mobile apps for other possible errors and will fully cooperate with investigations launched by the Chinese authorities.
During a recent promotion program, Marriott listed Chinese territories, including Tibet, Hong Kong, Macau and Taiwan as "countries" in a drop-down menu, and one of its Twitter accounts was found to have "liked" a Tibetan separatist group, drawing fire from Chinese netizens and prompting a probe from China's Internet and market supervisors to determine whether Marriott's actions violated Chinese laws.
Marriott and Starwood's Chinese websites have been shut down for a week after the crisis.
Marriott is operating 270 hotels with nearly 100,000 rooms in China.
Read original article