Travel technology and online startups have raised a massive $15 billion since 2013 across 1,300 deals - yet the climate for investment is changing.
Data released by CBInsights shows that 2017 is likely to be the fifth year in a row that the number of individual deals has climbed.
The U.S. remains the country to secure the largest share of travel tech deals (at 31%), with India, China and France representing 10%, 8% and 6% respectively.
Still, the investment market is shifting east as brands in China and India win high value deals and tap into sectors and trends that are still relatively nascent compared to their counterparts in North America and Europe.
But perhaps the most interesting trend to emerge is the decline in the number of low-level investments.
Four years on and the seed/angel market has fallen to 48% and the higher grade deals have expanded to 17%.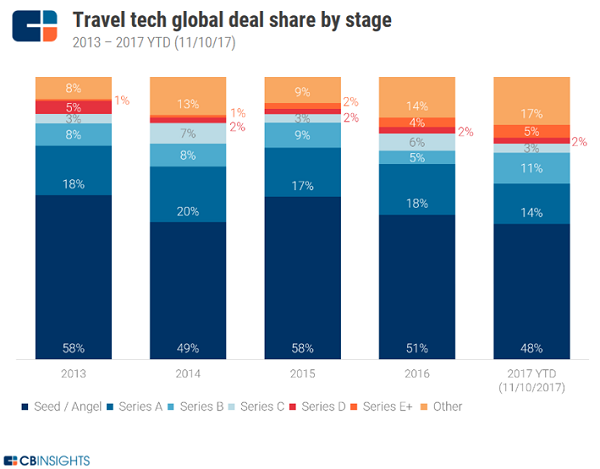 This could be an indication of an overall maturing of the travel tech startup sector as those that have successfully made it through their early stages have become larger and more dominant players - effectively, securing upper-stage rounds and also squeezing out potential competitors from getting investment.
As a result, inevitably, there is a direct correlation between the largest rounds in recent years going to the most-funded brands (Airbnb, for example).
Below is a video of a recent presentation by CB Insights with further results from its monitoring:
Read original article