IATA's latest Global Passenger Survey reveal that women are somewhat more protective of their identity information, something which may be related to a heightened sensitivity to personal security while traveling.
Women appear to significantly prioritize accurate and complete updates on the details of their travel itinerary.
Women also play a critical role in decisions for accommodation, and are setting trends in alternative accommodations.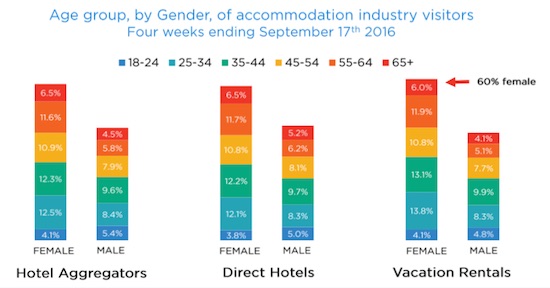 Source: Tnooz
Research by Hitwise shows that the majority (57.84%) of visitors to travel accommodation sites, including hotel aggregators, hotels, and vacation rentals are women; 60% of visitors to vacation rental sites are women and 31% of visitors to rental sites are women between the ages of 18-44.
Women appear to have stronger emotional connections to their travel booking decisions, and form strong opinions about their travel experience. Women are more likely than men to link travel to identity, seeing it as a way to differentiate themselves from friends. They are also more likely to want to visit new destinations.
Read original article