Safety concerns towards other destinations in the region and fewer headline-making news about Hong Kong are the key contributors to the increase in visitor arrivals from mainland China. Thus, the tourism and the retail sectors in Hong Kong enjoyed a steady recovery after a slump in mainland arrivals in 2016.
The robust 2.2% growth to 42.6 million visitor arrivals in Hong Kong during the first nine months of 2017 is a strong indicator of a recovery in the city's tourism sector. According to Hong Kong Tourism Board (HKTB), in the third quarter of the year, Hong Kong registered an increase of 268,000 arrivals, a 1.8% rise over the same period in 2016.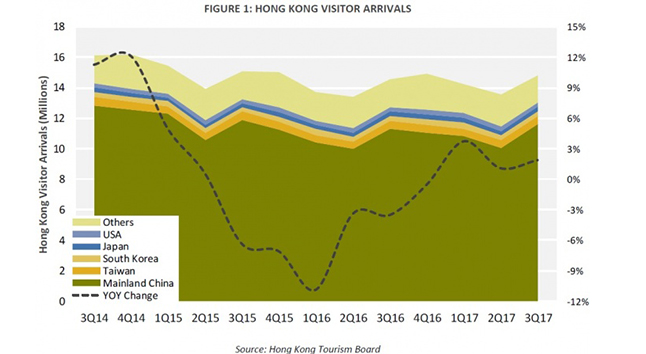 Specifically, September contributed the largest growth rate to this quarter at a 4.8% year-on-year, followed by July at 2.4%, while August registered a 1.2% decline due to the Category-10 and Category-8 typhoons sweeping across the city at the end of August. The top five feeder markets (by order of size) are mainland China, Taiwan, Korea, Japan, and the United States. Mainland China and Japan registered a positive YoY change, while the other three demonstrated a decline in visitor arrivals in the third quarter, partly due to a higher competition from other Asian countries.
Accounting for 78.3% of arrivals in the third quarter of 2017, mainland Chinese visitors registered 2.7% year-on-year growth to 11.6 million. This is good news for Hong Kong as the city had lost out on attracting experienced Chinese travellers to more 'flashy' destinations, in Asia and Europe. Given that safety concern is a predominant criteria while making travel decisions, headlines of terrorist attacks in Europe and North America, the de facto ban on package tours to Korea, and the strained relations with Taiwan, helped to drive mainland Chinese travellers back to Hong Kong.
Read Original Article