Booking.com, one of the world's largest online travel service providers, is looking to expand into China's fast-growing domestic tourism market and plans to develop technologies such as artificial intelligence and to hire more staff.
Online travel agencies have quickly penetrated the lives of China's vast young population, who use mobile devices to research options and make reservations when planning their domestic or overseas travel.
"We will invest more into China to make sure that our brand gets more known to Chinese customers," said Gillian Tans, chief executive of Booking.com, in an interview. "We already have 600 people in China. That's something we will keep expanding to make sure we can service Chinese people with the right products and marketing."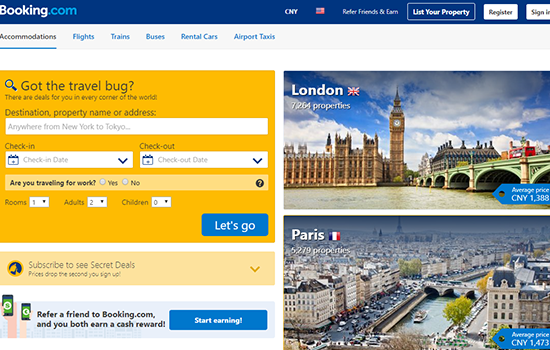 Netherlands-based Booking.com was established in 1996 and was bought by US online travel company Priceline in 2005. It offers 50,000 properties in China, from traditional hotels to homes and flats, and was the first global online travel company to offer Chinese-language services on its platform.
Tans said the number of properties, mainly located in top cities, is still small, but the company will seek to increase this by forming more partnerships and hiring more staff to support growth.
Tans played down worries about competition in mainland China. Ctrip, founded in 1999 and listed on the US Nasdaq stock market in 2003, is the dominant online travel service, and has grown from just a booking platform for hotel rooms and air tickets to an operation encompassing nearly all aspects of the tourism industry.
"Competition is quite clear," she said. "But we also have a relationship. Ctrip is our partner. We want to make sure that we have the right products for Chinese people."
Read Original Article