ChinaTravelNews, Ritesh Gupta - Imagine walking all the way to an airline's ticket office to pay for excess luggage or a flight upgrade when you are at the airport. Or what if you are ready to pay for the seat you intend to book, but you are directed to another web page and you then need to fill up a form or wait for one-time password to confirm your transaction. A customer might pay, but surely wouldn't like to make that extra effort.
If you are in a mobile-centric market like China, then customers won't appreciate such friction in travel shopping.
It is imperative for foreign airlines to remove such "delay" in the shopping process. If a customer is ready to pay in any digital or offline environment, then ideally this should work out. Yes, the ease of payment cannot be ignored, and there are new avenues that continue to flourish to support evolving behavior.
"As technology evolves, so do consumer expectations," said Paul Van Alfen, Global Head of Airlines & Travel, Ingenico ePayments, a speaker at the second edition of TravelDaily's Airline Distribution Conference in Shanghai.
He referred to a couple of new developments during his presentation:
Transactional chatbots: Referring to the popularity of messaging apps, especially among the "Millennials" for interacting with friends and other connections, Van Alfen indicated that the travel industry is gearing up to embrace payment-enabled messaging bots. This proposition seems to be an attractive fit for a market like China, considering the fact an organization like Tencent has over 975 million users of their Weixin and WeChat offerings (monthly active user accounts touched 963 million at the end of the first half of 2017). Plus, the popularity of QR Codes or transacting via mobile wallets has already gained massive traction in this market.
WeChat has in many ways set the standard for messaging platforms globally. The capability within the platform, for companies to retail and service, is a benchmark for Facebook Messenger and others. WeChat is a multi-layered platform from Tencent where one can do multiple activities, including messaging, social networking, content consumption, payments etc. The popularity can be gauged from the fact that WeChat accounts for 35% of the time spent on mobile in China.
Chatbots have made steady progress in the travel sector. Airlines are open to expanding their list of touchpoints, they acknowledge the potential of this technology in terms of customer care, passenger servicing, and sales and merchandising. Owing to computing power and the API economy, chatbots are delivering in real-time - flight status, frequent flyer integration etc.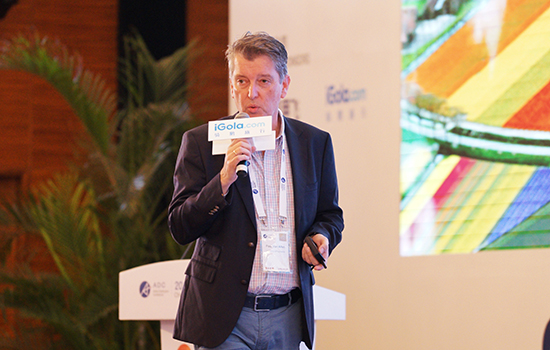 Paul Van Alfen, Global Head of Airlines & Travel, Ingenico ePayments
An airline, based in Europe, has already launched a chatbot offering for Facebook and is currently working on one for WeChat, and even planning to facilitate a transaction without the user leaving the interface. So how would it work? In case of Facebook, the user is never sent to a website to finish the transaction (so if a user is interacting via a mobile, a secure microsite opens only once and the details are stored for the future use as well, and if a user opens via a PC, then a microsite opens on another browser that too only once) and everything happens within the chat.
In addition, the chatbot is built to answer any question passengers may have regarding the airline's offering thanks to a combination of AI, semantic search and occasional hand over to a human agent. All in the same platform and with a seamless experience. Plus, there are other special features to better serve passengers, such as flight status and baggage calculator. Airlines are also looking at setting up a profile on every user to ease future interactions.
In case of foreign airlines, while developing a chatbot for WeChat, it needs to be ensured that functionalities of the app are incorporated and chatbots complements the same. So, for instance, voice search is a popular feature among WeChat users, and if a user decides to leave a voice message, then the chatbot needs to be respond to the same. So the training needs to incorporate such interactions, too.
Offline convenience: Van Alfen also shared a new development that is going to make paying airlines at the airport much easier.
Till date, shared check-in desks at the airport haven't proved to be an ideal setting for accepting payments, as such infrastructure cannot accommodate the particular payment needs of multiple airlines. To improve the situation, Ingenico, in conjunction with Amadeus, has launched Amadeus Airport Pay, letting airlines and ground handlers to serve their customers, by facilitating connections with a wide range of payment providers. Van Alfen mentioned that this is the "first wireless payment solution in the industry which accepts EMV chip card or an EMV-compliant mobile wallet payments."
"So airlines can garner more ancillary sales by offering a better payment experience," shared Van Alfen. He added that this would also cut down on payment cost by limiting fraud risk and shifting liability to the cardholder's bank.
For travellers, this means they can pay for all airline products via one terminal, and with chip card technology.