Short-term rental management startup Pillow has raised $13.5 million in new funding, and is launching a new product to provide more transparency to apartment owners when renters make their apartments available on platforms like Airbnb.
A few years ago, Pillow launched to help make renting out your apartment on Airbnb less of a hassle. That included things like helping hosts manage their calendar, set their pricing and dealing with the hand-off of keys and cleanings in-between guest stays.
And that was causing Pillow to lose business. According to CEO Sean Conway, the biggest reason for customer churn wasn't dissatisfaction with the service, but increasing crackdown from multi-family building owners against Airbnb and other short-term rentals.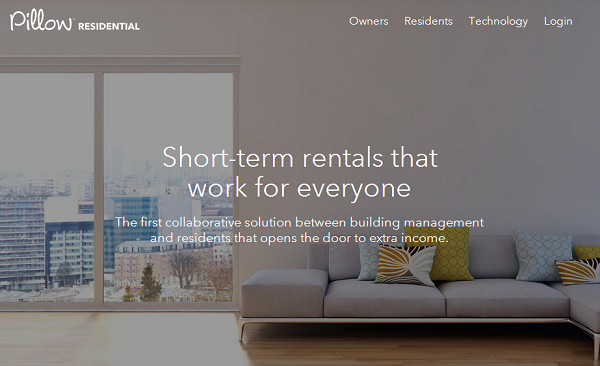 So the company set about trying to come up with a solution that would work for building owners as well as apartment renters. The result is the launch of Pillow Residential, a new management platform for short-term rentals in multi-family apartment buildings.
Pillow Residential is designed to give building owners more transparency into what's happening with short-term rentals on their property, and also allows them to share in the money being generated from rentals. The platform also ensures that apartment owners and renters are complying with local regulations, as more city governments create laws managing the frequency of short-term rental stays.
Pillow Residential has enrolled more than 5,000 units in places like San Francisco, Oakland, Denver, Eugene, Salt Lake City, Louisville and Albuquerque. It's already working with apartment owners like Marian Group, Virtu Investments and Peak Residential, so you can expect that footprint to greatly expand to be available in more cities and buildings over the coming months.
Read original article