ChinaTravelNews, Ritesh Gupta - European hotel chain NH Hotel Group is counting on their pedigree in the hospitality industry as well as the recently signed collaboration with HNA Hospitality Group to start its operations on a strong note in China.

NH Hotel's decision to foray into China comes at a time when Chinese hotel companies are scaling up at a rapid pace. Unfazed by challenging macroeconomic external environment, local players are optimistic about garnering higher margin revenue contribution and leveraging "a lot of franchisee interest" that is being witnessed at this juncture.

For their part, NH China (Beijing NH Grand China Hotel Management), the joint venture between NH Hotel Group and HNA Hospitality) is to build a portfolio of NH Hotels and NH Collection brand hotels in the mid-scale and up-scale segments owned by HNA or by third parties. The target is to develop 120-150 hotels by 2020. NH Hotel earlier this year unveiled their Chinese brand name, Nuo Han.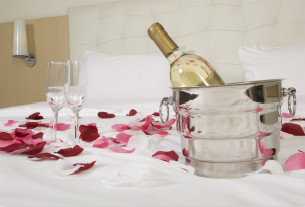 Authenticity

No doubt the market here is trying to break the shackles of fragmentation, with established brands trying to set up hotels with clearly demarcated categories assigned to properties. Only 15% or so of total properties in China are a part of reputable hotel chains, the rest of them are independent properties. The overall hotel network expansion is spanning across all star categories. In fact, the market is also open to categories such as office sharing as well as short-term apartment sharing business. But is it authentic to deliver, say a luxury or a 4-star experience?

"No one (player) can say, we are leading the market in the mid-scale category," asserted Beijing-based Hugh Xu, VP Marketing- China, NH Hotel Group.

The general feeling in China is that certain international properties, especially with their so-called "Inns", are attempting to capitalize on the current opportunity by upgrading such hotels. Xu believe this is where NH Hotel stands to gain with authentic grading of hotels.

"It is vital for any brand to deliver consistency and sustain operational standard for the star-rating that is being promised. So be it Madrid, Berlin, Haikou or any other city, NH Collection and NH Hotels would deliver what is expected. We have done research here, engaged potential customers via focus groups and tested prototypes of our design (rooms) in Beijing, Shanghai, Guangzhou etc.," shared Xu. He added that the benefit that NH Hotel has is that there is no learning from the scratch since the company operates around 400 hotels with nearly 60,000 rooms in 30 countries with more than 35 years of experience.

As for the target audience, Xu says the team is looking at the massive middle class and "young" generation, both in leisure and business travel segments. "If we talk of business travel, there is a huge gap here. If we talk of a sector like IT and Internet companies, then a majority of companies still can't afford luxury and upscale properties. The definition of a product is clearly defined as far NH Hotel is concerned – why a business traveller would lookout for spa plus restaurants? They have tight schedule, they only require necessary select services for their stay. It's about quality plus location plus best value. It's about the best value for money," said Xu. "The essence of this brand is "Always a pleasure"."

Collaboration – a key pillar from the beginning

NH China is developing two NH branded hotels to open in the second half year of this year in Sanya and Haikou of Hainan Province.

The fact that NH Hotel is commencing its presence via a collaborative route is a testimony of having a strong partner here. We have seen it in the case of Accor, priceline.com etc.

Even though NH Hotel has certain expertise, it is pertinent to partner with a local set up to understand the nuances especially in wake of rapid expansion of the whole category. For instance, in case of China Lodging Group, the team has in place brand franchise agreements with Accor pursuant to which the French company chose to grant exclusive franchise rights in respect of certain Accor brands. Senior management of China Lodging recently acknowledged that even though macro-economy is softening, the group isn't only focusing on the first-tier and second-tier cities, but is also paying to the third-tier city and beyond. Plus, there has been consolidation, too. Jin Jiang Hotels Development entered into an agreement for strategic investments in Plateno Group and completed the transaction in February this year.

So NH Hotel is gearing up to bank on HNA's strengths to move purposely. For instance, the group isn't just focusing on introducing its marketing infrastructure (PC website, mobile site and app) or mass brand exposure via mass advertising or social channels such as WeChat, Weibo etc. Xu hinted that HNA's businesses such as hospitality, airlines, OTA etc. can be a huge advantage, too.

Xu indicated the plan going forward is to optimize the marketing mix as the brand moves along the marketing funnel - awareness, consideration and purchase. "How we are going to focus on mass media, partner marketing, programmatic advertising, PR etc. is going to be the key. Yes, we are going to look at specific channels during various stages of the marketing funnel," Xu said, indicating that profiling of guests is the way forward, and digital plus social is going to play a pivotal role.

Experts believe that in the absence of first party data, foreign brands can bank on second party data and third party data to make meaningful penetration.

"Of course, partnerships are the biggest opportunity to cross-pair offers to relevant customers and grow them into loyal customers for each of the brands," shared a source. So NH Hotel can count on HNA to contribute a lot in this arena.

Here second party data, essentially first party data that one gains access to directly from that source, is a major benefit from collaboration. "It's an area that demands specialization – partner's profile data, behavior data, sales data etc. How to improve work on it, and ensure mining results in impactful communication that is mutually beneficial is important. But yes, if done properly, the conversion rate shoots up in favor of all parties involved in partnership marketing," added the source.

Encouraging Chinese to experience existing properties

Xu also mentioned that in the run-up to the launch of two properties, NH Hotel would roll-out "Welcome Chinese" program in Europe, starting with a pilot market. "The plan is increase brand awareness by capitalizing on outbound travel, and let Chinese travellers experience NH Hotel brands in Europe. So when they would come back they will have positive stories, and this can be a huge asset for us." Xu is confident that Chinese travellers would end up a strong affiliation with the brand once they experience services and amenities such as Chinese breakfast, Chinese TV programs etc. "If I find city map/ guides in Chinese language once I enter my room or end up watching some TV programs in Chinese rather than foreign channels for a week-long business trip then obviously it would a welcome change," Xu.

Another area that NH Hotel would look at would how to ensure the inbound market can be tapped, especially with five million members in its loyalty program. "As of today we don't have many Chinese travellers enrolled into our loyalty program but the fact 30% of revenue is contributed by this segment in our overall business globally, we need to step up our development plans in China as soon as possible," concluded Xu, referring to the significance of this market.