Air China has focused on improving products and services to satisfy the needs of mobile Chinese and International travelers, and encourage tourism at home and abroad.
The airlines shared insights on evolution of the airline, the growing influence and unique needs of the Chinese traveller, and plans for growth in an increasingly competitive market during the CAPA Airlines in Transition Conference in Dublin.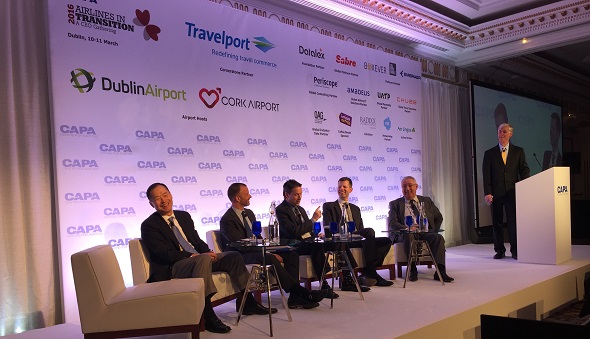 Brand Evolution
As Air China's Vice President and General Manager for North America, Dr. Zhihang Chi describes it, Air China has evolved from a government-owned company, run largely as a public transport utility, to a publicly traded airline enterprise focused on the quality of its brand.
"We need to compete for capital and we need to compete for business," he said. "We have a very strong brand recognition in China, so our focus has been to gain brand recognition internationally."
Air China has followed the example of alliance partners Lufthansa and United, and taken inspiration from Cathay Pacific, in which Air China has a 30% stake.
Connected Travelers
Passenger mobile trends and the ready sharing of information on social media have also encouraged improvements.
"It's both an opportunity and a huge challenge. In the old days, if something goes wrong it will take days for people to find out about it. Today, if something goes wrong everyone finds out about it immediately. So it is a huge challenge for Customer Service, PR, Communications, Marketing. On the other hand, it often provides us with a wonderful platform to market ourselves and to communicate with our customers," Dr. Zhihang Chi said.
Chinese Tourism
The aim of the airline's progress is to encourage tourism in China and also to support the strong desire of Chinese travelers to see the world.
The appreciation of Chinese currency, and negative media reports about pollution and food safety, Dr. Zhihang Chi says, have affected perceptions around the world somewhat stemming the rise of tourism. "It made it all the more important that we do a better job, that China do a better job, of marketing itself. I think the government has invested quite a bit in destination marketing in some key regions in the world like the U.S,. Europe, and Australia," he said.
"We are an active participant in that effort. If more people travel to China, we get more business. When tours are organized, we offer preferred transportation. We are an active participant and China is actively promoting itself," Dr. Zhihang Chi added.
Domestic demand to explore the world is strong, but Dr. Zhihang Chi suggests more can be done to make Chinese tourists feel more at ease when traveling abroad.
The Other Open Skies
Though largely ignored while the focus is on Open Skies debates with the big three Gulf carriers and Norwegian Air Shuttle, in the U.S., Open Skies agreements in China also pose a challenge.
The Big 3 U.S. carriers have capitalised on existing Open Skies and, as traffic between the U.S. and China builds, they want to increase route allocations while building up potential tensions with Chinese carriers who also plan to grow.
"It used to be that we were a little brother, and the bigger brother was dominating. So then it was: 'Open Skies, Open Skies, Open Skies.' Now you find that the staple of the market is the Chinese passenger. So, obviously, we have a higher chance of getting that business than our U.S. competitors. Then you see a shifting position," he said.
As Dr. Zhihang Chi said, "We are very ambitious. We want to become relevant. We want to promote and bring people together, build bridges between China and the world. In fact, we want to build bridges not just between China and the world, but between other countries in the world."
Read original article