China's online travel industry could be revving up for a banner year as Ctrip.com International, which is backed by internet search giant Baidu, consolidates its domestic market leadership with new investments totalling an estimated US$3.2 billion.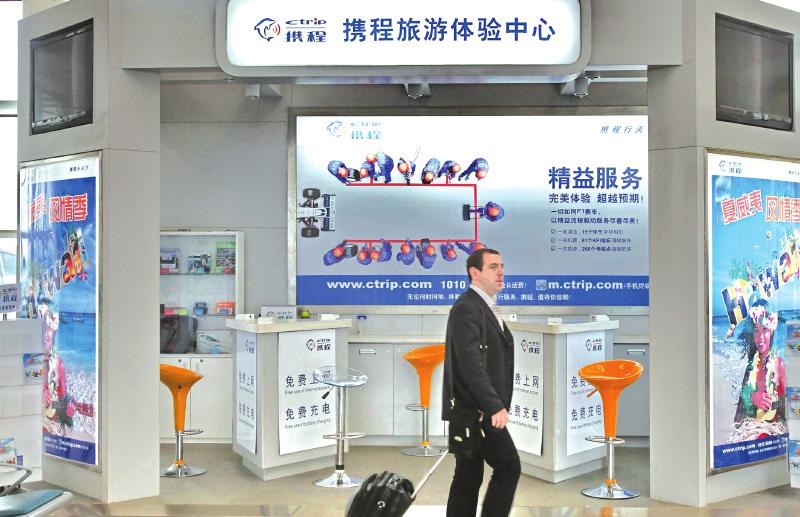 Nasdaq-listed Ctrip, the country's largest digital travel services provider, said it has agreed to make certain investments in several enterprises outside the United States which are focused on investing in businesses on the mainland, according to a regulatory filing after the US market closed on Tuesday.
The company said its planned investments will be "in the form of limited partnership capital contribution or other financing arrangements", involving US$1.3 billion in cash and the issuance of about 5.4 million ordinary shares to these unidentified non-US entities.
Alicia Yap, the head of China internet research at Barclays, said in a report that the value of those shares would reach about US$1.9 billion, based on Ctrip's closing price of US$44.59 per share on January 12.
Ctrip, which is headquartered in Shanghai, said the targeted investment entities will also acquire "a significant minority stake" in Qunar, its affiliated Nasdaq-traded online travel platform, from shareholders through privately negotiated deals.
James Liang Jianzhang , the computer scientist turned chief executive of Nasdaq-listed Ctrip, which has a market cap of US$11.89 billion. Photo: Handout
The proposed new investments have come roughly a week after Ctrip announced its purchase of a 26.6 per cent stake in MakeMyTrip, India's biggest online travel agency, through US$180 million in convertible bonds.
Earlier last month, it was Ctrip which received investments via convertible bonds of US$500 million each from US online travel services giant The Priceline Group and an unidentified long-term equity investment company.
Yap pointed out that the transactions enabled by Ctrip's US$3.2 billion investment package, combined with the 45 per cent equity stake in Qunar it obtained from the share swap with Baidu last year, would enable Ctrip to own the vast majority of Qunar's shares.
Baidu in October exchanged the shares it owns in Qunar for 25 per cent of the larger Ctrip enterprise.
"Hence we believe Ctrip may likely consolidate Qunar's financials starting in the first quarter this year," Yap said.
"We believe this marks a conclusion of the Qunar transaction, and Ctrip can now focus on integrating and generating synergies with the business operation and gain leverage from the consolidation. "
Qunar co-founder Zhuang Chenchao poses in Beijing. Ctrip said it is eyeing a 'significant minority stake' in rival and affiliate Qunar through other investment vehicles. Photo: Bloomberg
Sorting out their operations would do well in clearing up a recent issue that roiled Qunar's business.
Travel technology firm Phocuswright said in a report that Qunar faced a revolt from more than a dozen airlines, which shut down their flagship online stores in the platform reaction because of Qunar's new "Pangolin" initiative.
"Pangolin lets travellers name their own price, and gives agents two hours to match it. The scheme was a hit with travellers, and drove up air ticket sales," Phocuswright senior research analyst Maggie Rauch said.
"But airlines saw a chaotic system that further undercut their fares, and often let unscrupulous agents bubble up to the top of the [online] auction."
Rauch added that Qunar's skirmishes with the airlines "underscore the competitive nature of the Chinese online travel market, and the challenges that Ctrip still faces".
Last year, Ctrip also took control of Expedia-backed rival eLong. In May, Ctrip paid US$400 million to to obtain a 37.6 per cent equity stake in eLong.
Rauch said Baidu has strengthened its presence in China's digital travel market through the country's three-biggest platforms: Ctrip, Qunar and eLong.
Baidu also has equity in US ride-hailing app operator Uber's business in China.
New York research firm eMarketer has forecast mainland China's digital travel sales to reach US$131 billion by 2019, up from an estimated US$66 billion last year, fuelling further industry growth across the Asia-Pacific.
Read original article