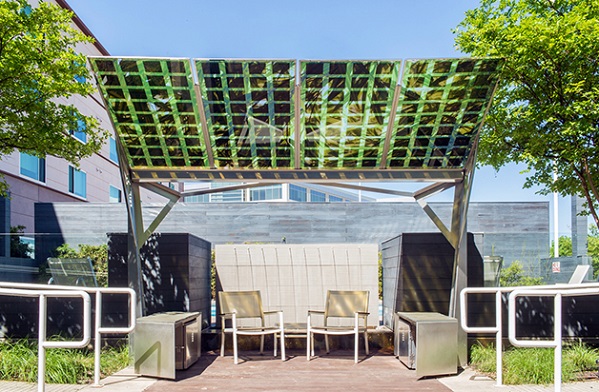 Element guests can recharge their devices while sitting under an outdoor canopy made up of colorful solar panels. (Photo: Starwood Hotels & Resorts Worldwide)
There's more technological innovation in the works at Starwood Hotels & Resorts Worldwide than keyless entry and a quirky robot butler.
Though those two initiatives have received their fair share of headlines, it's a number of less-visible projects that executives hope will set the chain's select-service portfolio apart. They range from a fresh-brewed-coffee wake-up to an illuminating way to find the bathroom in the dark.
Given that iPhones were a critical component of SPG keyless entry, it's no surprise that mobile apps play a decisive role in many of these advances.
"With select-service such a crowded industry tier, we see these kinds of improvements as a way to separate ourselves from the pack. They're cool and directly impact the quality of the hotel experience, some in ways that are expected and others in a way that's totally unexpected," said Brian McGuinness, global brand leader of specialty select brands, who led a tour recently of concept rooms at Starwood's headquarters.
Seven of the top ideas Starwood is working on include:
1. Electronic concierge message
After opening the door of their Aloft room, guests will trigger an automated welcome message downloaded to their smartphone that takes them through the room's main features. Designed for the first-time guest (but also with repeat guests, who could benefit from a refresher, in mind), the brief overview allows guests to derive the most benefit out of the experience. More detailed questions can be directed to the front desk.
2. Custom wake-up with coffee
Gone are the days when guests wake up in the morning strictly with a telephone call from the front desk (automated no less). Soon guests—again at Aloft—will be able to program the time in the morning they'd like their in-room coffee to start brewing. If the smell of the coffee doesn't do the trick, they can program their playlist so the sound of music rouses them from sleep.
Similarly, they will be able to program the light effects they want in their room at any time of the day. Gradient light simulating sunrise is one example.
Increasingly, such upgrades play into the mindset of today's traveler, McGuinness noted.
"They're tech-savvy and like to have options when they travel. In fact, our research indicates they tend to be more interested in acquiring experiences than stuff," he said.
A decade ago, residential design was seen as leading hotel design, but now that dynamic has reversed, McGuinness said.
"Seen another way, consumers who have sophisticated technology built into their homes are going to expect to find the same conveniences when they check into a hotel," he said.
3. Recipes on a touchscreen
When Starwood initially launched Element, it was positioned as an upscale extended-stay brand. That positioning continues, though it has since taken on a sustainable, green positioning as well. Consequently, each guestroom comes with a full kitchen.
While leading the tour in an Element concept room, McGuinness pointed out a touchscreen cookbook on the wall. For long-stay guests who want to prepare their own meals, the cookbook will provide numerous choices. Foodies also will be welcome to upload their own favorite recipes for others to try.
4. Recharging in comfort
Element guests will be able to recharge their devices while sitting under an outdoor canopy made up of colorful solar panels. This upgrade is being piloted at the Element Dallas Fort Worth Airport.
5. Smart floor tiles
Tiles implanted with radio-frequency identification technology will be installed in the flooring of Element guestrooms. When guests step on the tiles by the side of the bed, they light the way to the bathroom, preventing guests from stumbling in the dark.
6. Side-by-side big-screen TVs
Executives' plans for the Four Points by Sheraton brand include outfitting guestrooms with two flat-screen televisions mounted next to each other on the same wall. For guests traveling by themselves, it allows the person to watch two sporting events simultaneously, for example. And with wireless headphones included, the upgrade will allow each member of a couple to watch his or her movie of choice without disturbing the other.
7. Digital mirrors
Floor-length mirrors in Four Points guestrooms will start doubling as the morning newspaper when they're embedded with touchscreen applications that reveal the day's headlines as well as the weather and the latest sports scores.
The timeline?
Pressed as to when these upgrades might be fully rolled out at their respective brands—and whether some might end up as standards at all three brands (no less Starwood's upper-upscale and luxury brands), McGuinness declined to get specific. Some already are being piloted; others are still being tweaked. Some already have brand-name development partners in place; on others, Starwood is still in discussion with partners.
As with any brand standard, once an improvement is rolled out, it becomes part of the prototype for new developments going forward. That means owners will be responsible for footing the bill if or when any of the innovations make their way into production. Brand consistency requires it, McGuinness noted.
"A guest checking into an Aloft in Silicon Valley, for example, should be able to find the same services and features as when checking into an Aloft in New York," he said.
About keyless entry and that butler …
The SPG keyless entry RFID-based mobile check-in system is being rolled out to Aloft and Element hotels. If consumer response remains strong, it will continue to be rolled out across the Starwood portfolio.
The company's robot butler, or Botlr, is distributing toothbrushes and extra towels in a heavily publicized beta test that now includes Aloft hotels in both Cupertino and Newark, California.
Read original article