Marriott International Inc. is buying Starwood Hotels & Resorts Worldwide Inc. in a deal valued at $12.2 billion to create the world's largest hotel company, emerging as the surprise winner of a bidding war that reportedly included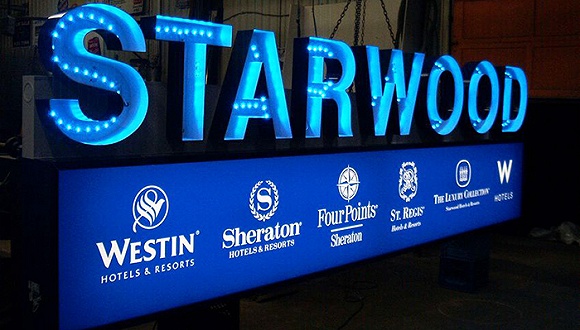 Hyatt Hotels Corp. and multiple Chinese suitors.
Marriott offered to pay $2 a share in cash and 0.92 of its own stock for Stamford, Connecticut-based Starwood, the companies said in a statement on Monday. The combined company will operate or franchise more than 5,500 hotels with 1.1 million rooms worldwide.
"The deal makes sense from a strategic perspective," Lukas Hartwich, an analyst at real estate research firm Green Street Advisors LLC, said in an e-mail. "Scale matters a lot in the hotel business. The winners in the long run will likely be the ones with the most hotels, in the most locations, at the most price points."
The deal is the largest takeover of a hotel company since Blackstone Group LP bought Hilton for $26 billion in 2007. Starwood has been exploring options including a sale since the February departure of longtime head Frits van Paasschen amid criticism he failed to increase the number of properties carrying Starwood's brands quickly enough. Starwood hired Lazard Ltd. to advise it in April. In addition to competing with one another, hotel companies are also dealing with losing customers to Airbnb Inc.
At least three Chinese companies were pursuing bids for Starwood, a person with knowledge of the matter said in October. CNBC reported on Oct. 28 that Hyatt was holding takeover talks with Starwood.
"We're not selling for cash, we're selling for stock," CEO Adam Aron said Monday on a conference call with analysts. "This is the greatest long-term return for shareholders."
Cash Flow
The U.S. hotel industry is in its sixth year of recovery from the recession and is facing supply surges in cities including New York and Seattle. In the Americas, revenue per available room -- a measure of profitability used by the lodging industry -- increased 6.6 percent this year through September, according to STR Global. Revpar rose 7.6 percent in Europe and 2.9 percent in the Middle East and Africa, while it fell 0.2 percent in the Asia-Pacific region, the lodging-research company said.
"The economies of scale really matter in the lodging business because higher volumes on the reservation system can drive business to less-occupied properties on a given night," James Corl, a managing director at real estate private equity firm Siguler Guff & Co., said before the deal was announced. "Reservation-system scale drives both occupancy and rate, and that helps cash flow and operating margins."
Starwood shares fell 3.4 percent to $72.45 at 10:31 a.m. in New York. Marriott climbed 2.4 percent to $74.49.
The total estimated value of the deal to Starwood investors is $79.88 a share, including $7.80 a share for Starwood's timeshare business. Starwood
agreed in October to spin off and sell its timeshare unit to Interval Leisure Group Inc. in a deal valued at about $1.5 billion. That transaction is expected to be completed before Marriott's purchase of Starwood, according to Monday's statement.
Shareholder and regulatory approvals are also needed, and the acquisition is expected to close in mid-2016, the companies said.