When the site introduced its first, tentative steps into metasearch, in January 2013 there were many that could see what the move would do to the wider intermediary landscape.
And, of course, many who doubted its impact.
The reality was that the largest travel website in the world, with an enviable number of monthly visits, was also going to become a travel "seller", initially going up against the hotel metasearch engines.
With the launch of on-site booking capability, TripAdvisor's position (at least in the eyes of consumers) has gradually morphed into that of an online travel agency.
In part, but not exclusively so, TripAdvisor's role as a "trip advisor" with a service that now also searches (and often books) products could be credited with triggering former owner Expedia Inc and Priceline Group's obvious bolstering of their respective strategies through acquisitions in recent years.
Worth remembering that, to date, TripAdvisor has yet to REALLY push its flight metasearch product.
All this – coupled with how desperate the product suppliers, such as hoteliers and airlines, are to get more direct bookings – has seen the intermediary landscape become as fiercely competitive as it's ever been, perhaps now even at some kind of pinnacle.
As a result, with traffic largely the biggest influence on the financial success of an intermediary (meta or OTA), attracting consumers eyeballs is obviously hugely important.
It's been a few years since Tnooz published regular traffic measurements from Hitwise, a division of Experian Marketing Services, so we thought it would be interesting to see how the leading intermediaries stack up in terms of visits, data which now includes mobile web as well as desktop PC.
The team did three runs on its data, covering traffic in the US, UK and Australia – three of its main markets.
We included sites that are either OTA or metasearch, covering both flights and hotels (and other products), as well as flight-only and hotel-only sites. Given the shift noted above, each list includes traffic for TripAdvisor.
The data is for October 2015 and does not include year-on-year comparisons, given that this is the first time that both desktop and mobile web traffic have been combined together. Mobile app activity is not covered.
US: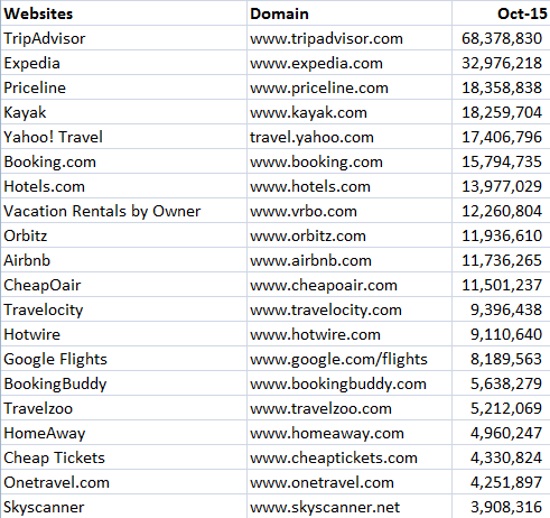 UK: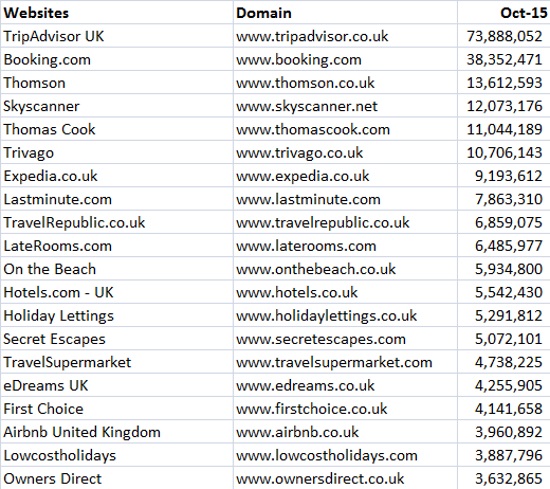 Australia: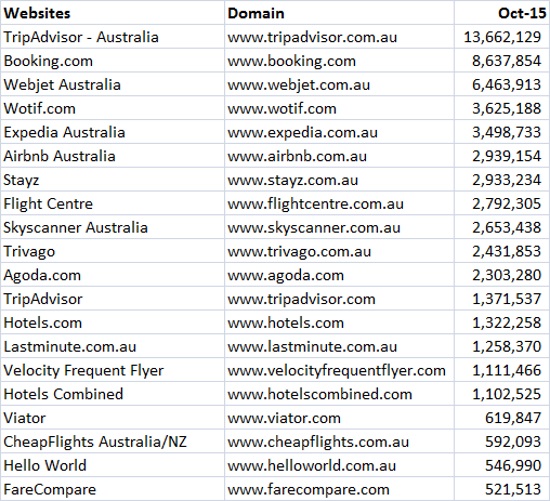 Some things to note:
Data for Google Flights is for the standalone service and does not include when users conduct a search for flights on the main Google search page and then interact with the results.
Noteworthy sites outside of the top 20 in the US include:
· Cheapflights – 1,924,678
· 10Best – 1,898,459
· Hipmunk – 1,891,187
Noteworthy sites outside of the top 20 in the UK include:
· Travelzoo UK – 3,281,728
· Cheapflights – 2,424,737
· LoveHolidays – 2,060,106
· Google Flights UK – 1,924,890
· Ebookers – 1,613,922
Noteworthy sites outside of the top 20 in Australia include:
· CheapOAir – 508,715
· STA Travel Australia – 444,380
· Skyscanner – 374,917
Read original article