The company gave some early indications this week during its Q3 2015 earnings call about the impact of its new Distribution Cost Charge (DCC).
The group has faced "some headwind" since its introduction in September in markets outside of Germany, but "no change" in booking volumes in Lufthansa's domestic market, Spohr claims, with any shift in patterns being offset by an increase in direct bookings.
But Lufthansa clearly sees the GDS surcharge part of a bigger overhaul of its digital capability, which includes distribution, web, fares and pricing and more.
During the earnings call with analysts, CEO and chairman of the executive board, Carsten Spohr discussed how "innovation" at Lufthansa is expected to take a variety of forms in the years ahead.
First of all is the much-discussed DCC, which it puts under the banner of Content 2.0 and sitting alongside its wider strategy to have what it says is greater flexibility over how it sells ancillary revenues to passengers.
Then comes the strategy to introduce new "modular fare options", essentially new types of branded fares that include bundled and unbundled ancillary products.
Lufthansa will also overhaul its existing booking classes (yes, 26 at the moment) and head down the route of "real-time dynamic pricing", all to be handled by a new revenue management system.
And, finally, a new website to handle all of its airline brands (Lufthansa, Eurowings, Austrian Airlines, Swiss Airlines).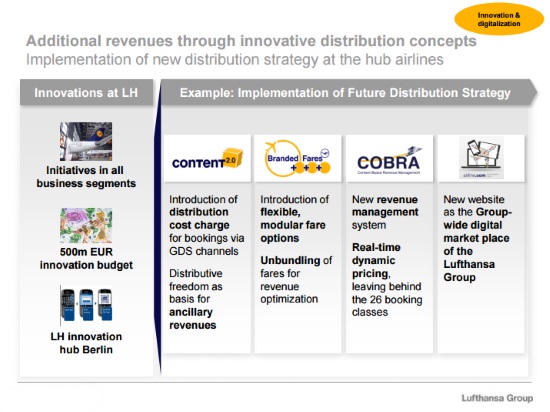 Read original article