China's stock market crash and economic slowdown appear to be keeping globe-trotting Chinese tourists closer to home, potentially hurting the global travel industry and the luxury goods companies that have thrived on free-spending tour groups.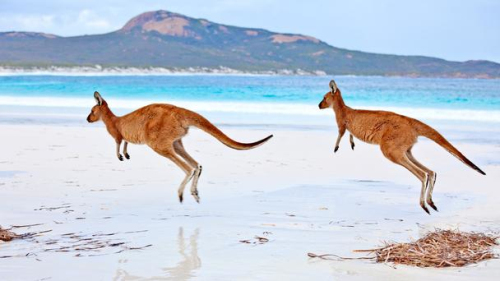 Chinese visitor numbers to Australia grew despite the drop in long-haul travel
Growth in international travel bookings from China fell in August for the first time since at least 2010 and continued to decline through September, despite the start of a big holiday week, according to ForwardKeys, a Spain-based travel intelligence company that analyses Chinese airline booking data. The decline came after China's summer stock market rout.

Airlines appear to have responded with price cuts to attract travelers. For the Christmas and New Year period, round-trip tickets from Beijing and Shanghai to popular Chinese destinations such as New York, San Francisco and Paris are now available on Qunar.com for as little as $US250 before taxes and surcharges. This appears to be significantly lower than in previous years.

Until now, Chinese outbound travel had been seen as a rare bright spot in China's economic downturn. Growing wealth and friendlier visa policies from Europe and the US have helped China to become the largest source of global travelers, with more 100 million Chinese crossing borders in 2014, according to the World Tourism Organization.

"We still believe that Chinese bookings to international destinations will come back later this year, but we have to accept that there will be a before and an after summer 2015," said Olivier Jager, CEO of ForwardKeys.

Chinese tourists led the world by spending a total of $164.9 billion abroad last year, according to the World Tourism Organization. Any weakness in Chinese outbound travel hurts airlines, hotels and luxury goods makers most. Chinese travelers appear to be trading down from the US and Europe to nearby locations such as Japan and Taiwan, travel agencies said.

While travel stayed strong through the summer, most of those trips were booked before the stock market tumbled and the economy slowed. Bookings made after that appear to show the impact of the declines.

International bookings fell 8 per cent in August compared to last year, according to ForwardKeys. ForwardKeys' data comes from TravelSky Technology Ltd., a state-owned Chinese company that holds information of almost all domestic and international air booking data from China, which has been a useful leading indicator of Chinese travel.

The situation got worse in September, with few last-minute bookings for China's Oct. 1 Golden Week Holiday. From September 1 to 21, international bookings from China fell 14 per cent from the same time a year earlier. This compares to 18 per cent growth in June and 10 per cent growth in July compared to a year earlier. Bookings were growing above 20 per cent through the spring.

Travel agencies confirm the trend. A popular online booker says new international bookings in August grew much more slowly than in the previous months, with long-haul flights to the US and Europe suffering most.

Vivian Hong, president of Greater China for Travelzoo, a global online travel deals company, said a weaker economy and currency should hurt demand, and the impact will start to show later this year.

"For most people, traveling to the US is still a very big deal and they started planning at least two to three months ago," said Ms. Hong. "We may start to see some weakness after Oct. 1. Now travel is still strong because those trips were booked much earlier."

Millions of Chinese middle-class families have been stung by the stock market turmoil in the summer. When Wang Huijun, a fresh graduate, got a job as a sale representative at the Westin Shanghai hotel this summer, her father promised to take her and her mother to Europe in July.

Then the Shanghai Composite Index tumbled 40 per cent from its June peak, wiping out half of the gains made by her father in the last two years. "After the market dropped, my parents weren't in the mood to travel very far anymore," said Ms Wang, whose father owns a factory in Shanghai.

Ms. Wang's family had been planning a six-city package tour to Europe, but lowered their budget and went to Taiwan and some Chinese cities in the summer. That shift is backed by booking data showing Chinese travelers are planning more trips within Asia later this year than usual.

"Europe has to wait until next year, I am afraid," said Ms. Wang.

The devaluation of the Chinese currency over the summer, which makes foreign travel more expensive, also appears to be affecting plans. Among all destinations, the US appears to be hit hardest because of the strength of the dollar, which has gone up by 3 per cent against the yuan since the devaluation in August.

This year through September 21, the number of tickets issued to Chinese travelers to travel to the US in November and December fell by 35 per cent and 37 per cent, respectively, from the same period a year ago, according to of ForwardKeys.

Europe isn't immune either, since the Chinese currency has weakened against the euro by about 5 per cent in the past two months. Chinese bookings for Europe in November and December, year-to-date figures are down 7 per cent and 33 per cent, respectively, compared to the same time last year.

Chinese travelers have flocked to the European outlets of luxury goods makers, taking advantage of currency weakness to get bargains abroad. That has helped these companies weather sales declines inside China.

The US has been the fastest-growing luxury market for four years, said HSBC. This may be changing. "Inbound tourists, not just the Chinese, but also the Europeans and Japanese, are finding the US very expensive now and aren't going or spending as much," said Erwan Rambourg, global co-head of consumer and retail at HSBC.

Chinese Global Blue, a tax-refund service often used by visitors, said it saw a 75 per cent spike in spending by Chinese tourists during the first six months of the year. The growth slowed slightly to 72 per cent in August.

"My sense is that third-quarter Chinese luxury spending in Europe will still be good, though there is a risk that luxury companies may moderate expectations and anticipate a hiccup," said Luca Solca, head of global luxury goods at Exane BNP Paribas.

"The most important risk is that the very rich Chinese may not be in the mood to spend for a little while, as the recent stock market gyrations have wiped out a lot of their paper stock market gains," added Mr Solca.

Some of the slowdown was inevitable as Chinese tourists become more experienced travelers and stop joining group tours that go from store to store.

There are still some bright spots in Chinese outbound travel. The number of bookings to Asia, Australia and New Zealand, which accounts for 70 per cent of outbound Chinese travel, grew year on year by 18 per cent for November and 8 per cent for December, according to ForwardKeys. One reason for this is the weakening currencies of Japan and Australia.

High-end travel is still growing. The number of bookings for Africa and the Middle East, which accounts for 3 per cent of total Chinese outbound bookings, grew by 120 per cent for November arrivals and 200 per cent for December arrivals.
Read original article