Air China Ltd., the nation's third-largest carrier by passengers, said first-half profit soared after lower fuel prices reduced costs.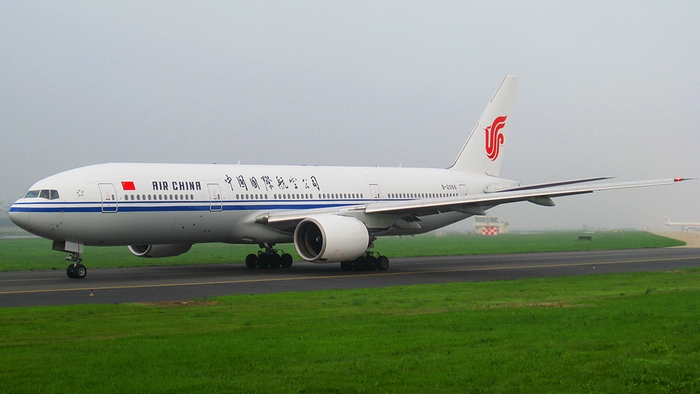 Net income rose to 4.19 billion yuan ($654 million) from 510.4 million yuan a year earlier, based on international standards, Beijing-based Air China said Thursday in a Hong Kong stock exchange filing. The profit beat the company's July 28 forecast of 3.8 billion yuan to 4 billion yuan.
Air China joins China Eastern Airlines Corp. in benefiting from a 45 percent plunge in crude oil prices in the first half from a year earlier. Still, China's depreciation of the yuan this month will probably lead to foreign-exchange losses, hurting full-year earnings at the nation's carriers, according to Daiwa Capital Markets Hong Kong Ltd.
Air China said it expects currency fluctuation to increase in the second half of the year. Every 1 percent gain in the dollar against the yuan causes net income to decline by 600 million yuan, Shanghai-based China Eastern said Aug. 15.
Air China rose 8.1 percent to close at HK$6 in Hong Kong trading before the earnings. The stock has dropped 4.3 percent this year, compared with a 7.5 percent decline in the city's benchmark Hang Seng Index.
Passenger Yields
Passenger yields, a measure of revenue per passenger for each kilometer flown, declined 5.7 percent as capacity climbed 10.5 percent in the first six months of 2015, Air China said.
China Eastern said its passenger yield fell 7.9 percent because of a drop in fuel surcharge. The yield at Cathay Pacific Airways Ltd., Asia's biggest international airline by passengers, dropped 9.3 percent.
Chinese airlines are adding capacity on international routes from their home markets in Beijing, Shanghai and Guangzhou, while carriers in developing hubs such as Taipei and Seoul are competing for connecting traffic.
China Southern Airlines Co., the nation's largest carrier by passengers, is scheduled to post earnings on Friday.
Read original article