Riding on the rapid growth of China's film industry, new models are emerging for movie producers to profit from the far end of the industrial chain. This is encapsulated in the tour package designed by Huayi Brothers Media, one of leading private entertainment groups in China, around its latest Chinese film Only You, reports the Guangzhou-based 21st Century Business Herald.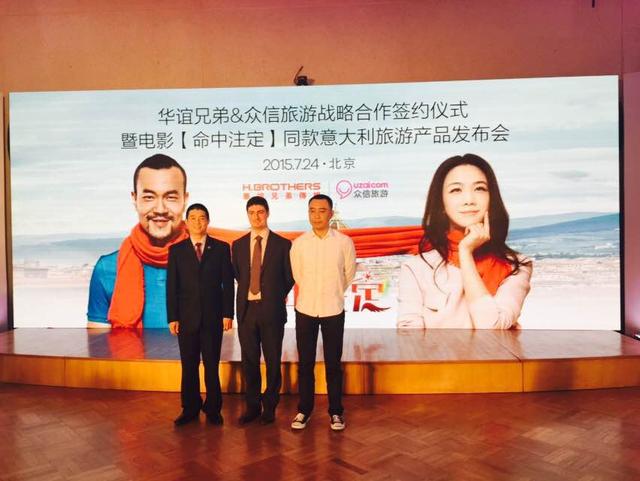 Huayi Bros Film Company, Italian National Tourist Board and Utour promote film-tour
When releasing the film on July 24, Huayi Brothers, together with UTour International Service and the Italian National Tourist Board, announced the launch of a Only You Tour Package wearing the theme of the film. The package will tour all of the film's outdoor scenes shot in Italy.
A cultural industry investment fund manager said that the industrial chain behind films has great niches for derivative revenues, particularly from "film tourism." The market, along with goods, toys and books, is a rarely-tapped gold mine, he added.
China's box office revenue amounted to 29.639 billion yuan (US$4.7 billion) in 2014, for an annual growth of 36.15%. Chinese moviegoers made 830 million trips to the cinema, up 34.5% year on year, according to statistics released by the State Administration of Press, Publication, Radio, Film and Television.
Audiences are expected to top one billion in 2016, and finding new ways to cash in on the cinema herd will become an exciting venture for every film company.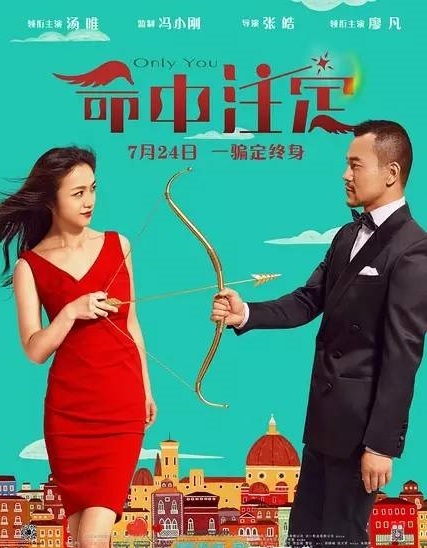 "Only You" yet another title in the endless list of Chinese melodramas
This is the first time that the Huayi Brothers have officially launched a "film + tourism" product, inspired by its previous strategy of deploying real-scene entertainment theme parks. Its 2008 film, If Your are the One, compelled many movie fans to tour Hokkaido of Japan, where the outdoor scenes of the film were shot, according to the report.
Based on the strategic cooperation program between Huayi Brothers and UTour, the first tourist group will depart for Italy two months after Only You film is screened, with the consequent profits to be equally split between both sides.
UTour officials said that, along with the rapid development of China's overseas travel market, Chinese tourists are demanding more varied and subtle tourism routes, forcing the travel service industry to seek cooperation with entertainment and film sectors. "Cinema viewers are potential tourists, and close cooperation between film makers and travel service firms will spell a bright future for the film tourism market," an official said.
The surging expansion in China's film market will nurture the growth of the target customer group for the "film tourism" market. Statistics show that China's cultural consumer spending will hit a high of 16.65 trillion yuan (US$2.7 trillion) by 2020, and the spending in combination with the travel industry is an increasingly primary concern of travel service firms.
Huayi Brothers first released its real-scene entertainment strategy in August 2011, combing a cultural city project, a cinema theme amusement park project, outdoor scenes and real-scene performances into a real-scene entertainment business. The firm's chairman, Wang Zhonghun, said then that he would personally take charge of Huayi Brothers' real-scene entertainment business and expand the development of the company's derivative products, said the report.
In May, Wang, famed director Fong Xiaogang and Zhu Dingjian, chairman of the Mission Hills Group, jointly announced the establishment of a joint venture firm to set up a movie-tourism resort. The resort is called Mission Hills Huayi Brothers Fong Xiaogang Movie Town, set for Haikou on China's southern coast. The movie town is already open to the public, and sees daily numbers at around 2,000 on weekdays and 3,000 on weekends.
Following three years of efforts, Huayi Brothers' real-scene entertainment business has grown robustly, said the report. Statistics showed that the company's revenue from the new business sector and brand licensing recorded a whopping annual increase of 463.66% in 2014. In the first half of 2015, the company's net profits are estimated at 156-239 million yuan (US$25-$38.5 million), for a substantial annual surge of 377%-632%.
Read original article