Yachting is no longer just for China's elite as white-collar Chinese are discovering you can yacht for the price of lunch.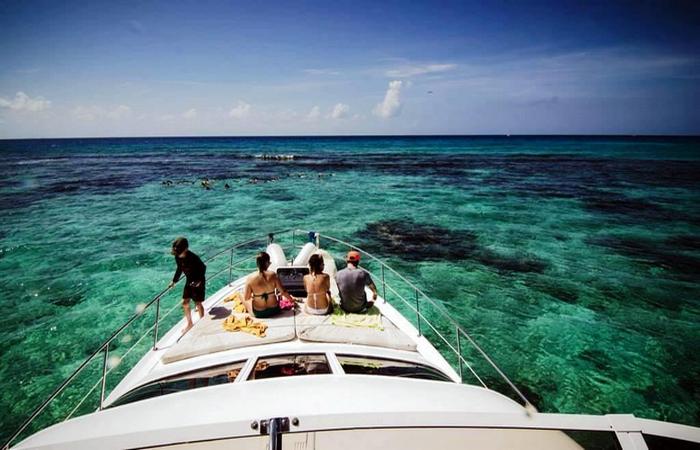 The country's new rich undertook the maiden voyages that made the pursuit part of the public's imagination.
But you no longer need boatloads of cash to yacht, China Communications and Transportation Association chairman Qian Yongchang explains.
The Shanghai Port International Passenger Center, for instance, offers 59 yuan ($9.50) luxury-yachting journeys along the Huangpu River.
Even many migrant workers could afford that, albeit perhaps as a splurge.
"We want to let more ordinary people experience luxury yachting and realize it can be inexpensive," explains the center's yachting section head, Zhang Fubao.
Yet budget yachting comes at a price. Less spending equals less opulence.
The center's cheap outing, for instance, carries 10 passengers for two-hour trips on a predetermined route.
Boats longer than 24 meters are indeed for the elite - and account for 2.5 percent of the market, Qian explains.
But 84 percent of yachts are under 12 meters and affordable to white-collar workers, he says.
An employee of Sanya, Hainan province-based charter-yacht business Youting.cc, who'd only give his surname, Zhang, says: "Most of our clients are middle-class."
The company runs nine yachts a day, he says. Sanya's natural conditions afford 300 seafaring days a year.
Youting entered the private-yachting sector two years ago and has received 30 guests so far this year.
The company offers three to five hours onboard from 3,000 yuan to tens of thousands of yuan.
Passengers can explore ashore, swim or enjoy deep-sea fishing. Snorkeling and scuba diving cost extra.
"Affordable luxury" was the theme of the 15th annual Hong Kong Gold Coast Boat Show staged over the May Day holiday. The show targeted both Hong Kong residents and mainland Chinese.
"Most people look at yachting as a sport or relaxation for only the elite - perhaps a misconceived concept - but buying a boat is much like buying a car," media quote Gold Coast Yacht and Country Club general manager Robert Blythe as saying before the event.
"What you can afford determines the type of car you will buy - or, in this case, a boat. For example, you can pick up boats for less than HK$100,000 ($12,900). That essentially is affordable luxury."
Italian luxury-yacht maker Ferretti Group in 2013 declared plans to introduce smaller vessels, ranging from 6 to 8 meters, to the Chinese market to appeal to the growing middle class.
China's yacht ownership reached about 16,000 vessels, and manufacturing output approached 8 billion yuan last year, says the 2014 China Yacht Industry Report by the Beijing-based China Cruise and Yacht Industry Association.
But the country's yachting boom sails through legally uncharted waters.
Since yachts currently float within the private-property category, no specific laws regulate them. Hence, their for-profit use drifts through legal limbo.
While more mid-range options appeal to the middle class, premium yachting - on bigger boats, over greater distances, with exclusive privacy - continue to grow in popularity among the affluent.
Private yachters now are a very small part of the rich, says Charles Wong, general project manager of HHtravel, a luxury-travel brand under China's biggest online travel agency, Ctrip.
"The private yacht market hasn't fully opened but has received many inquiries from prospective clients," Wong says.
"You can be in charge of your schedule and drop anchor wherever and whenever you want," he says.
Yachts are "like RVs" but driven across seas to shores, Wong explains.
And they're "often more luxurious", he says.
Yachting takes passengers to uninhabited islands and marine conservation areas that harbor rare animals and plants, Wong says.
HHtravel deals solely with international yacht excursions to such destinations as Indonesia's Bali, Fiji, the Maldives and Tahiti that typically last two to five days.
Its Maldives trip on a vessel with 11 deluxe suites costs 49,900 yuan per client. A four-guestroom luxury-yacht trip around French Polynesia's Tahiti costs 127,500 yuan. Both packages include airfare.
Wong points to the fact yachting is commonplace among Europe's middle class and superrich to indicate the pastime's potential in China.
With more white-collar Chinese getting onboard, it looks like smooth sailing.
Read original article