Gao Ming and her husband decided to go on six-day cruise after watching the Oscar-winning film Titanic.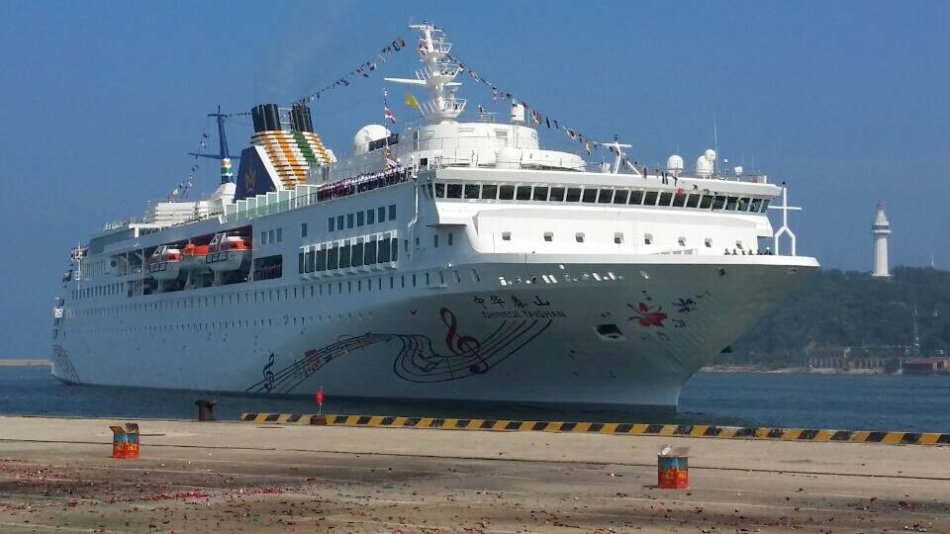 Bohai Cruise's "Chinese Taishan" liner
She booked her vacation with Bohai Ferry and traveled onboard the Chinese Taishan from Yantai, Shandong province, to Fukuoka and Sasebo in Japan.
Unlike the ending in the blockbuster film, it was an enjoyable experience and a trip to remember.
"We got the idea to go on a cruise after watching Titanic, and loved the oceangoingvoyage," Gao, 27, said.
"We booked tickets (for a second-class cabin) online, which cost 7,400 yuan ($1,192), but it was still more than 1,000 yuan cheaper than flying to Japan."
With bracing sea air, she savored every minute of her voyage last month and would go on another cruise again.
"There was a great deal to do during the trip," Gao said.
"There were regular stage shows and folk dancing as well as a calligraphy competition. The food was also excellent. The only drawback was that we only had one day on shore when we reached Fukuoka in Japan," she added.
Gao and her husband are part of a growing trend among Chinese holidaymakers who have decided to opt for a slow boat to exotic destinations.
By 2020, the cruise line sector is predicted to contribute 51 billion yuan to the Chinese economy, according to a report by major online travel agency Tongcheng Network Technology Co Ltd, which is based in Suzhou, Jiangsu province.
In the first half of this year, the industry reported a 5 percent growth rate compared to the same period in 2014, with passenger figures topping 380,000.
During the same time-frame, 144 oceangoing excursions left Chinese ports, Tongcheng, which specializes in cruise holidays, pointed out.
Last year, the total figure was 366 for the entire year, the China Cruise and Yacht Industry Association reveal-ed. One reason behind the slight dip was the outbreak last month of Middle East Respiratory Syndrome in South Korea, which is one of the major destinations along with Japan, the Philippines, Vietnam and Singapore.
But the figures are expected to pick up during the peak July and August holiday season.
Ctrip.com International Co Ltd, the largest online travel agency, expects cruise vacations from Chinese ports, such as Tianjin, Shanghai and Sanya in Hainan province, to increase 60 percent to more than 70 this summer.
"Ocean-going holidays to Japan are expected to double with new routes planned to Fukuoka, Nagasaki and Kumamoto," Ctrip, the leading booking platform for cruise excursions, said in a report.
The China Cruise and Yacht Industry Association is just as bullish, predicting the number of passengers to reach a record 1 million this year.
But then, major cruise operators see China as a crucial market as they look for growth opportunities.
Royal Caribbean Cruises has switched the company's most advanced oceangoing liner, Quantum of the Seas, to sail out of Chinese ports, including Shanghai and Tianjin this year.
"The new cruise liner will improve the firm's capacity and quality here," Liu Zinan, president of North Asia and the Pacific region for Royal Caribbean, the world's largest cruise operator, said.
Costa Cruise Line also has big plans in the region. The company already runs three cruises from the Chinese ports of Shanghai and Tianjin to Japan and South Korea, and will add one more next year. A destination has yet to be disclosed by the company.
"We are keeping a close eye on the China market and we are optimistic about future development," Buhdy Bok, president of Asia and China for Costa, the world's second-largest cruise liner company, said.
While the domestic players are small, Bohai Ferry is looking to expand its market share. Last year, the company bought the Voyager liner from Costa and renamed her Chinese Taishan.
Bohai Ferry runs 68 cruises, sailing from Yantai in Shandong province, and Zhoushan in Zhejiang province, to Fukuoka and Sasebo in Japan. Other destinations are Incheon and Jeju in South Korea, and Taichung, Kaohsiung, Hualien and Keelung in Taiwan.
"We plan to launch longer and more creative voyages in the next three years," Yu Xinjian, general manager of Bohai Ferry, said.
"These will leave from Shandong's home ports to Russia's Far East and from Sanya, in Hainan province, Shanghai and Zhoushan to Vietnam, Cambodia, Indonesia, Singapore and the Philippines."
Obviously, Bohai Ferry will need to increase its fleet and plans to buy two liners in the next five years. Costing 1 billion yuan each, they will be designed and built in Shandong province and will carry 5,000 passengers when they come into service by 2020.
"The cruise industry in China is promising," Zhan Li, general manager of Bohai Cruise, which is owned by Bohai Ferry, said. "But we need time to expand."
Read original article